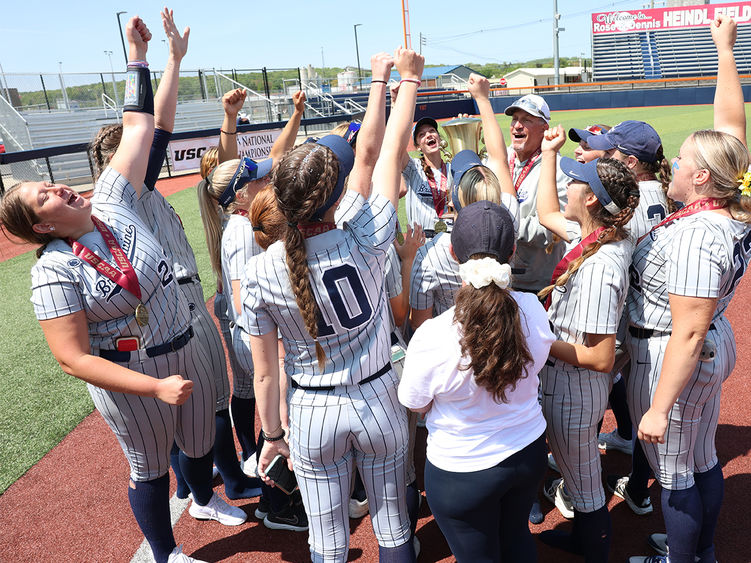 MEDIA, Pa. — A lot has changed at Penn State Brandywine during Mark Caserta's decade on campus.
When he began his tenure as head coach of the Brandywine softball team, there was no team in place. Caserta was hired in 2013 to start the program, one of a handful of additions to the campus' varsity athletic offerings in the last 10 years, and over the last decade he has turned the Lions into a powerhouse program in the Penn State University Athletic Conference (PSUAC).
Brandywine's first season was considered a success. The 2014 squad, composed of a few recruits and a handful of basketball and volleyball student-athletes, recorded its first-ever victory against 12-time USCAA national champion St. Mary of the Woods on March 10. The Lions, who played their home games in Delaware and at a local high school, won 14 games overall and reached the PSUAC Tournament.
"I got hired late in the spring of 2013 and didn't really have a chance to fully recruit a team. That team played really hard and was competitive. We ended up upsetting Greater Allegheny and finishing third in the conference tournament. That season really allowed me to see what it would take to win in the PSUAC," Caserta said.
With a full season under his belt, Caserta went back to work recruiting for 2015. Brandywine's 2015 team featured just four returning players and all 13 members of the team were freshmen or sophomores. The Lions surprised many on campus and around the PSUAC by running through the conference undefeated and winning the program's first conference championship.
Fast forward to the present and Brandywine's streak of conference titles now sits at eight straight. The team has averaged 26 wins per season (not including 2020 when the season was canceled in March by COVID-19), boosted by a combined 72 victories during the 2022 and 2023 seasons.
For Caserta, recruiting has always been his favorite area of the job and something that he excelled in right away.
"Games are fun of course, but I love the recruiting aspect. I'm at travel ball games every week beginning in the late spring and running through October. It's a side of every coaching position that people don't see, but it truly is the most important part of being successful," Caserta said.
Caserta's tireless recruiting work has led to the team improving its win total nearly every season for 10 years. His efforts paid off at the national level last spring as Brandywine captured its first-ever United States Collegiate Athletic Association (USCAA) softball national championship. Caserta's teams had many near misses at the World Series, finishing in the top four on four occasions during seven previous visits, before finally breaking through in 2023. Kaylee Mushinski's walk-off single capped off a 4-0 week for Brandywine at the USCAA World Series as the team topped Mississippi University for Women, 10-9, on May 18.
Brandywine's 2023 team received its national championship rings last week during an on-campus ceremony. More than 100 people attended, including many former players and their parents as the campus celebrated a decade of achievement for the softball program.
"It was an emotional night for me to see so many former players and families come back to celebrate. It really brought back a lot of great memories. We've had so many great people come through this program and it's great to see that everyone is doing so well post-Brandywine," added Caserta.
Brandywine's success does not stop on the diamond. The team proudly boasts three John S. Egli Award winners, two USCAA Student-Athletes of the Year, and more than 100 PSUAC All-Academic Team honorees in 10 years.
"It all starts during the recruiting process. I go to so many games so I can get to know the athletes, their families and their character. You can't go wrong with high-academic students," Caserta said.
The team is poised to defend its PSUAC and USCAA championships in 2024. Nine of the 10 players in the starting lineup during the national championship game are back and 13 players overall return for the Lions.