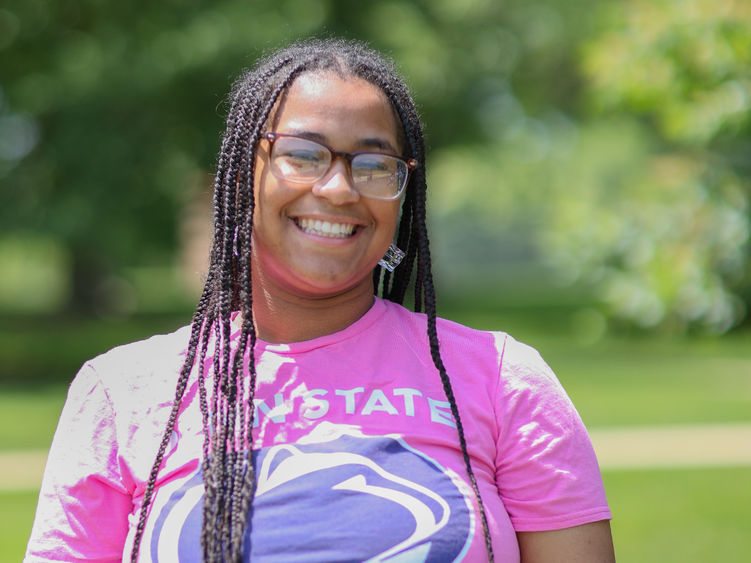 Year: Third
Major: English
Minor: Creative Writing
Involvement: Orientation leader; student-athlete for the Brandywine women's soccer team; resident assistant; special events and travels chair for Brandywine Events and Activities Student Team; member of Penn in Hand, Brandywine Music Association, Lion Pride and Black Student Union
Brandywine: Why did you choose to attend Penn State Brandywine?
Coleman: I knew I wanted to stay close to home so I could still work at my job while going to school, so I chose Brandywine. When I was applying to colleges, I couldn't do tours because of the pandemic, so I did a virtual tour of Brandywine. I thought it looked really cool.
Brandywine: How did you choose your major?
Coleman: I had always wanted to be a teacher, and in eighth grade, I had the opportunity to teach a class to a group of students after standardized testing was over. I realized I really didn't like it. Then, I started writing just for enjoyment and wanted to do that for my career. I figured it would be best to take up an English major with a minor in creative writing so I could gain that experience and find a career path that would allow me to write.
Brandywine: What challenges have you faced at Brandywine?
Coleman: I think learning about time management was my biggest challenge coming into college. Before I became a resident assistant, I would commute to and from school. On top of that, I had all my extracurriculars, I had soccer and I had to work. I know it doesn't sound too crazy, but when you have to rely on the public transportation system, it gets hectic.
I found myself struggling a lot last academic year to keep everything together in terms of schoolwork. I'd have an hour bus ride to and from campus, and I'd work on assignments before class started. Then, I'd have to study after school and get home really late. Even when I got home, I still had work to do. I didn't have a lot of time to get sleep. Luckily, I don't have to worry about that this upcoming academic year since I'll be living in the residence hall, so it'll be less hectic.
Brandywine: Who at Brandywine has supported you, and how?
Coleman: One of my professors who has since retired, Dr. (Paul) deGategno (professor of English), was one of my biggest supporters here. He taught my short stories class a few years back. He reached out to a professor in the English department, Dr. (James) Berkey, and told him how involved I was and how I was always happy to present in class. Not a lot of people in that class really spoke. Dr. deGategno really put in a good word for me to the English department, which was really nice. Also, Tina Brackett-Wood (student activities and recreation coordinator) and Don Brennan (assistant director of residence life) in student affairs have been super supportive.
Brandywine: What made you interested in becoming an orientation leader? What do you enjoy most about it?
Coleman: I remember seeing a poster for becoming an orientation leader at the end of my first year. At that point, I hadn't been involved in anything aside from soccer, but I wanted to put myself out there more. I also saw a photo with all the orientation leaders from the year prior, and I noticed Dana Hallahan (class of 2023 and former orientation leader) was one. I knew of her and knew she was super involved, so I figured I should get involved in it too.
I really enjoy the overall experience of it; that's why I decided to return as an orientation leader this summer. I enjoy meeting new students and connecting with them. During the academic year, some first-year students will even come up to me and say, "Hey! You were my orientation leader!" I really didn't expect that at first because I didn't think these students who only saw me for about eight hours would remember me. Overall, it's such a great experience, getting to know the new students and becoming friends with the other orientation leaders.  
"Overall, it's such a great experience, getting to know the new students and becoming friends with the other orientation leaders."

—Sierra Coleman , third-year English student, Penn State Brandywine
Brandywine: What made you decide to be a student-athlete? What is your favorite part about playing soccer at Brandywine?
Coleman: I played soccer in high school. I was actually one of the founding members of that team, which was cool, but I wanted to be done playing after high school. I went to the involvement fair at the beginning of my first year, and my friend saw a table advertising the women's soccer team. Myeisha Matos (recruiting, retention, and alumni coordinator for athletics) was at the table and told us that the team needed more players and that we should join. I wasn't sure if I wanted to do it, but my friend wanted me to join with her. I figured it can't hurt to try, and here I am.
My favorite part about being on the team is just being out on the field. I know it sounds so simple, but I just love being out there for an extended period of time and getting that adrenaline rush. Also, the whole team in general is just great.
Brandywine: With your involvement at Brandywine, how has your time on campus been impacted?
Coleman: I've noticed that it feels really good to be so involved. It's good to walk somewhere and be able to say "hi" to other students or staff around campus. I'm at a place where I feel seen, and I feel like I'm really a part of the Brandywine community. Also, I feel like I'm really thriving here academics-wise, which feels really rewarding.
I won the Arthur Ashe Jr. Award, which is an award for minority soccer players who achieve academic excellence. Winning that award for Brandywine and receiving my certificate really felt rewarding.
Brandywine: What has been the most valuable lesson you've learned at Brandywine?
Coleman: The most valuable lesson I've learned, besides the aspect of getting involved, is to do my own thing. I feel like it's also so important to try everything just once. I wouldn't be as involved as I am today without putting myself out there and trying new things. Do something you really want to do. Even if people doubt you, do it anyway. Honestly, if you're thinking about doing something, like starting a club for example, there is probably someone on this campus who would've gotten involved in that if the opportunity came up.
When getting involved, don't be afraid to try something new and do your own thing. Don't be afraid to do the things you really like, because I can say a regret I have from high school was not doing things I wanted to do so badly. I had a fear of rejection by my peers if I was to try something new. I wish I hadn't done that in high school, but I'm glad I didn't let that get in the way of pursuing what I want to in college.
"When getting involved, don't be afraid to try something new and do your own thing."

—Sierra Coleman , third-year English student, Penn State Brandywine