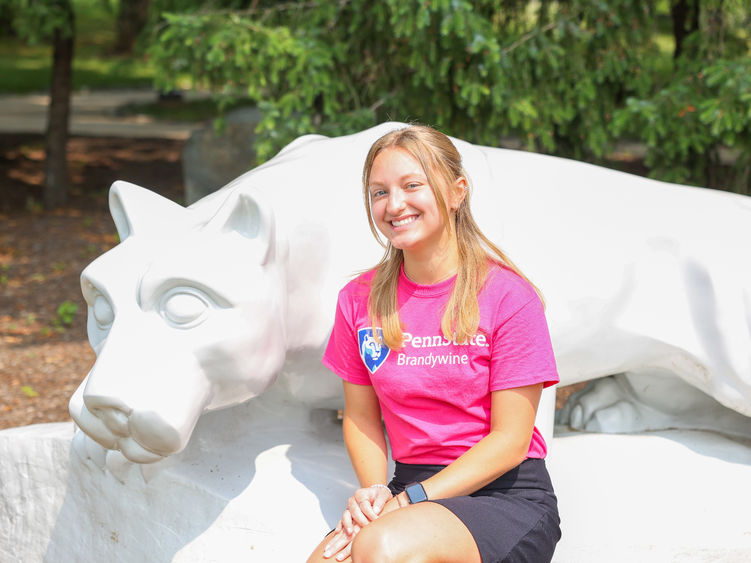 Major/minor: Psychology major, business minor
Year: Third
Involvement: President of Lion Ambassadors, founding member of National Society of Leadership and Success (NSLS), member of Brandywine Leagues & Tournaments
Brandywine: Why did you choose to attend Penn State Brandywine?
Santangelo: I wanted to go to Penn State ever since I was little. My dad actually went here for two years because it wasn't a four-year school at the time. I had originally wanted to go to University Park, but as I got older, I realized I wanted to stay closer to home.
I was deciding between here and another local school because they're both the same distance from my house, but there was always a part of me that wanted to go to Penn State. I decided that if I was able to go here all four years, I would. If I couldn't, I was just going to go to the other local school.
I was able to get in touch with the admissions staff at Brandywine at the beginning of my senior year of high school, and they connected me with Dr. (Joshua) Marquit, associate teaching professor of psychology here, and he was able to answer all my questions. I learned I was able to do my major here completely and commute, so ultimately that was how I made my decision.
Brandywine: How did you choose your major?
Santangelo: I want to become a high school guidance counselor once I'm done with college because the one I had really inspired me. I had a really good guidance counselor, and a lot of my friends didn't. I want to be a guidance counselor because of my experience with my own. Also, I want to help students through the college application process.
Brandywine: What challenges have you faced at Brandywine?
Santangelo: When I first came here, I was pretty nervous about meeting people. Even though only 25% of students live here, it felt like that community was so tight-knit when I first came here — all the students who lived on campus were so close. When I came here after high school, I was a bit shy, so it was hard to put myself out there. I realized that I should get involved, and I decided to join Lion Ambassadors to meet people. I've met so many of my friends through that. I was able to encourage myself to have the confidence to put myself out there and meet people. I felt like it was a little bit hard for the first couple of months, but I feel like that's how it is for a lot of people going to college.
Brandywine: Who has supported you here at Brandywine and how?
Santangelo: I feel like I've been supported by so many people here. I started getting support from Brandywine before I even accepted my offer! Dr. Marquit has been one of my biggest supporters, and he ended up being my adviser as well. It was cool because I had already talked to him before I came here, and he helped me a lot. He helped me create schedules that I've felt really confident in and are very convenient for me. I feel very heard by him.
Everyone in the admissions office has been very helpful to me, especially because I spend so much of my time there for Lion Ambassadors. Kari Berton (assistant director of admissions) has been so great. She always works with me and my schedule, which can get complicated sometimes with the jobs I work outside of school. And honestly, everyone is always so welcoming, and it's so important to me to see friendly faces and have people really get to know me. It just makes me feel like I really fit in this place, and I feel so welcome.
"It just makes me feel like I really fit in this place, and I feel so welcome."

—Julia Santangelo , third-year psychology major, Penn State Brandywine
Brandywine: What made you interested in becoming a Lion Ambassador? What's your favorite part about being involved with the organization?
Santangelo: I was actually an ambassador at my high school. When I saw the Lion Ambassadors table at the involvement fair during my first year, I was immediately drawn to it because it reminded me of high school.
I feel like Dana Hallahan (class of 2023 and former Lion Ambassadors president) was such a welcoming face, too. It was hard to just walk right past her and not look at the table. She was very welcoming from day one, and that was super important. That's the face of what Lion Ambassadors should be — just super welcoming. Becoming a Lion Ambassador was the best decision I made in my first year.
I love being in the admissions setting because it reminds me of what guidance counseling was like at my high school. I've been able to talk to Pamela Coghlan (associate director of enrollment management), and she was a guidance counselor before she came here, so she was able to share her experience with me. That's been super helpful for me because that's what I want to go into.
I love working the events and seeing the new students come in, especially on Accepted Students' Day, because I was in that position not too long ago.
I love to help people. That's why I'm in the psychology field. I love being able to help people make their decisions for their future and check in and make sure that they're doing OK. I love being able to be there for them when they might not know what they're doing. They might not be sure about coming here. I'm not here to convince every single person I tour to come to Brandywine, but it's also nice to be able to tell my story and have someone relate to me and just see the moment on their face where they're like, "This is where I want to be." That's the moment I had when I was able to tour here as well.
Brandywine: Congratulations on being inducted into NSLS this past school year! What made you interested in joining the group, and what do you get out of it?
Santangelo: You get a lot of scholarship opportunities through NSLS, and it's great to put on your resume. It's a little circle that I didn't even know existed, but now I can be a part of it, which only helps me to make even more connections. I'm all about making connections here and getting to know more people.
I was in the National Honor Society in high school, too. It does help you go further in your life and that's important to me, so I figured I'd put the work in. A couple of my friends were doing it, too, so I knew I wouldn't be doing this by myself. It ended up being great. I've met so many people there, and I remember being nervous to have to work with people that I might not know because we were put into random groups. I still talk to those people today.
There are students in all different years here, all different majors, everything. I feel like Jasmaine Price-Thornton (residence life coordinator and NSLS adviser) really tried to make it randomized so that you're meeting people that you wouldn't usually interact with. We had three team meetings about our goals before we got inducted. It was very interesting to see other people's goals and how they differ from or are similar to mine. It was great to just sit there, really hear them out, and then make a connection and become friends.
"I feel like the more I've gone through my college experience, the more I want to be here and the more I enjoy being here. The more time I can spend here, the happier I am."

—Julia Santangelo , third-year psychology major, Penn State Brandywine
Brandywine: With your involvement at Brandywine, how has your time been impacted?
Santangelo: When I first came to Brandywine, I wasn't expecting to be here as much as I am now, because I'm a commuter student, and I was working another job outside of here. I figured I'd come here for class, do my club, and then go, especially in my first semester. But then, as I started making more connections, I've been here more than I've been at home sometimes, and honestly, I love it. If I'm having a good time and I don't want to go home, I don't have to, because I have things I can do here.
I love going to the events after school and staying here late on Friday nights to wait for the event to happen. I feel like the more I've gone through my college experience, the more I want to be here and the more I enjoy being here. The more time I can spend here, the happier I am.
Brandywine: What are some lessons you've learned during your time at Brandywine?
Santangelo: I think probably just to stay on top of your work. I feel like every semester I make it a point to make sure I'm ahead so that I don't get behind at all. I don't even like being on time, I'd rather be ahead. Also, always put your work first, because that's the most important thing at the end of the day. It is fun to be here, but it's also important to get the education you're here for.
Put yourself out there even if you're scared. I was absolutely scared, and I could totally feel for everyone who's scared to put themselves out there. I wouldn't be where I am today without doing that, and I wouldn't be the person that I am today without that. You're going to make a lot of connections that way. At the end of the day, even if you're scared, it's going to be worthwhile to have done it than to have missed out on the opportunity.