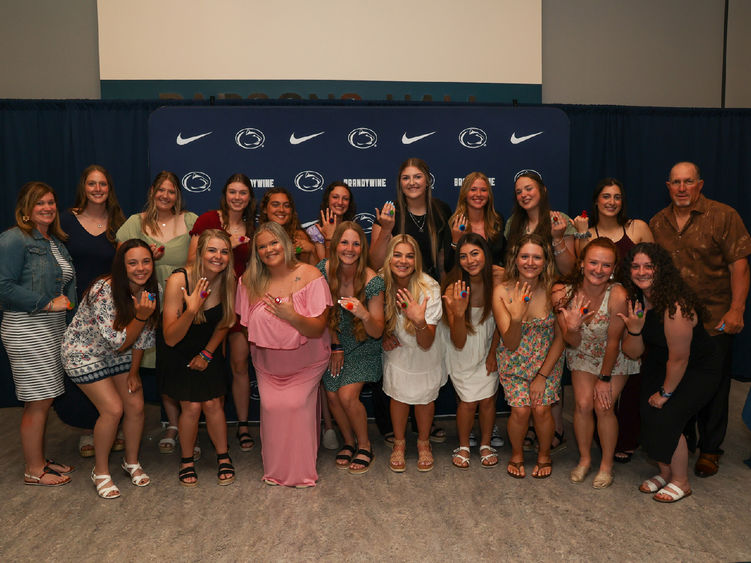 MEDIA, Pa. – Penn State Brandywine Athletics held its annual athletics banquet on Wednesday, May 24, in Parsons Hall.
"It's been a great year for Brandywine Athletics," said Bobbi Caprice, director of athletics. "All of our teams reached the post-season which resulted in another Chancellors Cup victory for Brandywine, and the year was capped off with softball winning their first national championship. We certainly had a lot to celebrate at our end-of-year banquet. In addition to the on-field accomplishments, I was so proud to see all the academic accolades our student-athletes received. It was a special night."
Eighty students received awards regarding their sportsmanship, grade point average, points scored and more.
The following student-athletes were given the Academic All-Conference Athletes Award:
Abu Mattia – Cross Country
Kevin O'Neill – Cross Country
Christian Zita – Golf
Marge Reynolds – Golf
Harry Angelis – Men's Soccer
Jacob Drummond – Men's Soccer
Raymond Kelly – Men's Soccer
Liam Pheiffer – Men's Soccer
Kyle Reuter – Men's Soccer
Sierra Coleman – Women's Soccer
Gabby DiBernardino – Women's Soccer
Demareste Dorvilma – Women's Soccer
Caitlin Kaiser – Women's Soccer
Zoey Lineman – Women's Soccer
Hope Priemon – Women's Soccer
Rose Rowe – Women's Soccer
Savannah Bauer – Volleyball
Lexie Berry – Volleyball
Amanda Floyd – Volleyball
Angela Pagliotti – Volleyball
Anna Ramirez – Volleyball
Bryce Barrouk – Men's Basketball
Colin Hockenbrock – Men's Basketball
Dillon Jones – Men's Basketball
Tim Mattern – Men's Basketball
Savannah Bauer – Women's Basketball
Sierra Diawara – Women's Basketball
Amanda Floyd – Women's Basketball
Kaitlyn Johnson – Women's Basketball
Cheyenne Rivas – Women's Basketball
Jenaya Smith – Women's Basketball
Luke DeAngelis – Tennis
Michael McPhee – Tennis
Gianna Casale – Softball
Crystal Cassario – Softball
Maddie DeFazio – Softball
Lianna DeDios – Softball
Farrell Everett – Softball
Meghan Ferry – Softball
Kaylee Mushinski – Softball
Karly Rees – Softball
Becky Valente – Softball
Bryce Barrouk – Baseball
Cam Baughman – Baseball
Solomon Bayuk – Baseball
Max Tavarez – Baseball
Connor Thompson – Baseball
Shawn Webb – Baseball
Nick Wright - Baseball
The following student-athletes received the PSUAC All-Conference Award:
Honorable Mention: Caitlin Kaiser – Women's Soccer
Honorable Mention: Hope Priemon – Women's Soccer
Honorable Mention: Mike DeGirolamo – Baseball
Second: Abu Mattia – Cross Country
Second: Liam Pheiffer – Men's Soccer
Second: Karly Rees – Softball
Second: Maddie DeFazio – Softball
First: Gia Cetroni – Women's Soccer
First: Jessica James – Women's Soccer
First: Zoey Lineman – Women's Soccer
First: Chris Manful – Men's Soccer
First: Kyle Reuter – Men's Soccer
First: Raymond Kelly – Men's Soccer
First: Amanda Floyd – Volleyball and Women's Basketball
First: Bryce Barrouk – Men's Basketball
First: Colin Hockenbrock – Men's Basketball
First: Connor Thompson – Baseball
First: Shawn Webb – Baseball
First: Nick Wright – Baseball
First: Crystal Cassario – Softball 
First: Kaylee Mushinski – Softball
First: Lexi Bussenger – Softball
First: Payton Landis – Softball
The following student-athletes were awarded Player of the Week at least once during their season:
Elijah DeBooth – Men's Soccer
Raymond Kelly – Men's Soccer
Chris Manful – Men's Soccer
Gia Cetroni – Women's Soccer
Zoey Lineman – Women's Soccer
Hope Priemon – Women's Soccer
Laura Jezyk – Volleyball
Anna Ramirez – Volleyball
Amanda Floyd – Women's Basketball
Bryce Barrouk – Men's Basketball
Johnta Dunson – Men's Basketball
Mike DeGirolamo – Baseball
Connor Thompson – Baseball
Shawn Webb – Baseball
Nick Wright – Baseball
Lexi Bussenger – Softball
Crystal Cassario – Softball
Maddie DeFazio – Softball
Farrell Everett – Softball
April Lewandowski – Softball
Kaylee Mushinski – Softball
Karly Rees – Softball
The following student-athletes received the PSUAC Player of the Year Award:
Laura Jezyk – Volleyball
Chris Manful – Men's Soccer
Bryce Barrouk – Men's Basketball
Kaylee Mushinski – Softball
Nick Wright – Baseball
The following student-athletes received career achievement awards, given to them by their coaches:
Amanda Floyd, 1,000 points – Women's Basketball
Connor Thompson, 100 strike outs – Baseball
Dan Nearey, 100 strike outs – Baseball
Meghan Ferry, 100 hits – Softball
Payton Landis, 100 hits – Softball
Lianna DeDios, 99 hits – Softball
The following student-athletes were awarded the USCAA All-Tournament Team Award:
Elijah DeBooth – Men's Soccer
Chris Manful – Men's Soccer
Crystal Cassario – Softball
Jessica James – Softball
Kaylee Mushinski – Softball
Meghan Ferry, MVP – Softball
The following student-athletes were awarded as USCAA Academic All Americans:
Liam Pheiffer – Men's Soccer
Kyle Reuter – Men's Soccer
Sierra Coleman – Women's Soccer
Caitlin Kaiser – Women's Soccer
Savannah Bauer – Volleyball and Women's Basketball
Amanda Floyd – Volleyball and Women's Basketball
Marge Reynolds – Golf
Christian Zita – Cross Country
Cheyenne Rivas – Women's Basketball
Jenaya Smith – Women's Basketball
Bryce Barrouk – Men's Basketball and Baseball
Connor Thompson – Baseball
Shawn Webb – Baseball
Gianna Casale – Softball
Farrell Everett – Softball
Meghan Ferry – Softball
Karly Rees – Softball
Becky Valente – Softball
The following student-athletes received the USCAA All American Award:
Honorable Mention: Jessica James – Women's Soccer
Honorable Mention: Anna Ramirez – Volleyball
Honorable Mention: Colin Hockenbrock – Men's Basketball
Honorable Mention: Connor Thompson – Baseball
Honorable Mention: Maddie DeFazio – Softball
Second: Kyle Reuter – Men's Soccer
Second: Gia Cetroni – Women's Soccer
Second: Zoey Lineman – Women's Soccer
Second: Hope Priemon – Women's Soccer
Second: Laura Jezyk – Volleyball
Second: Amanda Floyd – Women's Basketball
Second: Mike DeGirolamo – Baseball
Second: Crystal Cassario – Softball
First: Raymond Kelly – Men's Soccer
First: Chris Manful – Men's Soccer
First: Bryce Barrouk – Men's Basketball
First: Shawn Webb – Baseball
First: Nick Wright – Baseball
First: Payton Landis – Softball
First: Kaylee Mushinski – Softball
The following student-athletes were recognized by the Philadelphia Inquirer with the Academic All-Area Award:
Kyle Reuter – Men's Soccer
Bryce Barrouk – Men's Basketball
The following student-athletes received the Cosida Academic All-District Award:
Kyle Reuter – Men's Soccer
Caitlin Kaiser – Women's Soccer
Bryce Barrouk – Men's Basketball
Amanda Floyd – Women's Basketball
Karly Rees – Softball
Meghan Ferry – Softball
The following student-athletes were given the Arthur Ashe Jr. Sports Scholar Award:
Sierra Coleman – Women's Soccer
Cheyenne Rivas – Women's Basketball
The following student-athletes received the John Fritz Sportsmanship Award:
Anna Ramirez – Volleyball
Christian Zita – Cross Country
Michael McPhee – Tennis
Kaitlyn Johnson – Women's Basketball
Johnta Dunson – Men's Basketball
Jimmy Carey – Baseball
Sarah Moore – Softball
The following student-athletes won the Outstanding Contribution Award:
Christian Zita – Cross Country
Luke DeAngelis – Tennis
Raymond Kelly – Men's Soccer
Alyssa Hanrahan – Women's Soccer
Gabby DiBernardino – Women's Soccer
Zak Karlton – Golf
Laura Jezyk – Volleyball
Katie Snyder – Volleyball
Dillon Jones – Men's Basketball
Sierra Diawara – Women's Basketball
Jenaya Smith – Women's Basketball
Meghan Ferry – Softball
Payton Landis – Softball
Dan Nearey – Baseball
Solomon Bayuk - Baseball
The following student-athletes won individual awards:
USCAA Player of the Year: Bryce Barrouk
Nova Care Service to Athletics Award: Hunter Strafaci
Joseph J. Quigley Student-Staff Award: Meghan Ferry
Lloyd Vernon Heart of the Lion Award: Johnta Dunson
Scholar Athlete: Bryce Barrouk
Egli Award: Bryce Barrouk