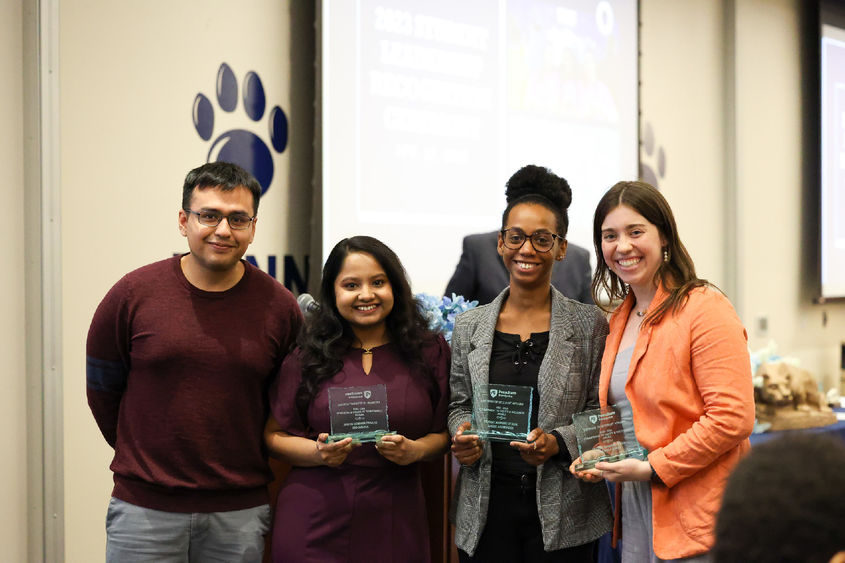 MEDIA, Pa. – Penn State Brandywine students who have impacted the campus through their service and leadership were honored at an awards banquet on April 17. The annual leadership banquet celebrates the achievements of students who are involved with clubs, student government and campus programs.
McKenna Loney, a second-year plant sciences major, received the Eric A. and Josephine S. Walker Award. This award recognizes a student whose outstanding qualities of character, scholarship, leadership and citizenship have been directed into programs and services that have positively influenced fellow students and have contributed to the prestige and well-being of their campus and the University as a whole.
Loney has been involved with the Center for Social Impact since 2021 and works as a campus garden intern. She also is a part of the Restorative Justice, Equity, Anti-Racism League (REAL), which helps fight discrimination on campus. Loney is a peer mentor for Lion Guidez and a member of the Sustainability Club. She will be transitioning to University Park in the fall. 
One of her nominators wrote: "McKenna consistently demonstrates a commitment to our campus, a commitment to her academics and a commitment to our community. She contributes her time, talents and energy to the Brandywine and Penn State communities in many ways.  McKenna is well-rounded in her activities, and she brings a positive attitude to everything she does. She is well-liked by her fellow students, and she is helpful to others whenever she can be. McKenna always brings a high level of dedication to her activities and her service to our campus."
The Student Commitment to Equity & Inclusion Award was presented to the following students for their work with the REAL group this year:
Angel Asomugha
McKenna Loney
Roshni Ohi
Individual leadership awards were presented to the following students who demonstrated leadership qualities and contributed to the campus community and student organizations:
Dana Hallahan – Brandywine Events & Activities Support Team (BEAST), Lion Ambassadors and THON
Jessica Gore – Student Government Association (SGA), Resident Assistant and THON
Khalid Jordan – Resident Hall Association, PokeWalk and Brandywine Leagues & Tournaments
Ava Wise – Brandywine Music Association, Brandywine Leagues & Tournaments and the Office of Development
Group leadership awards were presented to the following student organizations that contributed to student life and experience on campus:
Brandywine Leagues & Tournaments – Student Organization of the Year
Bengali New Year, Bangladeshi Student Association – Student Organization Program of the Year
The Student Organization President of the Year Award was presented to students for their work with the planned prayer and meditation space on campus and for student advocacy:
Longiy Tsin – Nittany Christian Fellowship
Rebeha Wardak – Muslim Student Association
The Student Worker/Employee of the Year Award was presented to the following students for doing exceptional work in their on-campus jobs:
Benjamin Keller – Center for Social Impact
Victoria Zhang – Advising and Career Services
Student Affairs presented the Commitment to Student Affairs Award:
Residence Life presented the Resident Assistant of the Year Award:
Brandywine's Center for Social Impact honored its student interns:
Angel Asomugha
Bianka Bunbury
Tarini Burman
Cortez Catalano
Jannat Chowdhury
Naimah Dristi
Demetria George
Lyndon Greer
Theresa Hamilton
Benjamin Keller
Francis Linus
McKenna Loney
Devin Morrone
Ethan Nichols
Roshni Ohi
Khushi Patel
Reina Ramos
Sydney Walsh
Mikesha Wells
Student Affairs recognized the following students for their involvement with the Student Government Association (SGA):
Jessica Gore, 2022-23 president
Ny'Keh Saunders, 2022-23 vice president
Blake Martin, 2022-23 treasurer
Francis Linus, 2022-23 secretary
Angel Asomugha
Ashlee Catona
Alyson Gehrke
Lyndon Greer
Isabella Griffetts
Marvellous Ibikunle
Khalid Jordan
Caitlin Kaiser
Aashima Khanna
Ethan Nichols
Madison Ollis
Pratima Oulkar
Jordan Polillo
Emily Tabares
Longiy Tsin
Ryan Vohra
Chris Zurita-Fonseca
Student Affairs recognized a student who will be leaving BEAST and graduating from Brandywine:
Student Affairs awarded a staff member with the Advisor of the Year Award for her work with the National Society of Leadership and Success and the Residence Hall Association:
Jasmaine Price-Thornton, residence life coordinator
Jessica Gore and Ny'Keh Saunders were re-inaugurated as the Student Government Association president and vice president for 2023-24.