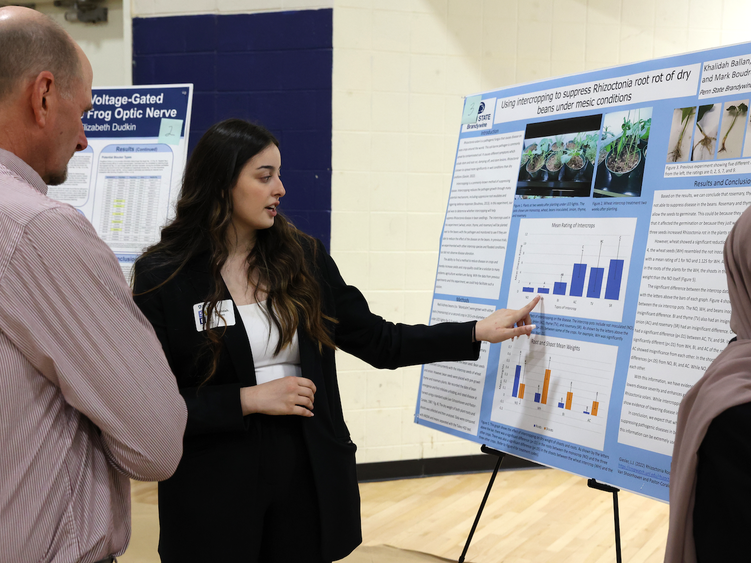 MEDIA, Pa. – Penn State Brandywine's student engagement expo, held April 11 in the campus gymnasium, showcased the academic, co-curricular and experiential work of more than 125 student presenters.
Students displayed a wide variety of work created as part of a class, internship, research project or student organization during the 2022-23 academic year, including:
Research projects in astronomy, astrophysics, biology, chemistry, computer engineering, Earth science, engineering, human development and family studies, mathematics and psychology.
Studio art classes
Internships in cybersecurity, human development and family studies, and information sciences and technology.
Student clubs and organizations, including the Bangladeshi Student Association, Brandywine Event & Activities Student Team (BEAST), Brandywine Music Association, Brandywine Leagues & Tournaments, Community Engagement Club, Lion Ambassadors, Multicultural Club, PokeWalk and Student Government Association.
On-campus student employment with the Center for Social Impact, Student Affairs and Multilingual & International Student Programs.
Nasibeh Zohrabi, assistant professor of engineering, was one of the judges for the expo. She commented on how important this event is for Brandywine students to motivate them to get involved in research.
"The expo is so special because it allows students to get exposed to research and motivate them to complete research of their own. The students here showcasing their research did a very good job," Zohrabi said. "What's really neat about the expo is the collaboration. A lot of these students send their findings to University Park and get information back. These students, even if they aren't graduating this semester, are getting so exposed to the fields they want to go into."
Alyssa Palumbo, a second-year student and co-president of BEAST, presented her work in her organization at the expo. She said this event is so special because it allows the community to come together in one location to showcase everyone's work.
"Our students are constantly doing things with research projects and clubs, and I feel like you don't really get to see their hard work throughout the year," Palumbo commented. "It's nice to have this big event where everyone's in a central location to view all the great work students are doing."
"It's nice to have this big event where everyone's in a central location to view all the great work students are doing."

—Alyssa Palumbo , second-year Penn State Brandywine student
Nearly 225 people were in attendance, including fellow Brandywine students, faculty, staff and family members.
Dana Hallahan, a fourth-year biology major, presented research on how frogs' eyes and brains react to predators. She noted that what makes the student engagement expo so important to Brandywine is how it gives students crucial experience and allows the community to see what students have been working on this academic year.
"The expo allows students to show the Brandywine community what they've been working hard on all year, whether it's their research or artwork," Hallahan said. "It allows students to show off their work not only to their peers, but to their families as well."
The student engagement expo was coordinated by Brandywine's Student Affairs and Academic Affairs offices, the Center for Social Impact, the Undergraduate Research Committee and the Art Department.