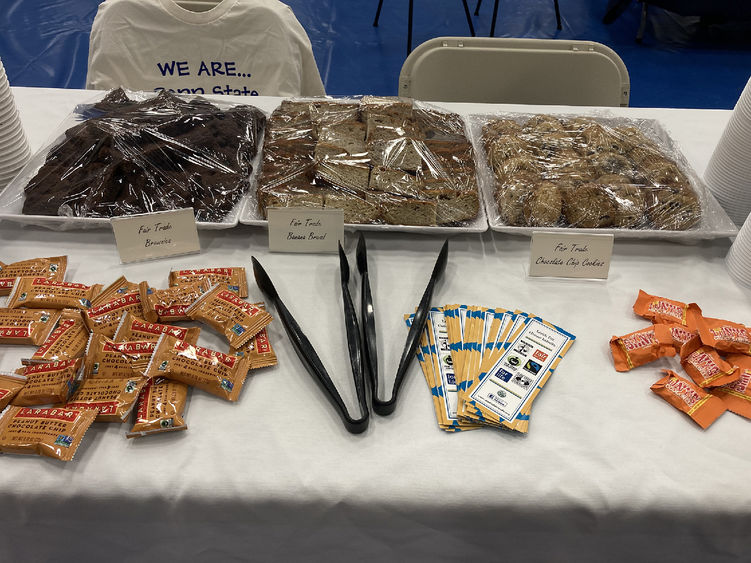 MEDIA, Pa. — During October, Penn State Brandywine celebrated Fair Trade Month — holding several events to raise awareness of the movement — as well as the 10th anniversary of Brandywine's designation as a Fair Trade Campus in 2012.
Penn State Brandywine is one of 11 fair trade campuses in Pennsylvania and the only Penn State campus to receive a fair trade designation from Fair Trade Campaigns. The campus also is situated near Media Borough, the first fair trade town in the United States.
According to Fair Trade Campaigns, "Fair trade is a market-based approach to alleviating poverty in ways that improve lives, strengthen communities, and protect the environment. Fair trade offers fair prices and wages to farmers, workers, and artisans, improved terms of trade, and community development funds to invest in education, health care, and other projects to improve quality of life."
Fair Trade Campaigns also states that "The Fair Trade Colleges and Universities initiative inspires institutions of higher learning to support equity in trade and promote sustainable development by raising awareness among students, faculty, administration and staff of the benefits of fair trade."
During October, Brandywine held a fair trade trivia contest, served fair trade refreshments during the campus career fair and had a fair trade book display in the campus' Vairo Library. The Vairo Library also created an online Fair Trade research guide hosted by University Libraries. In addition, the campus bookstore and the Blue Apple Café — Brandywine's dining service operated by Housing and Food Services — carry fair trade-certified food items.
Zoia Pavlovskaia, lecturer in business, is a member of Brandywine's Commission on Sustainability and a champion for fair trade.
"Our students are learning how fair trade is one of the easiest ways to address poverty through business and not charity."

—Zoia Pavlovskaia , Lecturer in Business
"I've been passionate about fair trade since I visited El Salvador as an undergraduate student many years ago," Pavlovskaia said. "I believe in fair trade principles and support the movement. I'm now involved in two campaigns: Media Fair Trade and Penn State Brandywine. In addition, I conduct academic research about fair trade and I'm curious to learn how this movement can continue to grow in the future. I encourage my students and everyone to seek the seal and shop fair trade!"
"Our students are learning how fair trade is one of the easiest ways to address poverty through business and not charity," she added. "It's a hand up, not a handout."
According to Fair Trade USA, the movement has exceeded $1 billion in financial impact by providing farmers, workers, fishers, and communities around the globe with access to markets in a more equitable way and a fair pay for their hard work. Fair trade-certified products include seafood, produce, home décor, clothing, and more. Fair trade coffee remains the most recognizable and impactful fair trade good.
Additional information about fair trade at Penn State Brandywine is available on the campus website and the Brandywine Fair Trade site.