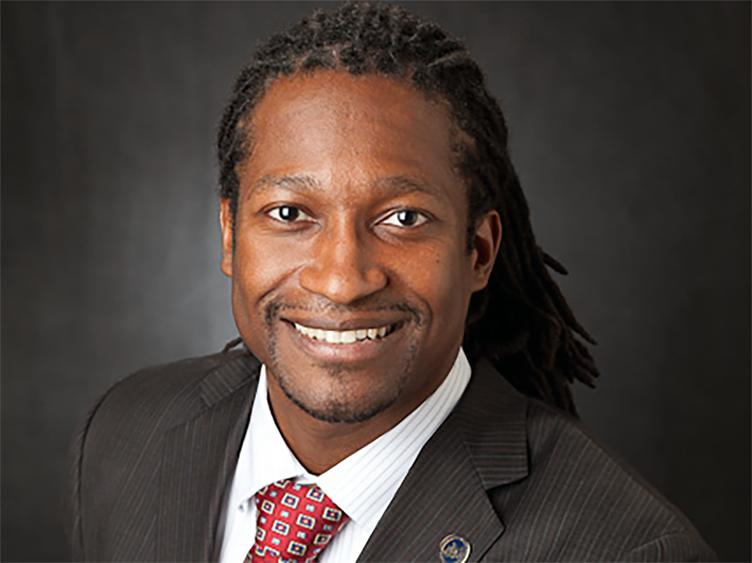 MEDIA, Pa. — Shawn Manderson , a 2003 Penn State alumnus, has a vision for leadership and excellence in action at Penn State Brandywine. The Brandywine Advisory Board member and former Brandywine Alumni Society Board president has committed $30,000 to establish the Penn State Brandywine Leadership and Legacy Excellence Program Fund.
Manderson collaborated with Brandywine Chancellor Marilyn J. Wells and leveraged his employer's matching-gift program to bring his vision to fruition. The Leadership and Legacy Excellence Program Fund will create new initiatives on the campus to advance leadership and excellence for students, faculty and staff. Immediately putting this gift into action, the campus will be taking initial steps in 2022-23 to establish a chapter of the National Society of Leadership and Success (NSLS). Additionally, the campus will be sponsoring one faculty and one staff member to the prestigious Education Policy Fellowship Program (EPFP), administered in Pennsylvania by the Educational Policy Leadership Center in Harrisburg.
"I want the students to be super successful in life, and that starts with us, as alumni, helping to create those conditions."

—Shawn Manderson, class of 2003
"Shawn is a long-standing and dedicated member of the Penn State Brandywine campus community and is passionate about the student experience we offer to each of our students and to developing their leadership acumen. His gift will enable us to bring new national- and state-level opportunities to our students and to the world-class faculty and staff who lead and support their success," Wells said. "Shawn's gift also is right in line with our new strategic plan, supporting academic and career success, connections and belonging, equity and inclusion, and professional fulfillment."
Manderson began his Penn State journey in 1999 at Penn State Hazleton and then transitioned to Penn State Brandywine after two years, strategically deciding to pursue the then-new information sciences and technology degree at the Commonwealth Campus-level to feel more connected to faculty and the program. Manderson graduated in 2003 and began his successful career that has spanned 20 years in IT consulting, IT auditing and risk management. He moved to ADP seven years ago to take advantage of leadership and growth opportunities and was quickly promoted from manager to director to senior director of global SOC reporting compliance. He is currently ADP's vice president of enterprise risk management.
"Our students, faculty and staff will benefit from having the ability to have their leadership/decision-making process enhanced," Manderson said. "You will have to make decisions in ambiguous situations; you're never going to have all of the information, and you have to use your fundamentals."
Manderson added he was inspired by his own Penn State Brandywine mentors, whom he still connects with periodically for conversation and professional advice.
"These are people who care," he said. "Since they care about our students, our alumni and our University, we should continue to support them. We need to invest in our faculty and staff in order to continue to deliver quality learning for our students, and also to give them the tools to enhance and enrich the academic experience."
"Shawn is a long-standing and dedicated member of the Penn State Brandywine campus community and is passionate about the student experience we offer to each of our students and to developing their leadership acumen."

—Marilyn J. Wells , Penn State Brandywine Chancellor
Faculty and staff EPFP fellows will be invited to work with a cohort of peers across Pennsylvania to promote equitable education policy. Throughout this process, they will interact with national leaders and guests in the field of education, human services, government, business and community organizations. The fellowship will be for one year and includes opportunities to travel to Washington and Harrisburg for "Day in the Capital" sessions. The 2022-23 EPFP session kicks off Sept. 15 and consists of a mix of in-person forums and virtual gatherings through May.
Brandywine's inaugural EPFP participants will be Christine Brown, coordinator of the Brandywine Learning Center, and Brad Kovaleski, director of student affairs.
Manderson believes a talented, well-balanced faculty and staff are key to building a stronger campus and a more diverse, well-rounded network of alumni.
"It is important for faculty and staff to leave a good legacy and make sure they're constantly being challenged to develop beyond their level," he said.
This program fund also will encourage excellence by connecting students to mentors, thought leaders and professional development opportunities. The NSLS is the nation's largest leadership honor society, with more than 700 chapters. Students inducted into Penn State Brandywine's chapter will receive help identifying career goals and developing leadership and networking skills, and they will gain access to exclusive scholarships. By the fall 2022 semester, Brandywine faculty and/or staff members will be in place to guide the students as advisers and help establish a student governing body within the chapter.
Brandywine's participants in NSLS will be Andy Landmesser, assistant teaching professor of information sciences and technology, and Jasmine Price-Thornton, residence life coordinator.
"Our students will benefit from having their voices amplified," Manderson said. "We tend to recognize the most vocal students, because they are the most involved on campus, but you may have a lot of students who are just quiet observers. They might need a little something to help them come out of their shell. I was that student when I was a first-year student at Penn State Hazleton, watching the students who were out leading. It takes just one person to acknowledge them."
He plans to continue working with Wells and Brandywine's directors of development, student affairs and academic affairs to ensure the fund remains relevant to Penn State Brandywine's vision to be a leader in student success and campus goals for growth, equity and visibility.
"We are fortunate that Shawn has been an engaged Brandywine alumnus for so many years," Wells said. "He joined the board about 10 years after his graduation day, and we have championed his successes as he has developed into a leader in his field and an advocate for our campus. This fund is his second major gift in five years, and he consistently demonstrates his commitment to the success of Brandywine students."
Manderson joined the Brandywine Advisory Board in 2014, following seven years on the Brandywine Alumni Society board as its president. Additionally, Manderson served on the Penn State Alumni Association's Alumni Council for 13 years. For his years of service to the campus and University, its students and its alumni, Manderson received Brandywine's Young Alumni Lion's Heart Award in 2018 and Alumni Council's Outstanding Council Member of the Year in 2020.
"I want the students to be super successful in life, and that starts with us, as alumni, helping to create those conditions," Manderson noted. "At Penn State, we have this affinity for giving back and supporting the broader Penn State ecosystem. I want to make sure that our students continue to strengthen the Penn State brand. We need to reinvest continuously and reinvest to make things better."
With the record-breaking success of "A Greater Penn State for 21st Century Excellence," which raised $2.2 billion from 2016 to 2022, philanthropy is helping to sustain the University's tradition of education, research and service to communities across the commonwealth and around the globe. Scholarships enable our institution to open doors and welcome students from every background, support for transformative experiences allows our students and faculty to fulfill their vast potential for leadership, and gifts toward discovery and excellence help us to serve and impact the world we share. To learn more about the impact of giving and the continuing need for support, visit raise.psu.edu.