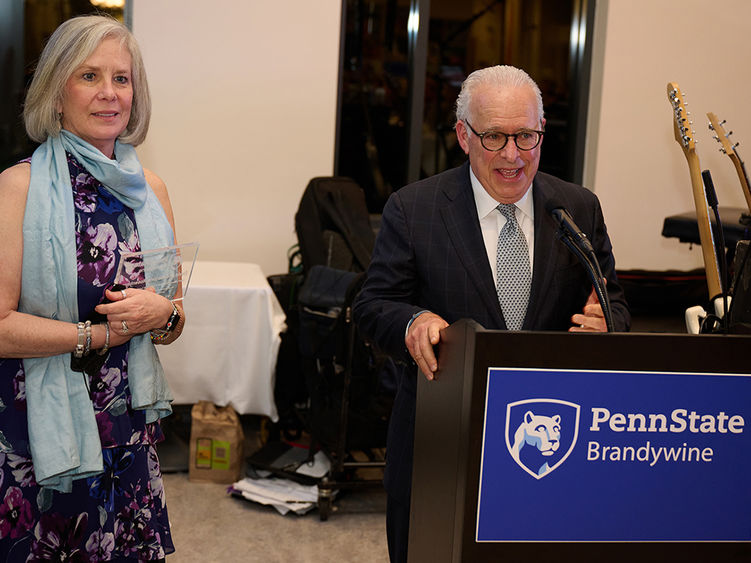 MEDIA, Pa. — Penn State Brandywine welcomed alumni and friends back to campus for the 2022 Brandywine Ball on May 13. The ball raised more than $55,000 for the Brandywine Future Fund's support of the campus' Academic Success Center, which is located in the Vairo Library.
"We were thrilled to host the Brandywine Ball in person this year," said Chancellor Marilyn J. Wells. "It was a lovely and high-energy evening, and our alumni and guests were very happy to come out to support Brandywine."
During the program, Wells shared the success of the University's recently concluded campaign, "A Greater Penn State for 21st Century Excellence," which exceeded Brandywine's $6,765,000 goal three months ahead of schedule. During the campaign, Brandywine also secured funding in new areas such as veteran- and ROTC-focused scholarships, leadership development, career services, entrepreneurship, educational equity and food insecurity.
Additionally, Wells announced Penn State Brandywine's next fundraising effort to benefit the Academic Success Center, including a goal of raising $25,000 that evening for the Brandywine Future Fund, which in turn will support the Academic Success Center.
"A modernized Academic Success Center will be a benefit to our students, faculty, and the entire extended Brandywine community," Wells explained. "The latest resources and technology will support 21st-century learning for 21st-century careers."
Brandywine's Lion's Heart Award recipients were announced during the program as well. The Lion's Heart Awards were established to recognize individuals and community partners who have gone above and beyond in their service, support and dedication to Penn State Brandywine and its students.
Bobbi Caprice, a 2013 Penn State graduate and Brandywine's athletic director, received the 2022 Lion's Heart Young Alumni Award, which recognizes a graduate of Penn State who completed their degree within the last 15 years and attended Brandywine for one semester or more. It honors their outstanding professional achievement, dedication to community service, and impact within the Penn State community.
The Wilbur C. and Betty Lea Henderson Foundation received the 2022 Lion's Heart Community Partner Award, which recognizes a local organization that has modeled partnership, philanthropy and support of Penn State Brandywine campus and its students. Tyler Arboretum received the 2020 Lion's Heart Community Partner Award, which had not previously been presented due to the postponement of the 2020 event.
David and Marjorie Rosenberg received the 2022 Dedicated Service and Leadership Award, which recognizes a benefactor of Penn State Brandywine who demonstrates exceptional generosity, dedication and civic vision on behalf of Brandywine students and the campus community. Recipients personify humanity, compassion and the essence of philanthropy, while motivating and inspiring others to help advance the Brandywine mission. 
Guests also were invited to participate in a live "fund-a-need" campaign by making a pledge to support the Brandywine Future Fund. This raised $22,750 for the Academic Support Center. 
"By contributing to the renovation of the Vairo Library, I can promise you that it will increase student retention," biology major Jessica Gore shared at the event. "As the new president of student government, I am thrilled and determined to continue representing all students at Brandywine. Brandywine is my home. Let's make it every student's home, too."
The Brandywine Ball was sponsored by Communications Test Design Inc., The Wilbur C. and Betty Lea Henderson Foundation, The David and Marjorie Rosenberg Foundation, Pennoni Associates, Rick and Tracey Riegel, Scott Spiezel and Susan Goldy, Mark and Lauren Dambly, and Ben Franklin Technology Partners of Southeastern PA.
In addition to the Brandywine Future Fund, proceeds from the Brandywine Ball helped to advance "A Greater Penn State for 21st Century Excellence," a focused campaign that concluded on June 30 and that sought to elevate Penn State's position as a leading public university in a world defined by rapid change and global connections.
To learn more about the achievements of "A Greater Penn State for 21st Century Excellence," visit greaterpennstate.psu.edu.