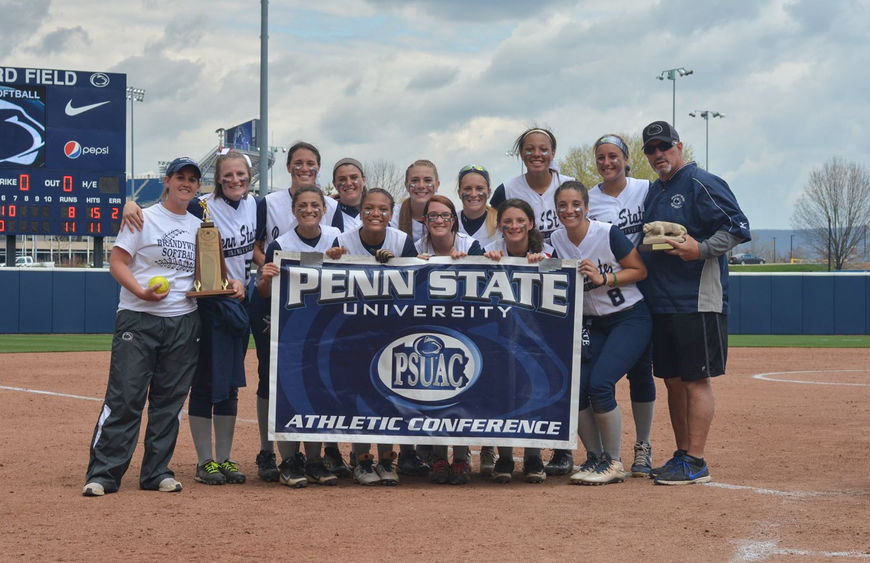 In just its second year in existence, the Penn State Brandywine women's softball team recently claimed its first Penn State University Athletic Conference (PSUAC) Championship after a hard-fought 11-8 victory against Penn State Hazleton.
Top-seeded Brandywine finished its season with a 23-12 record and remained perfect in conference play, winning all PSUAC regular season games and sweeping three games at the PSUAC Tournament.
"I credit a lot of our success to team chemistry," said Recruiting Coordinator and Assistant Softball Coach Bobbi Caprice. "Being a small group of only 11 players made everyone really supportive of each other. They bought into the idea that we could win it all. We knew from the beginning of the year that we had enough talent to do damage."
After a tough top of the first inning where Hazleton scored five runs during the championship game, Brandywine was able to quickly bounce back by knocking in four runs of their own during their first at-bat thanks to timely hitting by junior Danielle Spina and sophomore Cheyenne Murphy.
The Lady Lions had another big inning at the plate in the second, driving in five more runs. After sophomores Lindsey Dellavecchio and Julia Allman reached base on a walk and single, respectively, freshmen Robyn Gannon and Katy Steffen belted back-to-back doubles, which brought home three runs. Two batters later, Murphy hit a two-run double. A two-run single in the third from Steffen gave Brandywine a six run lead.
Spina was able to hold off the hard-hitting Hazelton squad for the rest of the contest, earning her 12th victory of the season after tossing a complete game for Brandywine.
"They were nothing short of amazing," said second-year Head Coach Mark Caserta, who was selected as the conference's Coach of the Year. "Our lineup was strong one through nine. Each player had big moments and did whatever it took to win. Even though this was only our second season, I knew the talent we had assembled and what they were capable of."
"Confidence played a big role in why we were successful," added Allman. "Coach Mark had full confidence in our team and told us from day one that the conference championship was ours."
This season, four Brandywine players were honored by the United States Collegiate Athletic Association (USCAA) with All-American awards. Freshmen Katie DeStefano and Steffen both earned first-team accolades, while Dellavecchio was named to the second team and freshman Lauryn Geduldick was selected honorable mention. DeStefano was also named PSUAC Pitcher and Newcomer of the Year.
"Mark and Bobbi are tireless in their quest to recruit new student-athletes," said Athletic Director James Gastner, who also attributed the squad's success to team chemistry. "It was a combination of the right payers at the right time."
With their top players returning and 10 new recruits joining the team next season, there's no denying that Penn State Brandywine softball will be a powerhouse in the PSUAC and beyond for years to come.