Brisa Luzzi Castro recognized for commitment to solving public problems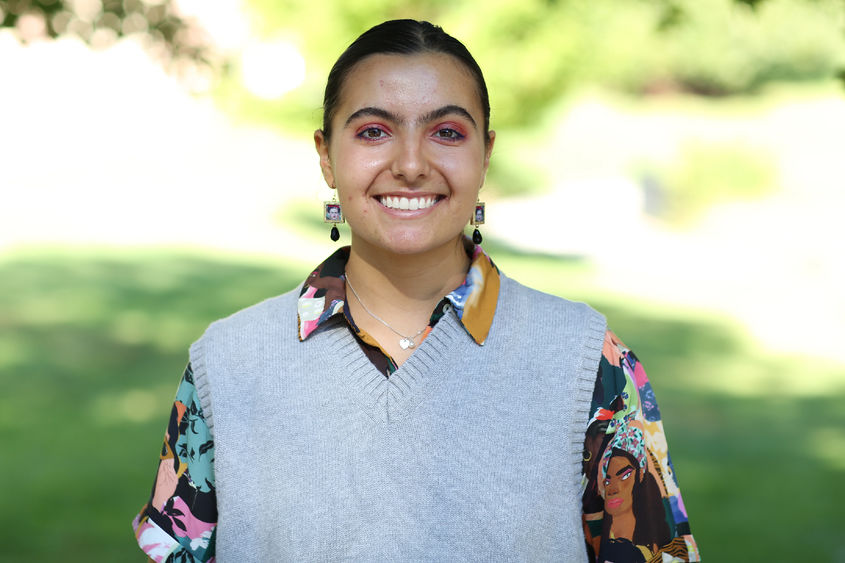 MEDIA, Pa. — Brisa Luzzi Castro, a second-year student at Penn State Brandywine, has been named a Newman Civic Fellow by Campus Compact, a national coalition of colleges and universities working to advance the public purposes of higher education. She will join 173 student civic leaders from 38 states, Washington, D.C., and Mexico who will make up the organization's 2022-23 cohort of Newman Civic Fellows.
The Newman Civic Fellowship recognizes students who stand out for their commitment to creating positive change in communities locally and around the world. The fellowship is named for the late Frank Newman, one of Campus Compact's founders, who was a tireless advocate for civic engagement in higher education. In the spirit of Newman's leadership, fellows are nominated by Campus Compact member presidents and chancellors, who are invited to select one outstanding student from their campus each year.
"Brisa has consistently demonstrated a commitment to her community and a desire to be an effective agent of social change," said Penn State Brandywine Chancellor Marilyn J. Wells. "Her remarkable campus and community involvement reflect her dedication to the values of equity, inclusion, and compassion and advocacy for historically underrepresented groups and communities of color."
"Brisa has consistently demonstrated a commitment to her community and a desire to be an effective agent of social change."

—Marilyn J. Wells , Penn State Brandywine Chancellor
Among her many accomplishments, Luzzi Castro received a 2021 Penn State Brandywine Student Leadership Award, conducts research with the campus' Student Trauma and Antiracism Research in Schools Lab Team, organized and gave a talk at the campus' first-ever TEDx event, and represented the campus at the 2021 AACU Truth and Racial Healing Transformation Institute.
Her service to the campus community includes working as a program intern at the Center for Ethics and Civic Engagement and as an international student mentor for the Multilingual and International Office; serving as the co-president of the Civic and Community Engagement Club, as a Lion Guide peer mentor, and as an orientation leader; and being a member of the Chancellor's Commission on Racial and Ethnic Justice and the Chancellor's Commission on Sexual Orientation and Gender Identity.
"Early in my life I learned about the importance and need for justice and equality, where everyone deserves a seat at the table and a microphone to speak their truth," said Luzzi Castro, who is majoring in global and international studies. "It was when I started to build relationships with my community that I realized just how powerful we are as individuals to transform the world in which we live. Listening, speaking, bonding and taking action. In my community, I actively volunteer and build partnerships with groups who constantly show me what it means to be passionate and resilient, whether it be about environmental or animal justice."
Through her role as an intern at Brandywine's Center for Ethics and Civic Engagement, Luzzi Castro leads volunteer opportunities and educational programming tied to social justice, ethics and civic rights.
"Through this I've been shown how youth involvement and active, interactive learning experiences are essential to being a catalyst for change," she said.
As part of the fellowship, Campus Compact will provide students with a year of learning and networking opportunities that emphasize personal, professional and civic growth. Each year, fellows participate in numerous virtual training and networking opportunities to help provide them with the skills and connections they need to create large-scale positive change. The cornerstone of the fellowship is the Annual Convening of Fellows, which offers intensive skill-building and networking over the course of two days. The fellowship also provides fellows with pathways to apply for exclusive scholarship and postgraduate opportunities.
"We are proud to name such an outstanding and diverse group of students Newman Civic Fellows," said Campus Compact President Bobbie Laur. "Their passion and resolve to take action on the wide range of issues challenging our neighborhoods and communities is inspiring and deeply needed. We cannot wait to engage with them through this transformative experience."