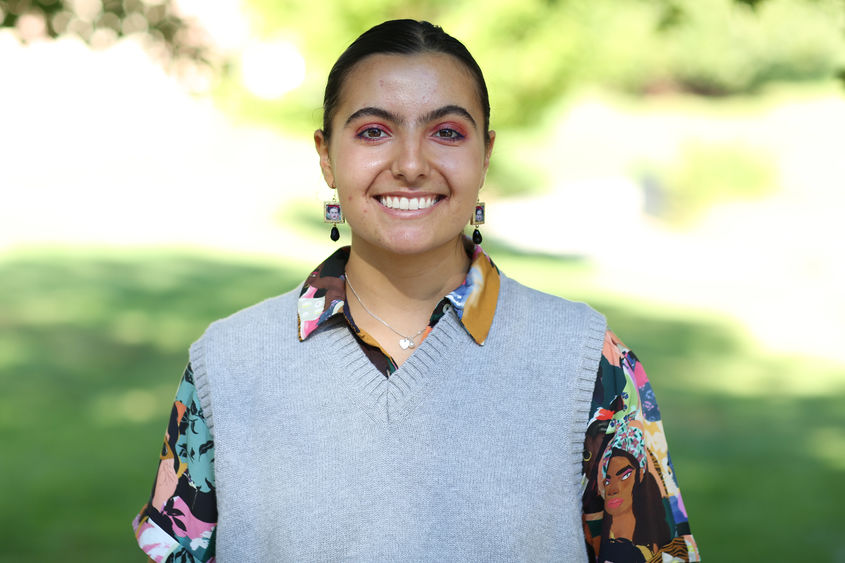 Name: Brisa Luzzi Castro
Major: Global and International Studies
Minor: Civic and Community Engagement
Year: Sophomore
Involvement: Lion Guide (peer mentor), international student mentor, intern for the Center for Ethics and Civic Engagement, co-president of the Civic and Community Engagement Club, Multicultural Club, Chancellor's Commission on Racial and Ethnic Justice, Chancellor's Commission on Sexual Orientation and Gender Identity
Brandywine: Why do you feel it's important to be involved in clubs and activities on campus?
Luzzi Castro: There are so many opportunities to learn about yourself and grow as a person, and also help other people or work alongside other students and faculty. You can make such a big difference even just being involved in one thing. You are advancing the community and the campus, but also you're really helping yourself because you're learning about what you'd like to do, about what you're capable of.
Brandywine: What got you interested in civic and community engagement?
Luzzi Castro: I've always had an appreciation for it. I've always sort of gone into the activist realm. I grew up being an immigrant and being Hispanic. I've just experienced a lot of things and it made me realize how much I would like to change and how much needs to be done. I started getting involved in this community effort, into the justice area as soon as I could. A Penn State organization is able to provide so much and change so much, even if it's a small organization. I would like to be able to change things as much as I could for students like me and other people everywhere.
Brandywine: What challenges did you face transitioning to college?
Luzzi Castro: Well, college is a grand responsibility. It is sometimes painted as always fun and super great, but it can be really hard. There are a lot of expectations. I always pushed myself in high school and I've always been hard working, but college is the real thing. I felt like I was exposed to the real world, so I had to start from the ground up, learning how to work with other college students and how to interact with professors and communicate with them. I had to learn how to accept help and understand that I can't have everything thing together all the time, that there's a lot of vulnerability in college. It's still a challenge every day, but you get the hang of it, especially in the second year.
Brandywine: Why did you choose Penn State Brandywine?
Luzzi Castro: I was very impressed with the connections that Penn State has in the community, in the state, in the country and all over the world. It was just amazing to learn about how they are affiliated with so many programs in so many countries, and so many different types of people and organizations. I have it 45 minutes from my house and I thought it was extremely convenient to have such a great college near me. And I get to live at home, which is important to me. It's the best of both worlds. I'm just very grateful to have Penn State close to me. I couldn't imagine not going here because the opportunities are so great.
Brandywine: What do you think has been your greatest accomplishment at Brandywine?
Luzzi Castro: I think my greatest accomplishment is allowing myself to get involved and meet amazing people along the way, besides things that I've done in classes or things that we accomplished as groups. Meeting the people I've met and seeing how amazing people are here, students, faculty, and staff, is life changing basically. It makes the experience so much more wholesome and motivating when you have good people around you. I'm so grateful to have met so many people and know that there are others that really care.
Brandywine: How has Penn State Brandywine supported you?
Luzzi Castro: Penn State Brandywine faculty and staff have really supported me in the way that they allow students like me to express ourselves and immerse ourselves into the experience. They're not trying to hold you back. If you want something, you work for it and they will try to do as much as they can to help you. When I'm getting involved and I'm being part of things on campus, I never felt like they didn't want me there. They've always been so supportive and very open. I really appreciate that. I was always very accepted here and I love that.