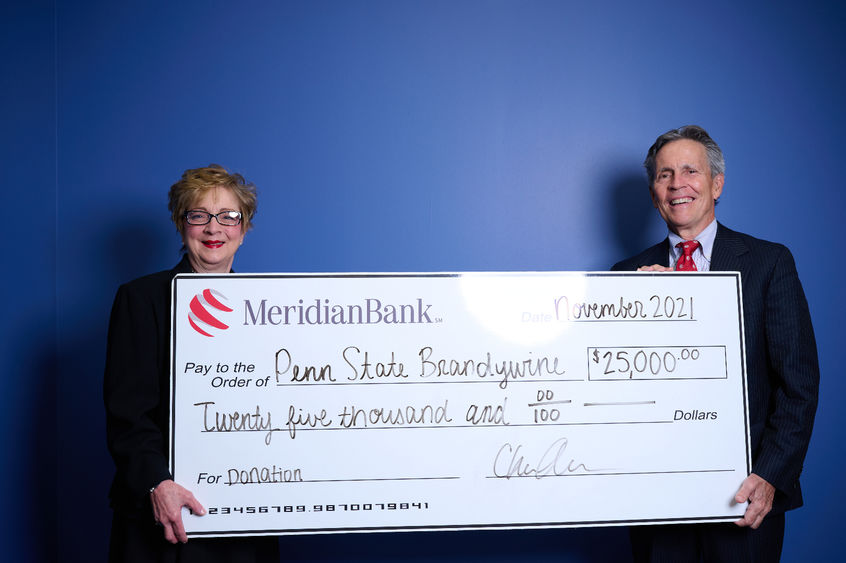 Meridian Bank has contributed $125,000 to support STEAM Explorations and Entrepreneurship programming through Penn State Brandywine's STEM Pathways program. STEAM Explorations are free programs designed to educate middle- and high-school students about science, technology, engineering, arts and math.
"We are grateful to Meridian Bank for their generous gift to support growth of our STEAM Explorations and Entrepreneurship youth programs, a priority in our new strategic plan," said Penn State Brandywine Chancellor Marilyn J. Wells. "With Meridian's support, we will offer K-12 students in our community a variety of programs to stimulate their curiosity and career exploration in science, technology, engineering, the arts, and mathematics, along with innovative and entrepreneurial thinking, showing them that when it comes to their future, anything is possible."
"It made all the sense in the world to get involved," said Meridian Bank CEO Chris Annas. "Technology is here to stay, and it's going to get even more dramatic going forward. To get kids involved and understanding it early on is truly important. I think that being able to navigate and leverage technology will do more for them down the road than almost any other thing they could study."
As Annas noted, it's not just the students participating in the STEAM Programming who will benefit from the access and education it provides.
"Community is in our hearts at Meridian, and if we can provide a group of people some support to better learn the technology, ultimately a lot of those people will end up becoming ambassadors to their groups, their families and their schools about what they learned and how technology can make their lives better," Annas said. "They can bring their depth of knowledge to the community at large and be really helpful to everyone around them."
For Annas, contributing specifically to a program designed to provide technological opportunities to young students was not just an investment in community, but also a chance to give students the same jump start that a strong grasp of technology provided him.
"My own understanding of evolving technologies was critical when I founded Meridian Bank. I'd followed technology since 'PC Magazine' came out in the early 1980s, and that knowledge really helped my career. Because I had a strong commitment to technology myself, I was able to see, early on, how important it would become in my industry, and that people would soon prefer to do their banking online and not have to rely on trips to a bank branch. Our initial success, in large measure, was in our ability to skip ahead a step."
Wells noted that Meridian's recent commitment underscores the bank's dedication to supporting the communities that both it and Penn State Brandywine serve. "Meridian's support of STEAM Explorations and Entrepreneurship pathways and programs demonstrates its commitment to our community, a core value of the bank," Wells added.
"We are a community bank. We're defined as that," said Annas. "The better we can build up the economics of our area the better for everyone. As I always tell our client base, "As you grow, we grow."
Annas, who graduated from Penn State's Smeal College of Business in 1978, also credits Penn State for giving him the education that started it all.
"I had a really good foundation at Penn State in finance and accounting, and although I could have gone a bunch of different ways, it led me into the banking world," he recalled. "For me, it's good to be able to give back to Penn State because my education meant a lot for me and to my career. I'm a graduate, both my kids went there, and many of our 300 plus employees are Penn Staters. So, I feel good about Penn State's status as a leading university in the country and the world, and we're super excited to be continuing our involvement with Penn State."
"It's truly special to see the impact Penn State alumni go on to have in their local communities," Wells said. "It means so much to Penn State Brandywine to be able to work with Chris and his entire team at Meridian Bank to enhance the opportunities available to local students."
This gift will advance "A Greater Penn State for 21st Century Excellence," a focused campaign that seeks to elevate Penn State's position as a leading public university in a world defined by rapid change and global connections. With the support of alumni and friends, "A Greater Penn State" seeks to fulfill the three key imperatives of a 21st-century public university: keeping the doors to higher education open to hardworking students regardless of financial well-being; creating transformative experiences that go beyond the classroom; and impacting the world by serving communities and fueling discovery, innovation and entrepreneurship. To learn more about "A Greater Penn State for 21st Century Excellence," visit greaterpennstate.psu.edu.