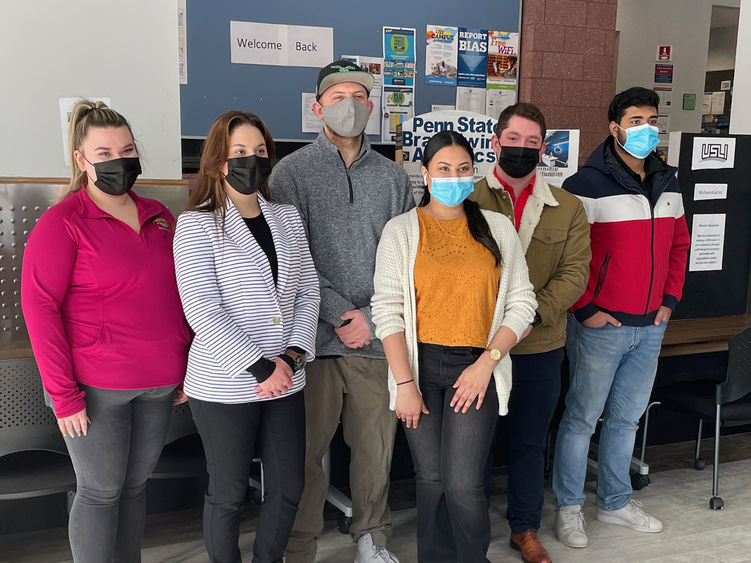 MEDIA, Pa. – Penn State Brandywine student interns majoring in business, communications and information sciences and technology gathered on Feb. 2 to present posters and share insights from their recent internship experiences.
Muhammad Ali, a senior majoring in business, shared his experience with the United States Liability Insurance Co., known as USLI. 
"USLI is a small-business insurance, but it's not just for business, you can insure anything from a birthday party to a photography business," Ali explained. 
Ali was one of two USLI interns presenting at the event. Discussing his internship, Ali emphasized the great experience he was having and the many ways the company was going above and beyond to provide a valuable internship experience.
Ali is currently interning in the underwriting technology team, where he primarily tests software. "For example, if you're an underwriter and you're using the system, they use certain templates. My job is to make sure that if I go through the template provided to me by the developers and coding team, everything works the way it is supposed to," he said.
While he is a business major, Ali also has a very technical background, something that USLI allows him to utilize and develop through his internship.
"I'm currently a GeekSquad agent, so I'm pretty good at hardware and software," Ali described.  Recognizing this ability, USLI placed him in the IT department, said Ali.
As Ali described, once you start interning at USLI, there's a "high possibility" of growing that internship into a full-time position. 
"I will most likely be pursuing a career with USLI, making my other job part-time," Ali said.
Ali explained that typically, USLI enjoys hiring first-year students so they can help their interns develop over several years. "If you're a freshman they can teach you a lot of different things," Ali said. "If you're a senior, you should have some type of background. But even if you're a senior, if you're from Penn State, they would take you instantly."
In preparing for his internship, Ali found a preparation course with Katheen Yanoshak, lecturere in accounting, especially helpful. 
"She showed me a couple of tricks and everything to write the resumes and the interview tips. The mock interview we had was pretty good. That helped me a lot," Ali said.
For Fizur Parsa, it was the foundational skills she's acquired as an information sciences and technology major that have helped her at her internship with The People Company, a non-profit based out of Madison, Wisconsin.
In her role at The People Company, Parsa works primarily as a content manager, overseeing the non-profit's website. Currently, she's helping company migrate their site from a WordPress system to a Squarespace system, something she's very familiar with from her course work.
"I actually did a project in my project management class where I had to create a website for a business and so I actually made one for my own business. I'm a makeup artist," Parsa said.
"You do gain a lot of hands-on experience that you can use in the outside world beyond classes."

—Fizuer Parsa , Penn State Brandywine IST major
"So I made a website for my business and having that experience, I knew that I would qualify for The People Company's internship," Parsa explained. "So you do gain a lot of hands-on experience that you can use in the outside world beyond classes."
Beyond providing real-world opportunities to apply what she's learning here at Brandywine, Paras also finds a wealth of meaning in being a part of The People Company's work.
"The People Company's main goal is to have everyone feel included and not just be on two different ends of the spectrum," Parsa said. "And this company stood out to me because I'm an immigrant. And sometimes I don't feel included ­­— even though it's been so many years since I came here. They work towards inclusivity, and they make sure that everyone feels heard. So that's what really stood out to me."
Brandywine senior Bryce Barrouk is also enjoying an internship that intertwines his passion and his major. Barrouk, a member of the men's basketball team who happened to join the Brandywine record books surpassing 1,000 points just last week, is enjoying experiencing every element of the athletics world as both a Penn State Brandywine student-athlete and intern for the athletics department.
Referencing an extensive list of the types of intern experiences the athletics department offers, Barrouk explained that he'd been fortunate to "have a little bit of experience in every category."
"I get to do a little bit of each, except for the broadcast commentating, because I can't do that when I'm playing," Barrouk laughed.
Through his internship, Barrouk works alongside Penn State Brandywine Director of Athletics Bobby Caprice, Assistant Athletic Director – Communications Jeff Scarpone and Recruiting, Retention and Alumni Coordinator Myeisha Matos.
"I've had experience helping Bobbi with a lot of events, setting up our recent hall of fame and our upcoming 3's for THON event coming up next week. I've also had experience with Jeff working on social media and online broadcasting, and then with Myeisha on the recruiting side," Barrouk detailed.
"I'm kind of all over the place working on a broad range of stuff, but it's really beneficial to experience this," Barrouk said. 
Reflecting on how his academic career has helped him seize this opportunity, Barrouk noted, "it's been really good. My teachers have done a great job in leading me into this. I mean, I've been lucky enough to have this opportunity and make the most of it."
"My teachers have done a great job in leading me into this. I mean, I've been lucky enough to have this opportunity and make the most of it."

—Bryce Barrouk , Penn State Brandywine senior