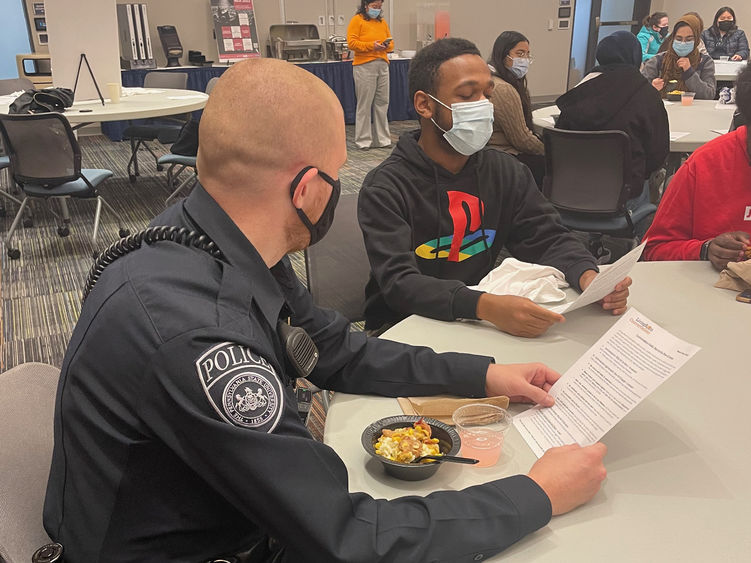 With the words of Martin Luther King Jr. playing over the sounds of voices and activities, students, faculty, staff and community members gathered at Penn State Brandywine on Jan. 17 to celebrate the life and legacy of the civil rights icon.
The first event in a week of programming dedicated to honoring MLK's life and legacy, Monday's Day of Service provided a meaningful opportunity for local families to come to campus and get to know Penn State Brandywine.
"We've never been here before," said Michelle Slaven, who despite living close by in Wallingford had never visited 25 Yearsley Mill Road. "It's fantastic, we're right down the road. It's a really nice campus too."  Slaven saw the event posted online and brought her children to participate in the day of service. "It's a great educational opportunity for them. At this age it's really hard to find things that they can relate to and I feel like this is so great for them," Slaven said.
Kevin Towles also lives locally and made his first visit to Brandywine Monday with his entire family. "We were looking for activities to recognize the day of service, trying to take them out of their normal lives and have them appreciate Martin Luther King," Towles said.
Students participating in the day's festivities were excited about welcoming these visiting families to campus.
Alan Farrow Jr., a first-year Brandywine student, was volunteering at the step-and-repeat station, where participants were encouraged to answer the question "What am I doing to combat racism?" by writing on a white board. Farrow then took photos of the participants with their responses, and was happy to see so many children participating. "It's pretty cool, there's a lot of young people here and I think that's pretty great," Farrow said.
"To see the families actually come out is such a confirmation of the fact that this is necessary," said Vippy Yee, Rosenberg Director of Brandywine's Center for Ethics and Civic Engagement. She noted that the event was a "very intentional family-friendly public day."
"We want to open our campus to the community to be real partners with the community. And not just at one level," said Yee. "We are a higher education institution, but we want our families in the community to recognize that no matter how old their children are, this is a space where they can have a relationship with us and grow with us. We're a land-grant institution, we have a public purpose for being here. And that might be to begin that conversation around 'What does it mean to be responsible person that cares for the earth, cares for our community? What does Dr. King's legacy mean on a day-to-day basis? Beyond this one day, how are you going to carry this forward now?'"
The importance of carrying out King's legacy beyond Monday is something Yee and her partners at Abington and World campus said they carefully considered when planning this year's events. 
"I think one of the complaints people do have about the MLK Day celebration is that it can sometimes feel like there's one day of the year that we honor Dr. King's legacy and that's it," Yee explained. "And so, we'll choose to do service, and sometimes it may not even feel very meaningful to some people to just choose that one day. This was our attempt to have a full range of programs. So, it wouldn't just be one type of way to honor his legacy."
On Tuesday, Feb. 18, students, faculty and staff were invited to continue the dialogue in "Living Room Conversations," held over lunch. "At that particular event, we had some staff members who came which is wonderful. And I hope that more staff and faculty come to those conversations because that's part of that diversity too," Yee said.
Among the attendees participating in the conversations were Penn State Brandywine Police Sgt. Falesha Ghee and Officer Dan McCole. 
"I tell my students all the time, it is so important to just show up, that's the first step. Then, you can actually have a beginning of a relationship with someone, beginning of a real dialogue with people. So I was very appreciative of their presence," Yee said. "I know our students were. It was really interesting."
"Some of my interns were at one table and then there was a table of young Black men who were sitting with Officer Dan and they were having such rich conversations," Yee described. Asked how it felt to watch these types of conversations come to fruition, Yee responded with gratitude.
"It makes me feel genuinely happy to be doing this work and so grateful that David and Marjorie Rosenberg gave us the gift to start the center and to have the resources to dedicate the time to really begin these kinds of community conversations, relationships, and then call to action," Yee said.
Tuesday evening continued the conversation with an open Zoom session exploring social change wheels. On Wednesday, Feb. 19, students participated in MLK trivia because, as Yee noted, "I also want to make sure that it isn't incredibly heavy the whole time too, that our students can also interact and have fun this week." 
On Thursday evening, Feb. 20, students, faculty and staff gathered on Zoom for a conversation with Jake Mejias, a recent Penn State graduate who attended Brandywine. While a student, he created the documentary "Wake," which focuses on the racial protest in Philadelphia in the summer of 2020.
"It's an honor to be able to be on campus and be giving back to the community this way because I think a lot of these topics are really important and don't get talked about often enough, so knowing that and bringing that back to the community, it makes me really happy," Mejias said.
Mejias created the documentary while he was still a student at Brandywine, an accomplishment that Yee emphasized.
"He did this while he was a student, so I hope that resonates with our students to hear him, but also with our community members, whether they're Penn State or public community members, that we have students here that are being prepared to actually make change. Jake's a great example of that," said Yee.
The week of MLK programming was a joint effort between Penn State Brandywine, Abington and World Campus. While the events concluded on Friday, Jan. 21, Yee is optimistic the important conversations they've prompted in the community will continue. 
"These themes of becoming anti-racist and building community will be woven into everything that we do for the rest of the semester. Far beyond this week," Yee said.