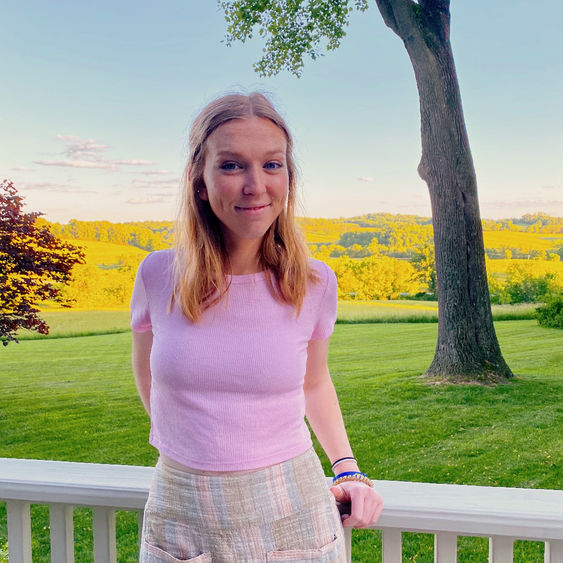 MEDIA, Pa. — This past spring, two Penn State students taking project and supply chain management courses at Brandywine learned and collaborated with students from multiple countries through a virtual exchange program. The eight week experience was offered through The Hague University of Applied Sciences in the Netherlands.
Kalpani Dissanayake, assistant professor of business and economics at Brandywine, was connected to the unique opportunity through EDGE, Penn State's experiential digital global engagement program. EDGE is a project-based teaching and learning approach that promotes the development of intercultural competence across shared multicultural learning environments through the use of Internet-based tools and innovative online pedagogies. EDGE links a class at Penn State with one abroad.
"I have personally experienced working with several countries before, so I understand the importance of such programs especially for supply chain management and business students," Dissanayake said. "As Penn State faculty, we want to promote the global citizenship of our students via international engagement."
Grace Eissler, a rising senior majoring in business with the accounting option at Brandywine, participated through her Supply Chain Management (SCM 301) course. Michael Garcia, a rising senior majoring in project and supply chain management at York, participated through Purchasing and Materials Management (SCM 460). Both chose the advanced-level virtual supply chain management course in lieu of a group project for their Brandywine-based course.
Eissler said she jumped at the opportunity to expand her knowledge, especially with the importance of supply chain issues during the coronavirus pandemic.
"When I initially heard about it I was interested because I felt that a case study regarding supply chain was so relevant, especially with that being one of the biggest problems we encountered with the pandemic," she said. "And I thought it would be a great opportunity to branch out and really involve myself in something that was outside of what I'm used to doing in school, which was primarily focused on the accounting side."
The virtual exchange class, with about 30 students, was divided into teams and then presented with a case study that focused on a local hospital in the Netherlands that was struggling with a shortage of hospital beds due to COVID-19 and needed recommendations on how to respond. The students were provided with extensive information about the hospital, its resources and inventory, its staff and the main concerns within its operations, such as ICU capacity issues, post-ICU care, staffing concerns, PPE shortages and other types of disruptions or faults that were within the processes of the hospital.
The course involved daily team meetings along with lectures that focused on the lean and agile scrum methodologies, project and change management, as well as other advanced supply chain topics, such as logistics and procurement.
"One of the assignments I led was to put together a forecasting model, predicting future demand, using simple moving average, weight of moving average, and exponential smoothing forecasting techniques," Garcia said. "The educational experience I had was really great. The Hague University is an applied sciences university, so what that means is you learn the theory and then you apply it to a real-world application."
The student teams compiled their findings and research into a final report with recommendations on hospital processes.
"We had a one-hour presentation and defense of our project and the materials we put together," Eissler said. "Some of our main focuses were on the problem definition for the hospital and the recommendations regarding these issues. And the three highlights from the issues that we found and ultimately made recommendations about were mainly focusing on the ICU capacity issue, post-ICU care and the staffing concerns, which we found to be the most overarching issues that affected the process."
Eissler said the class gave her new ways of thinking, especially on an organization level, on how to make processes more efficient, how to manage projects and how to conduct yourself in a team environment.
"Working with students internationally definitely gave me a very diverse and cultural experience," she said. "And the classroom style there is a lot more collaborative, a lot more interactive with people participating totally in every lecture that they have. It definitely helped me get out of my comfort zone a little bit and want to speak up more and be more assertive."
Eissler and Garcia worked with students from Aruba, Brazil, China, Germany, the Netherlands and the United Kingdom.
"Overall this experience was something that really pushed my limits," Eissler said. "And even though I'm an accounting student and this was a heavily involved supply chain course, it really allowed for me to branch out into a field, an area of knowledge that I never would have been able to experience in my regular accounting classes. I learned supply chain and operations specialization go hand in hand with accounting and finance because they support each other in how the operation's going to be run."
Dissanayake said the benefits for the students were many, including learning how to practically apply several advanced-level supply chain management tools and working with international teams.
"In addition, they had to manage their time," she added. "While working in two different time zones was definitely a challenge, they had to balance all their course work with the intense teamwork."
And, according to the professor who led the virtual course, "they were wonderful ambassadors of both Penn State and the United States."