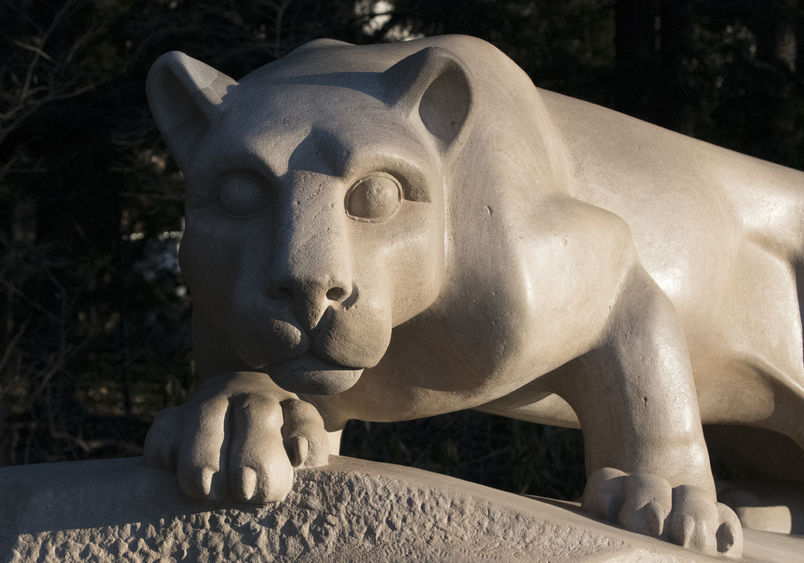 UNIVERSITY PARK, Pa. — Despite facing a global pandemic and working in a mostly virtual setting for over a year, Penn State students across the commonwealth have shown resilience in continuing to advance sustainability in their campus communities. This month, Penn State's Sustainability Institute (SI) and the Student Sustainability Advisory Council (SSAC) honored six Penn State students for their leadership and commitment to sustainability throughout their time at Penn State.
The SI awarded five students with the annual John Roe Student Sustainability awards, while the SSAC awarded its annual SSAC Tree Award to Maddy Mitchell, a senior recreation, park and tourism management major at University Park and former director of the Council of Sustainable Leaders.
The Roe Student Sustainability Awards are named in honor of late mathematics professor John Roe, whose passion for the environment and values surrounding sustainability became entrenched in his teaching over his 20 years at Penn State. Supported by the Dr. John Roe Fund for a Just and Sustainable Future, this award honors students who have demonstrated a commitment to promoting sustainable development, to fostering peace and justice, and to strengthening partnerships.
"This year's Roe and Tree Award winners have provided outstanding sustainability leadership for Penn State and I know they will go onto careers that will make a significant impact addressing our global sustainability challenges," said Paul Shrivastava, Penn State's chief sustainability officer and director of the Sustainability Institute. "They are a true credit to the legacy John Roe built of inspiring student leaders to incorporate sustainability into every aspect of Penn State's community."
This year there were 73 students nominated across the entire University.
John Roe Student Sustainability Awards
The five recipients for the John Roe Awards are:
Dallas Barber, a sophomore international politics major at Penn State Brandywine
Lydia Carey, a senior community, environment and development major and global and international studies major at Penn State University Park
Kaylin Currier, a junior environmental science and biology major at Penn State Erie, The Behrend College
Divya Jain, a senior chemistry major at Penn State University Park
Paulo Soares, a graduate student in energy and mineral engineering at Penn State University Park
Each recipient will receive a $500 scholarship and will be featured in video profiles that recognize their accomplishments.
"It feels rewarding to be recognized for the work that we've put in to make Penn State a better place over our four years," said Jain. "My biggest hope is that the next generation will take over with just as much passion and persistence! In the future, I hope to continue sustainability work beyond Penn State, perhaps at my place of work or community-based organizations."
Jain is a co-executive director of Penn State Climate Action, a student-led activism group that has been working with University stakeholders to help intensify Penn State's ability to combat climate change. When the pandemic hit, Jain and her group amplified their efforts.
Jain said, "The world may stop for the pandemic, but the climate doesn't stop changing for anyone. Although sustainability isn't a priority for some people during this time, I feel that there is no time to wait to take stronger actions and find new solutions."
Currier not only shared this sentiment but expressed that sustainability should be emphasized more due to COVID-19.
"Although the pandemic has certainly slowed down the progress of my efforts, it has not halted me. In fact, I feel like sustainability work is becoming all the more important since the start of the pandemic," said Currier. "Issues with food security, inequalities and the increased use of disposable plastics have sprung up, and they all need attention. These ongoing issues motivate me to keep making progress."
SACC Tree Award
The Tree Award, presented by the SSAC, honors a University Park student for overall leadership in sustainability initiatives and for making a difference in the campus community. Each year, the award winner has a tree planted in their honor somewhere on the campus. Past locations include near the Palmer Museum of Art, the HUB-Robeson Center lawn, and the Sustainability Experience Center. Each tree is donated by the Office of Physical Plant and supported by Student Affairs and the SI.
This year's tree-planting celebration, to recognize Mitchell's sustainability achievements at Penn State, will be held at 11 a.m. on Friday, April 23, at the University Park Nittany Lion Shrine. It is open to all with required masking, social distancing and appropriate COVID-19 protocols to be followed.
The award process for both accolades was halted last year due to the pandemic, so the award was not presented in 2020.