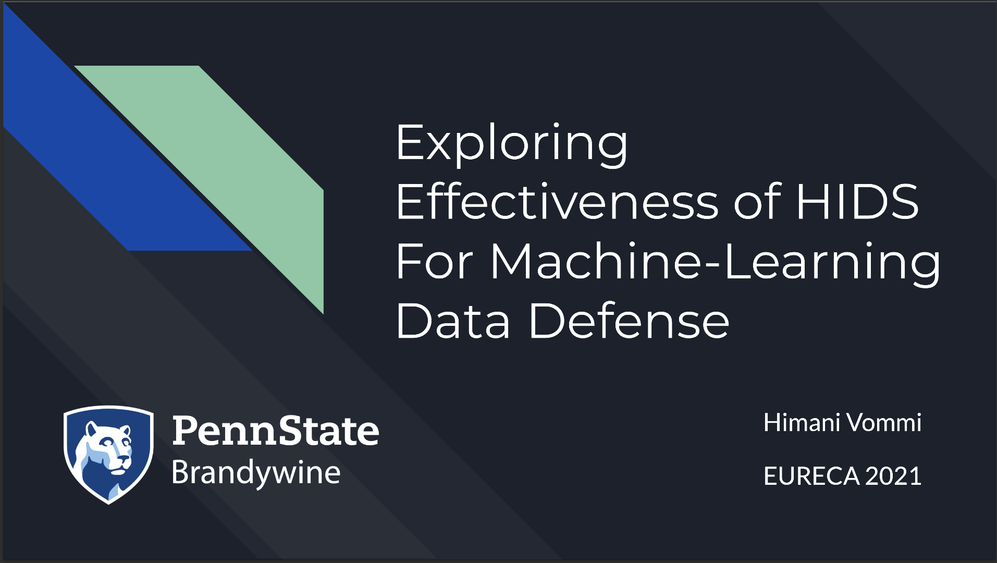 MEDIA, Pa. — Penn State Brandywine held its annual Exhibition of Undergraduate Research Enterprise and Creative Accomplishment (EURECA) virtually on April 12. The annual event provides an opportunity for undergraduate students across numerous academic disciplines to present their research and creative endeavors to the campus community.
"Despite the severe impact COVID-19 has had on undergraduate research at Brandywine, these students not only worked hard to complete their projects, but also went the extra mile to present their work publicly to the campus in the symposium," said Kurt Kistler, associate teaching professor of chemistry. Kistler co-chairs the campus' undergraduate research committee along with Martin Yeh, assistant professor of information sciences and technology.
The students' presentations in three categories were judged by a panel of faculty on content, display, oral presentation and thoroughness.
The results were:
Information Sciences and Mathematics
First place: "Exploring Effectiveness of HIDS for Machine-Learning Data Defense" by Himani Vommi (faculty adviser: Andy Landmesser, assistant teaching professor of information sciences and technology)
Second place: "Geography of Legendrian Knot Mosaics" by Abhinav Pandey (faculty adviser: Samantha Pezzimenti, assistant professor of mathematics)
Social Sciences
First place: "The Prevalence of Adverse Childhood Experiences (ACE's) in the Deaf and Hard of Hearing Population" by Danielle Guth (faculty adviser: Daniela Martin, associate professor of psychology)
Second place (tie): "Predictors of Job Satisfaction in Individuals Working in Corporations in the U.S." by Ela Nerudova (faculty adviser: Joshua Marquit, associate teaching professor of psychology)
Second place (tie): "Consumer Motivations and Impulsivity as Predictors of Made-to-Order Coffee Purchases" by Adi Yom-Tov (faculty adviser: Joshua Marquit, associate teaching professor of psychology)
Business
First place: "Digital Badges in a Post-COVID World" by Luke Messatzzia (faculty adviser: Veronica Godshalk, professor of management)
Second place: "Bibliometric Analysis on Supply Chain Risk and COVID 19 Related Literature" by Danielle Avellino (faculty adviser: Kalpani Dissanayake, assistant professor of business and economics)
"This was our first time holding the event virtually, and it was quite an effort to accomplish," said Kistler, noting in particular the contributions of Marquit and Matt Bodek, coordinator of instructional design. "And of course, we give sincere gratitude to the faculty who mentored these research students during these difficult times and helped to get them ready to present, and present well! Without their strong commitment to undergraduate research at Brandywine, none of this would have been possible."