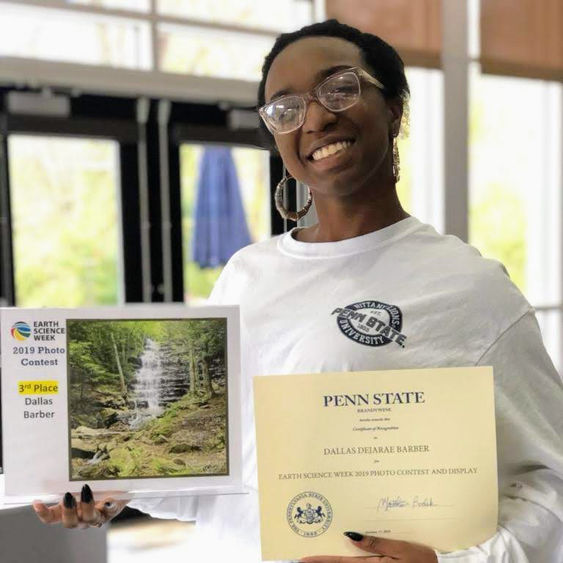 Name: Dallas Barber
Major: International Politics
Year: Sophomore
Involvement: Undergraduate Research Ambassador
Brandywine: Describe your role as Brandywine's Undergraduate Research Ambassador.
Barber: The goal of my role is to help students get involved in research at Brandywine. I can help students find research opportunities on campus, understand the benefits of being an undergraduate researcher, and answer any questions related to research that they might have from a student's perspective.
Brandywine: How did you get involved in this role?
Barber: I completed research with Professor of Earth Sciences Laura Guertin related to climate and Earth science and she suggested that I apply for the ambassador role at Brandywine. Having my own research experience helps when it comes to being a peer adviser for other Brandywine students.
Brandywine: What inspires you about your work as an Undergraduate Research Ambassador?
Barber: I just really enjoy being a resource for other Brandywine students. I've had classmates come to me and ask about how they can get involved or share their ideas for research projects with me. Being able to offer guidance is such a great feeling and I love sharing the information I have with them.
Brandywine: How does your research experience relate to your major?
Barber: Through my research experience, I was able to learn more about the connection between policy and climate change and climate science. That realization really taught me that my research is preparing me for a career in today's political landscape. From that perspective, I think every student can benefit from doing research.
Brandywine: What has been your greatest accomplishment throughout this process?
Barber: Having two articles published with Dr. Guertin is definitely rewarding. When I started down this road, I didn't think being published was even a possibility. Dr. Guertin has been so supportive, and I wouldn't be in this role without her.
Barber's publications include "Virtual Informal Learning and Community Building via Nature‐Themed Podcast Discussions" and "Listen to This: Science Communications Through Podcasting."
Update: On April 12, Dallas Barber became one of five students from across Penn State to be awarded the 2021 John Roe Sustainability Impact Awards for her commitment to promoting sustainable development, fostering peace and justice, and strengthening partnerships.