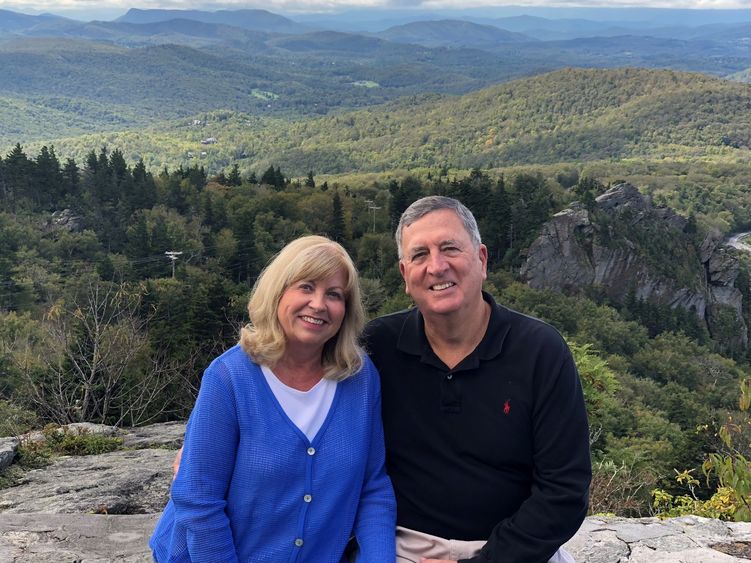 UNIVERSITY PARK, Pa. — Penn State Brandywine alumnus Jack Wixted and his wife, Carol, have pledged $300,000 to create the Jack and Carol Wixted Veterans Scholarship for veteran and military students and their families. The scholarship, established through a combination of an outright gift and an estate commitment, furthers Penn State Brandywine's vision to enhance a vibrant culture that celebrates and supports veteran students.
"Jack and Carol share Penn State Brandywine's vision for veterans and recognize the value they bring to our campus and our communities as professionals, leaders and engaged citizens," said Marilyn J. Wells, chancellor of Penn State Brandywine. "This gift will provide financial support not only to veteran and military students, but also to their spouses and children, who share in their sacrifices. I am tremendously grateful to the Wixteds for their generosity."
"The men and women who serve in the military give so much to preserve our safety, security and democracy," said Jack Wixted. "For Carol and me, it is important to honor these heroes. We hope our gift will inspire veteran students and their families to pursue an education at Penn State Brandywine and provide a foundation for their success here and in their careers after graduation."
Jack Wixted attended Penn State Brandywine for his first two years of college and graduated with a business degree from University Park in 1973, and he later received his MBA from Case Western Reserve University. He went on to a successful career in the financial services industry, including executive positions at the Federal Reserve Bank in Chicago, PNC Financial Group in Pittsburgh and Sun Trust Banks in Atlanta. Carol Wixted graduated from Hiram College in Ohio and had a successful career in business and marketing, and then turned to raising the Wixteds' two children, now grown. The couple currently lives in Naples, Florida.
For years, the Wixteds were active in philanthropic and volunteer endeavors for such organizations as the United Way and the Wounded Warrior Project, but their Penn State philanthropy began several years ago, after Jack reconnected with the Brandywine campus.
"Penn State Brandywine set me on my path, gave me the foundation for my career and life's journey, but I hadn't been back there in about 40 years," said Jack Wixted. "When I came back, I was just blown away by all that had happened on the campus. It had gone from a single building to several buildings, with dorms, a cafeteria, a student center and more. As I got to meet and talk to students and faculty, I was amazed at the fantastic work that was going on."
The Wixteds subsequently established both a Trustee Scholarship and an Open Doors Scholarship at the campus. But it was the Penn State Football Military Appreciation Game, which the Wixteds attended at University Park in November 2019, that set them on a path to supporting Veteran students.
"We were incredibly moved by that experience — seeing all these veterans at Penn State and their families honored for their service," Jack Wixted said. "That started a conversation about how we could support this population at Penn State Brandywine, and we ultimately decided that a scholarship was the best way for us to have an impact."
A driving force behind the Wixteds' gifts was Carol's passion for supporting veterans, born out of her family's deep history with the armed forces.
"Several members of my family have made significant contributions to our country through their military service," she said. "One of my uncles gave his life in World War II, and I had four other uncles who were in either World War II or the Korean War, as well as a brother who served during the Vietnam era and a nephew in Afghanistan. That has given me a strong sense not just of the sacrifices soldiers and sailors make, but also how those sacrifices affect the ones they love, especially their spouses and children. So it was very important to me that the scholarship would be made available to family members as well as veterans and service members themselves."
The Wixteds' scholarship will further a new vision for Penn State Brandywine's veteran students, championed by Wells.
"We really want to grow our population of veteran students, to make it more visible on campus, and then to help those students have the best experience possible," Wells said. "That goal is deeply connected with Penn State Brandywine' character and values as a community-focused, civically engaged campus."
Key elements in realizing this vision are:
increased scholarship support;
a Center for Veteran and Military Students, scheduled to commence operations during the Spring 2021 semester, which will offer veteran-focused activities and help students connect with support services;
a Chancellor's Commission for Veteran and Military Success, launched summer 2020, which will help guide the campus in implementing its vision.
These efforts will help Penn State Brandywine to be recognized as a military-friendly institution, which can in turn make the campus more appealing to potential students.
"Carol and I really appreciate Dean Wells' commitment to making veteran students a priority," said Jack Wixted. "That vision was important factor in our decision to establish this scholarship, and we're looking forward to seeing the impact of all of these efforts on the veterans and family members who pursue their education at Penn State Brandywine."
The Wixteds' gift will also advance "A Greater Penn State for 21st Century Excellence," a focused campaign that seeks to elevate Penn State's position as a leading public university in a world defined by rapid change and global connections. With the support of alumni and friends, "A Greater Penn State" seeks to fulfill the three key imperatives of a 21st-century public university: keeping the doors to higher education open to hardworking students regardless of financial well-being; creating transformative experiences that go beyond the classroom; and impacting the world by serving communities and fueling discovery, innovation and entrepreneurship. To learn more about "A Greater Penn State for 21st Century Excellence," visit greaterpennstate.psu.edu.