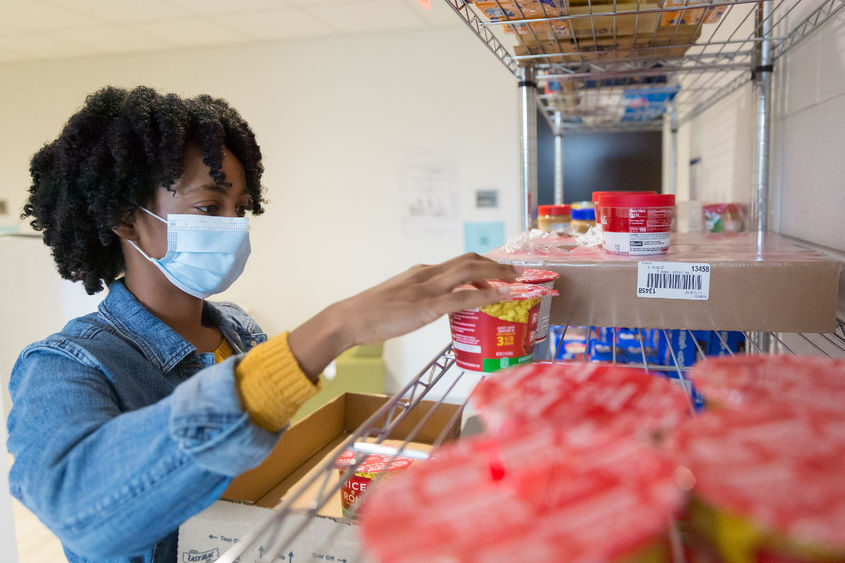 MEDIA, Pa. — Food insecurity is a social issue that impacts thousands of local individuals — including college students — and has the potential to stand in the way of students achieving their educational and professional goals. At Penn State Brandywine, students, faculty and staff have taken action to combat student hunger by creating a campus food pantry.
Located on the second floor of the Commons/Athletic Center, the campus food pantry is the result of a collaboration between Brandywine's Center for Ethics & Civic Engagement and the Office of Student Affairs.
"At Brandywine, we want to make sure that the most basic needs of our students are met, and in this case, the need for food and personal care items," Rosenberg Director of the Center for Ethics & Civic Engagement Vippy Yee said. "We've developed a multifaceted approach for supporting our students on this front."
That multifaceted approach includes offering a wider variety of options, including both non-perishable and fresh food choices, as well as personal care items. To stay stocked, the pantry hosts donation drives and places orders through Brandywine's Housing and Food Services department at lower costs. But it's not just about what the campus food pantry offers, said Yee, it's about how.
"We have a self-service option for students to take food in the moment. There's no means testing, and it's completely confidential," Yee said. "We offer food that students can eat on the spot and items that they can take home and prepare. We also have an online ordering system, which allows students to pick up their orders once they're fulfilled."
Working to fulfill those orders is sophomore Angel Asomugha, who manages the ordering process and helps track the pantry's inventory. Asomugha, a residential student who lives in Orchard Hall, first got involved with the Center for Ethics & Civic Engagement as an intern through the University's PaSSS program. When her internship ended, she looked for new ways to stay involved with the Center.
"When I first came to Brandywine, I felt really welcomed," Asomugha said, "so this was a way for me to give back to the campus community. It feels great to be involved in this initiative, knowing that students have this recourse on campus if they need it. Hopefully, the food pantry will continue to grow over the years."
"I really appreciated that Angel wanted to stay involved with the center," Yee added. "She has experience working with food pantries from her own personal background with her church. Angel has a lot of empathy and a real desire to serve her community."
Sophomore Nuzhat Tasmim is also playing a major role at the campus food pantry, working behind the scenes to build a more robust online management system to improve the pantry's ordering process, inventory database, communications efforts and more.
"Nuzhat has also brought a lot of personal experience to the pantry," Yee said. "She has a strong understanding of human resources management and inventory systems from her past work. She's really motivated and works well independently."
"I've always wanted to give back to my community and the food pantry really gave me that opportunity," Tasmim added. "Working at the pantry has also given me additional real-world experience — it's like a building block. I am getting exposed to new things while having support and guidance along the way. I think these types of activities help prepare students for the future."
Both Asomugha and Tasmim applied for and were awarded grants from the University's Student Engagement Network for their work with the campus food pantry. Student Engagement Network grants give students a way to fund their engagement experience and further develop the skills needed to reach their career goals.
"Participating in service projects and community engagement work is a wonderful way for students to get connected to their community, whether it's the Penn State Brandywine community or the surrounding community," Yee said. "It's a way for students to live out their values by donating their time, learning about issues and developing new skills."
Future plans for the pantry include offering gift cards for necessities such as gas, as well as food vouchers to the campus' Blue Apple Café. Yee said that she wants students to have a "full set of options" and for the pantry to "remain flexible in the way we're offering assistance."
For more information about the campus food pantry and other community engagement initiatives, visit the Center for Ethics & Civic Engagement's website.