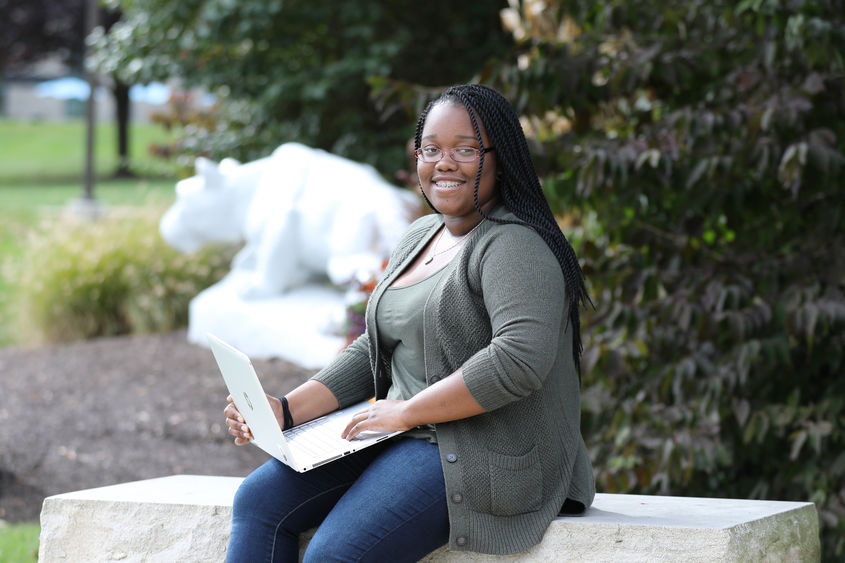 MEDIA, Pa. — Penn State Brandywine students who have impacted the campus through their leadership and service have been honored with student leadership awards. The annual awards program highlights the achievements of students involved with clubs, student government and campus programs.
Chevelle Thomas, a senior psychology major, received the Eric A. and Josephine S. Walker Award. This award recognizes undergraduate students whose outstanding qualities of character, scholarship, leadership and citizenship have been directed into programs and services that have positively influenced fellow students and have contributed to the prestige and well-being of their campus and Penn State at large.
Her nominator said: "Chevelle's impact has been far reaching and she has positively influenced a wide range of people, from prospective students and families to current students to faculty and staff to the Board of Trustees. She always brings a high level of dedication to her activities and her services to our campus."
Thomas has served as president of the Lion Ambassadors for two years and was vice president of the Student Government Association last year. She has been a volunteer for Brandywine's STEM Options program and MLK Day of Service. She has also been a peer mentor and orientation leader, and she helped organize Brandywine's homecoming celebration last fall.
Quiona Sephes won the Outstanding Service to Campus and Community Award, which recognizes a student who has volunteered their time to assist others. She has been an intern with the Center for Ethics and Civic Engagement and an active member of the Civic and Community Engagement Club.
Alyssa Plotnick was honored with the Diane D. Shorter Award, which recognizes a student or event that contributed to the spirit of civic engagement through raising awareness of and enlisting campus involvement toward supporting a cause. She has been active with the College Democrats, Blue and White Society, Marketing Communications Club and the campus mock convention.
Kennesha Busby received the Barbara Jackson Williams Award for Cross-Cultural Understanding, which recognizes a student who provides outstanding service in initiating multicultural involvement and awareness on campus. She is president of the Multicultural Club and student chair of the Brandywine Events and Activities Support Team.
Brian Reynolds was awarded the Deborah J. Erie Student Leader Award, which recognizes a student who demonstrates leadership qualities and contributes to building campus pride. He is president of the Marketing and Communications Club, a leader on the campus baseball team and a volunteer with the MLK Day of Service.
Sofi Teitsort received the Adult Student of the Year Award, which recognizes an outstanding adult student who demonstrates initiative, tenacity and flexibility in overcoming obstacles to furthering their education. She is vice president of the Psychology Club and a peer mentor.
The Brandywine Events and Activities Support Team's third annual Palentine's Day, chaired by Ryan Peterson, was named Outstanding Event of the Year, a distinction that recognizes a program or event sponsored by a student organization that has enhanced the quality of student life by promoting campus community and Penn State pride.
Lecturer in Human Development and Family Studies Michael Sturm, Associate Teaching Professor of Human Development and Family Studies Laura Evans and Associate Teaching Professor of Social Sciences and Education Christine Brown received the Club Advisor of the Year Award, which recognizes a faculty or staff member who shows that they are truly engaged in the activities and mission of the student organization. Sturm and Evans are advisors for the Active Minds Club, while Brown serves as the advisor for DMAX.
DMAX/Active Minds received the Student Club of the Year Award, which recognizes a student club or organization that has shown exceptional involvement throughout the year and has contributed to the quality of student life by promoting campus involvement.
Residence Life presented awards to several outstanding students who assisted their department this year.
Keyana Cooper received the Resident Assistant of the Year Award, which honors the RA who has been the most consistent, dependable staff member in all aspects of their responsibilities while creating a stronger, more vibrant and inclusive residential community through their work and attitude.
Keyana Cooper and Nicole DiMauro received the Residential Program of the Year Award, which is given to the organizers of a program that had a large positive impact on the residential community while promoting the development of respect and responsibility, for their Resume Consultations with Career Services program.
Career Services was honored with the Residence Life Campus Partner of the Year Award, given to a department, faculty or staff member, or student organization that partnered with residence life to sponsor programs supporting conflict management, bystander intervention, community expectations or inclusive language and action.