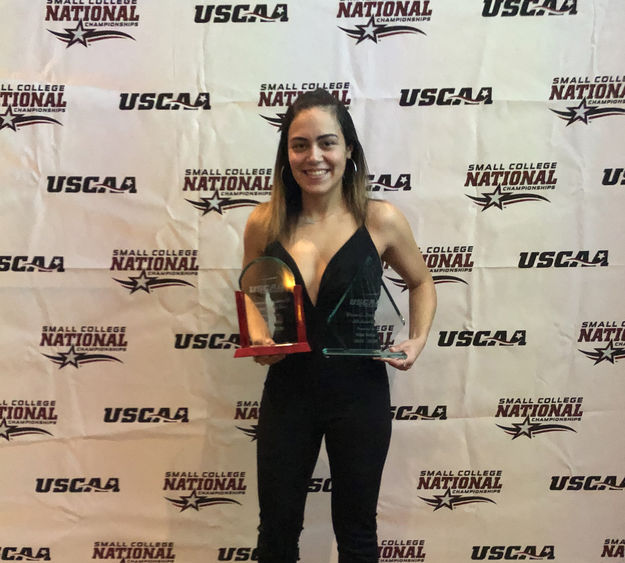 MEDIA, Pa. — Penn State Brandywine senior guard Nikki Velez capped off her four-year career by being named the top women's basketball player in Division II of the United States Collegiate Athletic Association (USCAA) during the 2019-20 season. Velez officially accepted her National Player of the Year award at the USCAA awards banquet on March 7.
Also the Penn State University Athletic Conference (PSUAC) Player of the Year, Velez earned her third USCAA First Team All-American award and fourth All-American selection overall at the banquet. Velez joins 2019 graduate Brianna Banks (women's soccer) as the only student-athletes in Brandywine history to be named national player of the year.
Entering the week, Velez was one of three USCAA players and just 17 women's basketball student-athletes from all levels of four-year college basketball to have made more than 100 three-pointers this season with 103 triples. She finished the year fourth in the USCAA in three-point shooting.
The top scorer in Brandywine history, Velez was the fourth-leading scorer nationally, averaging a career-best 19.4 points per game after scoring a team single-season record 542 points in 28 games. She netted at least 20 points in half of the team's games, including a career-high 41-point performance against Penn State Schuylkill on Feb. 8, aided by nine three-pointers.
The second-ranked free-throw shooter in the USCAA, Velez shot 83.2% from the line this season and made nearly 80% of her 424 attempts during her career.
Having played 989 minutes this winter, an average of more than 35 minutes per night, Velez committed just 39 turnovers. She handed out 59 assists and produced a team-leading 66 steals.
Velez set the Lions' all-time scoring record at Penn State Fayette in January, topping Dana Johnson's total of 1,519 points that had stood since 2007. She finished her 111-game career with 1,800 points, one of the highest totals in PSUAC history, and 325 three-pointers.