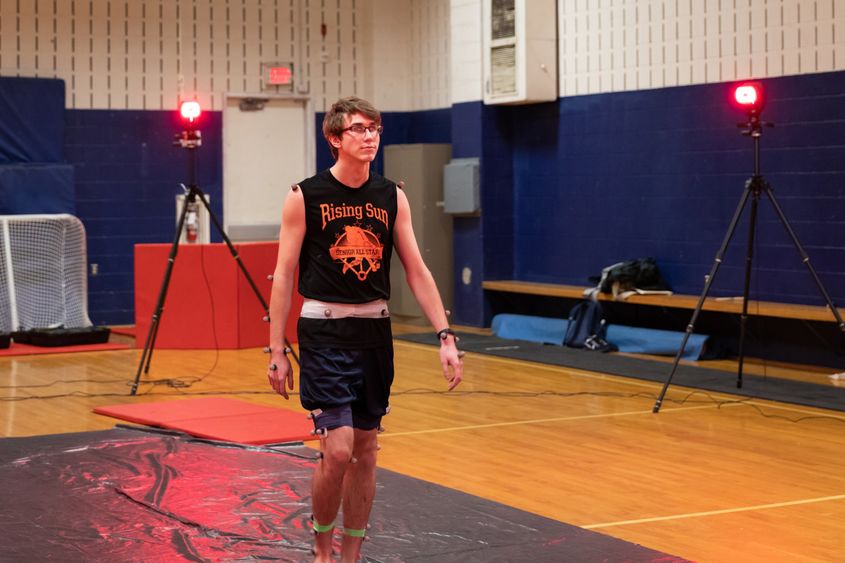 MEDIA, Pa. — Penn State Brandywine Associate Teaching Professor of Physics Timothy Niiler is conducting research on human motion that supports orthopedic medicine.
Using a motion capture lab that consists of 12 high-speed cameras, Niiler is collecting "normative adult gait data" from people 18 to 65 years old. Gait data, which is information regarding a person's manner of walking, is valuable because walking norms are needed for comparison in several medical situations.
"This particular work that we're doing here at Brandywine provides a basis for comparison for virtually any adult orthopedic problem," he said. "For example, if doctors want to gauge the effectiveness of a hip or knee replacement and the patient has never had a gait analysis done before, doctors can compare their patient to the average of people their age using the normative gait data we're collecting."
The process starts by Niiler assembling and calibrating the camera system. He then attaches approximately 40 retroreflective markers to research participants' bodies prior to recording their walking motion. He described the technology he uses in the lab as what is used on movie sets for capturing motion.
"In my other life I'm a martial artist," he said. "So being able to take my physics and engineering knowledge and apply it to the human body is something I'm passionate about."
Niiler said that providing this data is an important service, and he plans to continue the research as long as possible to collect a more varied data set. He's also casting a wider net by collaborating with Penn State Harrisburg's Assistant Professor of Kinesiology Tyler Richardson, who also has a motion capture lab.
"We're gradually building this study up," Niiler said. "We're planning to collect data for as long as we can to fill out the age range as best we can. Collecting this data can be expensive and time consuming, so there aren't many people who are able to gather these norms."
Using the same technology, he will soon start another research project to study the effects of an ankle-foot orthosis, which is a brace-like support intended to control the position and motion of one's ankle. For Brandywine sophomore Sean Hackett, this specific study hits close to home. Hackett, an engineering science major who's been assisting Niiler in his motion capture lab since September 2019, wore an ankle-foot orthosis in middle school.
"Doing research opens a lot of doors because it can lead to interests that you didn't know you had," Hackett said. "Dr. Niiler has been a great mentor and I'm looking forward to our next project together. Now that I'm older, it's going to be interesting to better understand the effects of an ankle-foot orthosis after wearing one myself."
Niiler said that participating in undergraduate research is important for students because "you have an understanding of the bigger picture," he said. "Research can be a big part of your portfolio. Employers want the students with real-world experience."
Future hopes for the lab include using the technology to improve Brandywine student athletes' sports biomechanics, which could help athletes obtain optimal performance and learn new techniques to better preserve their bodies and avoid injuries. This is a possible collaboration Niiler is excited about, given the motion capture lab is located in Brandywine's gymnasium and he has experience working with athletes.
"When I started this type of work in 1994, I actually cut my teeth tracking the motion of professional pitchers, so that's something I would like to do more of," he said. "I think we could learn a lot about how our athletes are doing and help them to improve."
When he's not teaching class or doing research, Niiler volunteers at the Nemours/Alfred I. duPont Hospital for Children in the gait laboratory and the department of orthopedics, using the knowledge and data he's gained through his research and education to help others.
"My thinking is that meaningful living should include some sort of service, and it's fantastic that my research dovetails with something service related," he said.