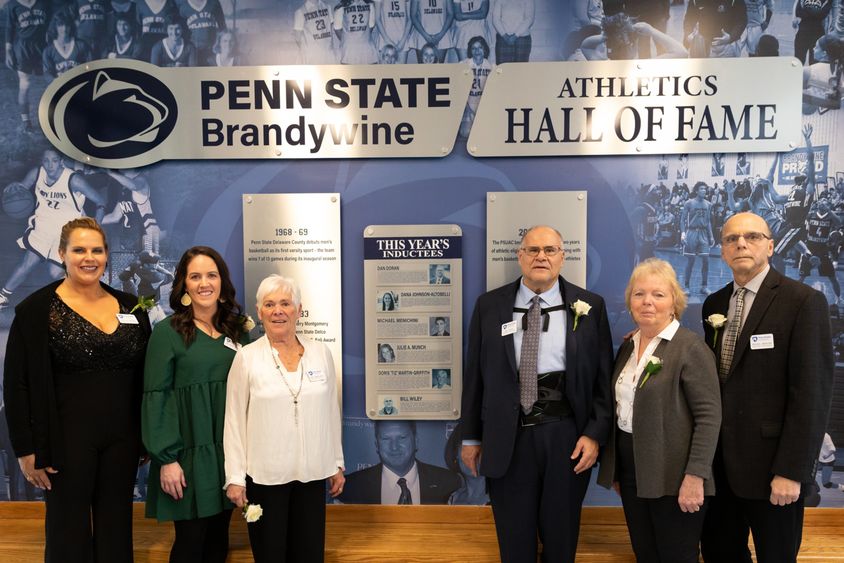 MEDIA, Pa. — Penn State Brandywine inducted the inaugural class into its new athletics hall of fame during a ceremony and dinner on Jan. 25. The sold-out event, held in Brandywine's Student Union, drew current and former student-athletes, coaches and athletic directors, as well as faculty and staff.
The 2019-20 class of inductees included three former staff members — athletic directors Dan Doran and Doris 'Tiz' Martin-Griffith and men's basketball coach Bill Wiley — as well as three former student-athletes — Dana Johnson-Altobelli (women's basketball), Michael Menichini (men's basketball) and Julie A. Munch (women's basketball/soccer).
In welcoming the attendees, Chancellor Marilyn J. Wells noted that although she had not participated in athletics herself, "Over the years I've learned through my own son and daughter the value that athletics can bring to academics, as well as through the many students at the campuses where I've worked. Athletics makes students better students, and good students make better athletes."
Athletic Director Bobbi Caprice talked about how much the campus athletic program has expanded over the past 50 years and the role of the honorees in that growth.
"These six remarkable individuals have given so much to our athletic department, our campus and the University," Caprice said. "They played a big part in getting Penn State Brandywine athletics to where we are today. Their hard work, dedication and countless hours of selfless commitment to our campus have paved the way for future generations of Brandywine athletes."
Griffith explained that she was motivated by the impact that athletics could have on the student experience.
"I came from a family where, boy or girl, you better learn how to hit a ball, throw a ball, kick a ball," she said. "We always were playing games. I entered this field not because I had fun playing sports, but in the education world we have art, we have music, and we have athletics because there is a great deal students can learn from those areas."
Griffith joined Penn State Delaware County as a kinesiology instructor in 1981. She added roles as head field hockey and tennis coach before being named director of athletics in 1989. She oversaw the construction of the campus' gymnasium, fitness center and tennis complex and expanded women's sports to include basketball and volleyball.
Doran joined the campus faculty in 1970 as a kinesiology instructor and spent the next 40 years as a member of the athletic department. The campus' director of athletics from 1974-88, Doran also served as head coach of the volleyball, men's soccer, swimming and tennis teams.
Johnson-Altobelli rewrote the women's basketball record books at Penn State Delaware County from 2003-07. The campus' first four-year women's basketball player, Johnson-Altobelli needed just 48 games to become the first student-athlete in program history to reach 1,000 points and finished her career with 1,519 points, a record that stood until recently.
Menichini was inducted posthumously. He starred at Penn State Delaware County in 1995-96. While serving as captain of the men's basketball team, Menichini averaged 20.5 points and seven rebounds per game. Upon graduation from the University in 1997, Menichini served as an assistant women's basketball coach during the 1997-98 season and as a men's basketball assistant under his former head coach, Bill Wiley, in 1998-99.
Munch was a two-sport student-athlete at Penn State Delaware County from 1991-93, competing on the women's basketball and men's soccer teams. The only female member of the men's soccer team, Munch earned a starting role as a freshman and quickly became known to her teammates and opponents as one of the team's top players. After transitioning to University Park for her final two years at Penn State, Munch competed at the NCAA Division I level for the Nittany Lions' women's soccer team.
Wiley was the longest-tenured head coach in campus history as he headed the Lions' men's basketball team for 15 seasons from 1986-2001. During that time, Wiley won a team-record 196 games and reached the postseason in six straight years. Beginning with the 1988-89 team that captured the first of his three regular-season conference titles, Wiley guided the team to five consecutive seasons with at least 17 victories.
Founded in 1967 as Penn State Delaware County, the campus name was changed to Penn State Brandywine in 2007.