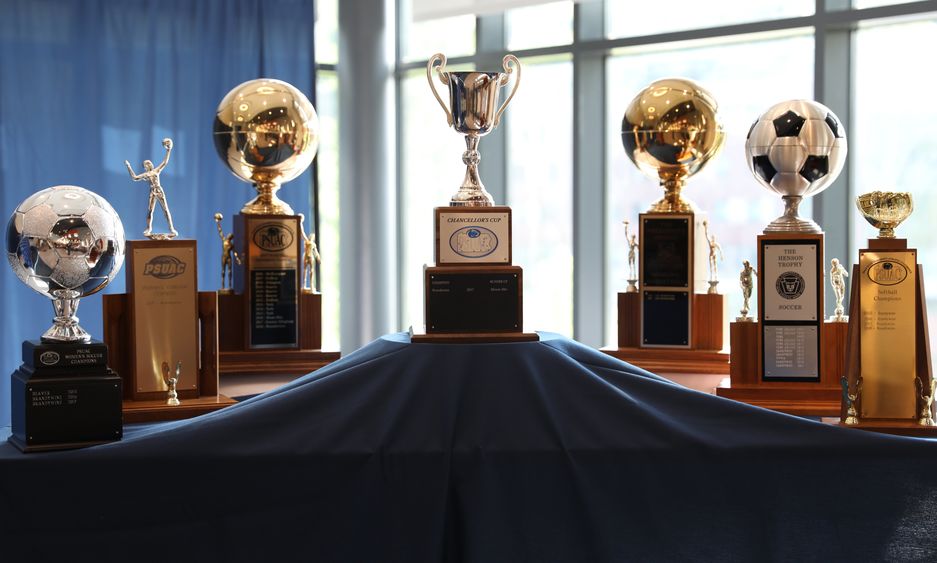 MEDIA, Pa. — In just a few days, we will welcome a new decade: The 2020s. Like many aspects of our lives, a lot has changed within Penn State Brandywine athletics during the last 10 years.
When the clock struck midnight on the morning of Jan. 1, 2010, Brandywine was a seven-sport athletic department with fewer than 100 student-athletes; our current class of seniors were in sixth grade; and Larry Johnson was patrolling the sidelines for Brandywine's women's basketball team.
Well, maybe that last part hasn't changed, but his win total sure has. Johnson, now in his 14th year as head women's basketball coach at Brandywine, won 197 games during the 2010s, giving him 251 victories for his career. He ushered in 2010 with a program-record 13-game winning streak, a sign of the good things to come for Johnson's program and the athletic department as a whole.
Among the members of Johnson's team when the new decade began: A freshman named Bobbi Caprice. She's now Johnson's boss.
As the director of athletics since 2018, Caprice oversees what has become the largest department among the 14 campuses that comprise the Penn State University Athletic Conference and one of the biggest in the University system overall with 16 varsity sports and more than 160 student-athletes.
Nine new sports were introduced during the last 10 years, beginning in 2010 with men's and women's cross country. Next came softball in 2014, followed by women's soccer in 2015. The year 2016 saw the addition of men's and women's outdoor track & field, while men's and women's indoor track & field and men's golf got started in 2017.
Many of the new programs were an instant success on campus and the playing field. Softball will enter the '20s carrying five PSUAC titles, while women's soccer claimed four league crowns and made a run to the USCAA National Championship match in 2018. Women's cross-country ran to its first PSUAC championship in 2015 and the men's track & field squad placed fifth at the USCAA Championship during its debut season.
Success was a common theme for all of Brandywine's teams during the 2010s. It was truly a golden decade in the campus' athletics history.
Brandywine entered 2010 having won a total of 10 conference championships in four sports. As 2019 comes to a close, the number of PSUAC titles claimed more than tripled to 33.
In addition to the newly introduced programs, volleyball won the first two titles in its history in 2015 and 2017 and men's basketball secured its first-ever PSUAC championship on its home floor in 2017-18.
Men's soccer led the way with six championships during the last 10 years. The team also has the distinction of having won Brandywine's first-ever USCAA National Championship, with a thrilling 1-0, overtime victory over Johnson & Wales in 2018.
As a whole, Brandywine athletics thrived, winning nearly 1,000 games (976-689-5), including more than 75 percent of its matchups against PSUAC competition (652-214-1).
No team won more games than women's basketball at 197. Volleyball (183) and baseball (182) were not far behind, while the women's soccer program posted the top winning percentage among the teams, earning victories in 74 percent of its games.
Included in the women's soccer triumphs has been an incredible run against PSUAC opponents. Since the program began in 2015, Brandywine is 41-1-2 when facing a conference foe.
Brandywine finished first or second in the PSUAC Chancellors' Cup standings, which ranks the top athletic department in the conference annually, nine times. The department won its first Chancellors' Cup in 2013-14 and has claimed each of the last three as we enter the new decade.
The last 10 years have also been filled with individual milestones and accomplishments.
Half of the campus' 14 John S. Egli Award recipients, which combines athletic and academic success, along with community and campus engagement, to name a top overall student-athlete in the PSUAC each year, have come since 2010.
Brandywine saw three student-athletes honored as the USCAA Student-Athlete of the Year and three more were named Academic All-Americans by CoSIDA. More than 100 landed USCAA National Academic Team accolades.
The USCAA lauded 90 Brandywine athletes with all-American awards, including Brandywine's first-ever four-time First Team All-American, Brianna Banks, who also landed the national player of the year award in 2019.
The 2010s were filled with hundreds of standout moments and memories, both team and individual. From Amanda Congialdi's game-winning three-pointer in the 2011 PSUAC Women's Basketball Championship to Cheyenne Murphy's walk-off, three-run home run in the 2015 PSUAC Softball Tournament; from volleyball overcoming eight match points to defeat Mont Alto in the 2015 conference tournament semifinals to Daniel Willie's overtime goal in the 2018 men's soccer national championship game, the last decade has been a special one for Brandywine athletics.