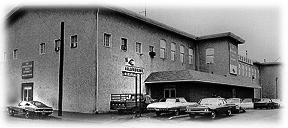 Penn State University President Eric A. Walker agreed to a request from the Delaware County commissioners to establish a campus of the University in Delaware County in 1966. The county provided 90 acres of land in Middletown Township, about four miles west of Media, the county seat, and gave $1.2 million toward construction of the first building at the campus site. John D. Vairo, an associate professor of journalism at the University, was appointed Campus Director, effective January 1, 1967, and the campus opened in a rented building in Chester in September of that year, admitting 236 students. They were taught by a full-time faculty of 11, and were served by a campus library consisting of about 500 books.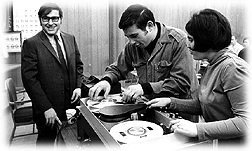 The campus draws many of its students from Delaware and Chester counties, parts of Montgomery County, and the city of Philadelphia - an area that includes every type of neighborhood represented in the eastern United States. The campus also has a large population of interntional students. Since its opening, more than 100,000 students have earned a degree or have started their studies in higher education at the campus.
The campus operated in Chester until December, 1970, when it moved into the newly completed Main Building in Middletown Township. A library/learning center was completed in 1979, and a commons/athletic center was opened in 1988. The campus' fourth building, a technology-based classroom building, opened in 1998. It contains state-of-the-art computer and technology classrooms, additional classrooms, seminar rooms, and faculty offices. In 2017 Penn State Brandywine opened its first residence hall and student union. Other campus facilities include a maintenance building, the Ethel Sergeant Clark Smith Memorial Tennis Center, athletic fields, and parking for approximately 1,000 vehicles.
Brandywine and its 19th Century Neighbors
Follow the results of American Studies students and faculty at Brandywine who have, for more than a decade, been researching the nineteenth-century history of our land and neighborhood. Starting from the site of the new student union—a dairy-farmer's house--move out to Yearsley Mill, Tyler Arboretum, the Quaker meetinghouses, and Cumberland Cemetery. Along the way meet some of the characters and scenes they have discovered: an ice-cream producing social reformer, a protesting wife, a religious community divided, a reconciling place of burial, a miller struggling to survive, a traveling woman preacher, and more.
Download "A Journey to the Past at Penn State Brandywine" here.