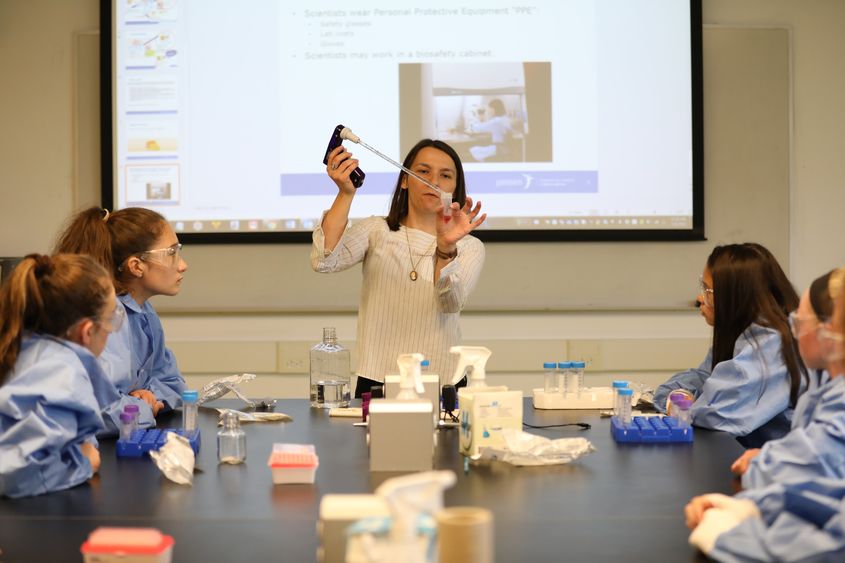 MEDIA, Pa. — Approximately 200 seventh- and ninth-grade girls from schools in the Greater Philadelphia area visited Penn State Brandywine on May 8 and May 17 for the campus' annual Career Pathways for Girls events, which are part of Brandywine's STEM Options program.
The events provide girls with a one-day STEM immersion experience to encourage their future pursuit of a STEM education and career. The May 8 program was for seventh-grade girls, while the May 17 program was for ninth-graders.
Both programs featured "discovery sessions" — hands-on, discovery-based workshops in classrooms and laboratory settings led by professional women in STEM. Workshop leaders were from companies such as Edmund Optics, Johnson & Johnson, Eurofins Scientific, and Tyler Arboretum. Brandywine's STEM faculty also led several workshops. Topics covered included biology, chemistry, engineering, kinesiology, forensic science, environmental science and more.
The seventh-grade program included a career panel comprised of women in STEM fields, where the girls were able to ask questions about the realities of pursuing and having a career in STEM.
Brandywine Professor of Earth Science Laura Guertin, who led a workshop on climate science and served as chair of the STEM Options Committee, explained the importance of introducing seventh-grade girls to STEM education and careers.
"Research literature shows that seventh-grade is the year where girls get turned off from science. They either see themselves as future scientists or they don't," Guertin said. "These hands-on, inquiry-based workshops take place in a supportive and encouraging environment." 
"A reason often cited for this loss of interest in STEM is that girls don't have enough female role models, causing them to feel like they don't belong," added Assistant Teaching Professor of Mathematics Samantha Pezzimenti, who helped organize the event and also led a math workshop. "I hope that with this event we can not only excite them about different areas of science, but also connect them with female scientists who they can relate to."
The ninth-grade program featured a college preparation session, which gave girls the opportunity to learn about applying to college from the campus' admissions staff.
"The ninth-grade program has allowed us to continue to keep girls engaged and introduced to STEM fields while also preparing them for the next step in their education," Guertin said.
For many years, Brandywine has offered a one-day STEM Options career exploration session for seventh-grade girls. Last year, the program added a second day to include ninth-grade girls. This year, the planning committee wanted to develop the campus' STEM Options programming even further by offering virtual presentations for K-12 students, a writing contest for girls in grades three through 12, and a teacher workshop for middle school and high school teachers. These expansions to the STEM Options program were made possible through a gift to Brandywine from Mark H. and Lauren S. Dambly.
"It's not just women running these STEM programs at Brandywine, our male STEM faculty play a major role," Guertin said. "What's really going to make science a much more welcoming and inclusive environment for women is for men to speak up and show that they support women in STEM."