Since joining Penn State Brandywine's faculty in 2001, Associate Professor of Earth Science Laura Guertin has focused on bringing real-world perspective into the classroom. The geologist recently voyaged to sections of the Atlantic Ocean to conduct a research mission with the National Oceanic and Atmospheric Administration (NOAA) as part of its Teacher at Sea Program.
NOAA is a federal agency that conducts research focusing on the global oceans, atmosphere, sun and space and has been offering the Teacher at Sea Program since 1990. According to its website, the program provides kindergarten through college-level teachers with research experience working at sea with NOAA scientists, improving their approaches to teaching students and local communities.
For three weeks, Guertin sailed alongside the NOAA crew aboard the ship Thomas Jefferson, which specifically works to improve understanding of the world's oceanic environment. The ship, based out of Norfolk, Virginia, operates along the United States shorelines from Maine to Texas.
"I'm just getting my land legs back!" Guertin joked, before describing the crew's mission, which was to conduct a hydrographic survey along sections of the Atlantic Coast.
Hydrographic surveying uses side scan and multibeam echo sonar technologies to measure water depth and search the seafloor for wrecks, rocks, debris and other obstructions that could be potential navigational hazards to surface ships. The information that is gathered is used to create nautical charts.
"Nautical charts are similar to land maps. In essence, they are what people use to drive in oceans," she explained. "NOAA surveys every 10 square centimeters of the ocean floor. There are no gaps in the data."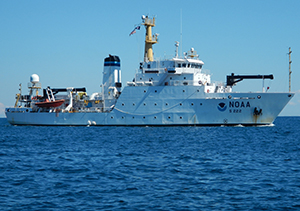 Throughout the voyage the crew's primary assignment was to study areas that were affected by Hurricane Sandy. Guertin explained that hurricanes cause massive amounts of change to the ocean floor by redistributing large amounts of sediment.
"My background is in marine geology and geophysics," she said. "I haven't had the opportunity since I've been here at Penn State Brandywine to go back out on the water and do oceanographic research. This program gave me the opportunity to do that."
The 208-foot, 35-bed research vessel Guertin lived and worked on certainly wasn't a luxurious cruise ship, but it had the basic supplies needed and allowed the crew to stay somewhat connected to life on land.
She blogged about her journey along the way and her students were required to read her posts and answer questions online.
"This was just a fantastic opportunity because I'm teaching oceanography this semester," she said. "I was out at sea collecting data and my first day back in the classroom I used it. It was an amazing amount of fun and hard work. I was there to help out and get involved in any way I could."
NOAA's Teacher at Sea Program is extremely competitive, as they only accepted 10 percent of teachers who applied from across the U.S. Guertin was the only teacher from Pennsylvania selected for the mission and becomes just the 21st educator from Pennsylvania accepted in the program's history.   
She recently presented about her trip at the Pennsylvania Earth Science Teachers Association conference and is scheduled to deliver another presentation this February at the Delaware County Institute of Science.