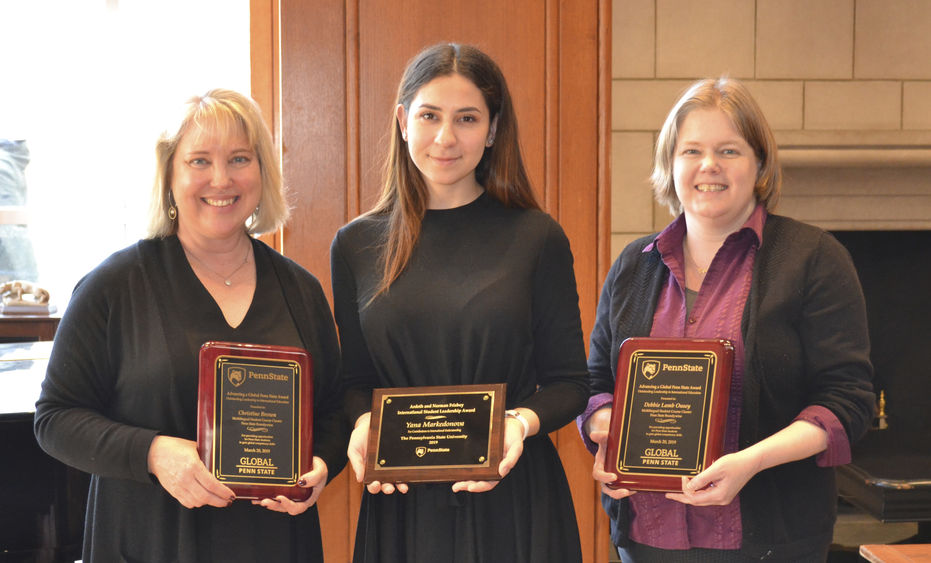 MEDIA, Pa. — In recognition of their leadership of the multilingual student course cluster at Penn State Brandywine, two faculty members recently received the University's Outstanding Leadership in International Education award. Debbie Lamb Ousey, multilingual student programs coordinator and lecturer in English, and Christine Brown, associate teaching professor of social sciences and education and coordinator of Brandywine Learning, were honored for their work as co-coordinators of the program.
Yana Markedonova, a Penn State junior who transitioned from Brandywine to University Park last fall, received the University's Ardeth and Norman Frisbey International Student Award.
The Global Programs awards recognize partners within the university community who have been integral in advancing Penn State's global engagement strategy. Brandywine's multilingual student course cluster was recognized by Global Programs leadership for providing a space where students from diverse ethnic backgrounds can come together to work toward common goals, learn from one another, and become fully engaged in the campus community.
"I was happy to hear we won this award because it celebrates the fantastic global community we have at Penn State Brandywine," Ousey said. "The multilingual student course cluster has helped to build this community of strong students and campus student leaders, and any recognition of it is a recognition of these students as well."
"I am so appreciative of winning this award," Brown added. "Deb and I have worked very hard in offering this program and it is gratifying for this work to be recognized by the larger Penn State community."
Markedonova was honored for outstanding contributions to furthering international understanding by an undergraduate international student. The award includes a $2,000 scholarship.
Markedonova was nominated by Ousey, who explained, "As a student of Russian descent who grew up in China, Yana has a unique ability to share her global perspective with true joy, creativity, human insight, and a welcoming spirit."
"When I got the great news about winning the award I was honestly so shocked, yet I felt so honored at the same time," said Markedonova.
As a student mentor for Brandywine's multilingual student programs, Markedonova focused on encouraging international students to learn about and experience American culture and to become engaged on campus. In 2017, she developed and expanded a guide to local attractions for international students. Also, during international orientation week Markedonova led international students on two public bus trips so they could learn local transportation.
"Brandywine is a small, close-knit campus where everybody knew each other. I strongly value all the relationships that I built at Brandywine and it gave me a sense of belonging, which can be hard to achieve as an international student. Despite its small size, there were plenty of opportunities to get involved and stay connected with your hobbies and interests," said Markedonova.
Ousey, Brown and Markedonova received their awards at the Global Programs awards luncheon at University Park this spring.