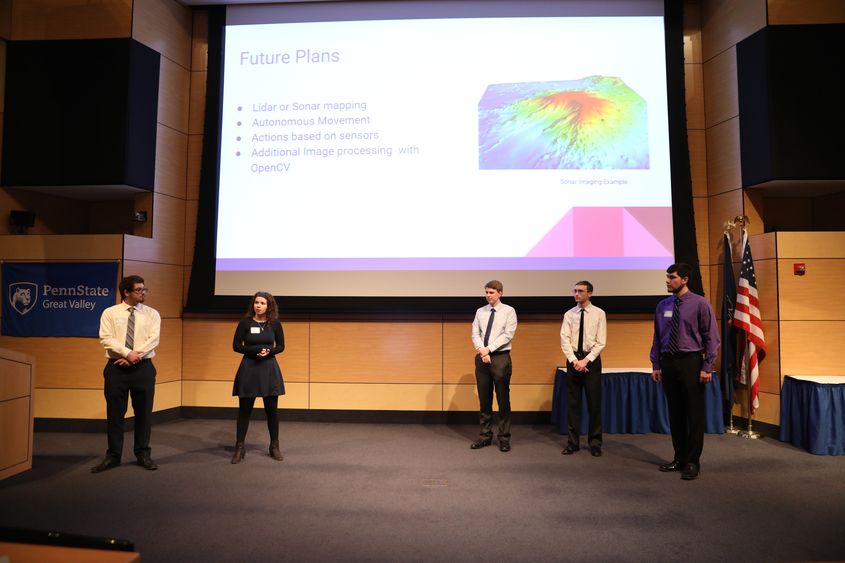 Senior engineering students from Penn State Brandywine and Penn State Abington presented their capstone projects at the campuses' annual Design Expo on April 18. The event was held at Penn State Great Valley.
The students who presented at the event are enrolled in Brandywine and Abington's bachelor of science in engineering program. The first two years of the program focus on foundational engineering coursework, which can be completed at Brandywine or Abington. The next two years of advanced engineering coursework are completed at the engineering facilities at Great Valley, where students study engineering design with an emphasis on the design of complex systems. 
To kick off the expo, Great Valley's Associate Teaching Professor of Engineering Design Doug Schumer introduced the four student teams: Blue ROV, SCAN Engineering, Eye-Onic and Stepmeter. Each team then took the stage to present their projects to attendees.
"I learned many skills and lessons during my capstone project," said Chris Skahill, a Brandywine student and member of SCAN Engineering. "I would say the most beneficial was learning to adjust a design plan when the first one doesn't work out. Design flaws are inevitable and being an engineer involves identifying those problems and solving them along the way."
Blue ROV created a remotely operated vehicle to explore the Delaware River in hopes of finding historically significant artifacts related to George Washington's crossing of the river during the American Revolution.
SCAN Engineering created an automated system to eliminate the ergonomic risk of manually flexing the 07 Flexor Latch that is manufactured by Southco, Inc. — a manufacturing company that serves the transportation, electronics and hardware industries.
Eye-Onic created a digital device that could be used in certain near-field vision exams, which currently don't utilize the latest technology and rely heavily on the individual conducting the test for accuracy.
Stepmeter created a system that could collect data on barefoot slip resistance to ensure safety on different types of solid surfaces. The team explained that their project fell under the discipline of biomechanics, which is the study of mechanical laws relating to the movement or structure of living organisms.
"Projects like this one are important to students because it gives them a chance to fully combine their entire education into one project," said Tina DeBarberie, a Brandywine student and member of Blue ROV. "Although my project was primarily computer engineering, it also involved aspects of electrical and mechanical engineering."
After presenting their projects to the audience, the four teams did a demonstration for a panel of judges comprised of engineering faculty and industry professionals. At the event's conclusion, the general audience and the panel of judges voted for their favorite project.
The People's Choice Award, judged by the general audience, was presented to SCAN Engineering. The Best Engineering Design Award was also given to SCAN Engineering. Finally, the Best Project Award was presented to Eye-Onic.