Penn State Brandywine's fall 2014 graduates were recognized for their achievements at the Dec. 19 commencement in the Commons Building Gymnasium, with proud parents, relatives and friends looking on.
Chancellor Kristin R. Woolever welcomed the class of 2014 and encouraged the graduates to find something they are passionate about and to work hard for it. She also reminded them that they are the gift Penn State Brandywine has to give to the world.
"You have intelligence, enthusiasm and a fresh vision to give to the world," Woolever said. "I know from my interactions with you on this campus that you also bring a sense of civility and respect for others in all that you do, a quality our society sorely needs, especially now." 
The commencement program continued with an address by David M. Rosenberg, Penn State Brandywine Advisory Board member and principal of the David M. and Marjorie D. Rosenberg Foundation. Rosenberg shared the many unpredictable and inevitable "twists and turns, peaks and valleys" life has brought him and motivated the graduates to learn how to accept and adjust to life's detours that "will only make you stronger."  
Rosenberg, a friend to Brandywine in many ways, has worked closely with students over the years as a major contributor to the Penn State Brandywine Laboratory for Civic and Community Engagement, a program created to enhance student engagement while meeting needs in community, civic or non-profit organizations through volunteering, service learning and civic engagement. He said he and his family share a core value of helping others.
"I know so many of you share similar beliefs [helping others], for I am aware of all the community service this campus performs," Rosenberg said. "I think Martin Luther King, Jr. summed it up best when he said, 'Life's most persistent and urgent question is "What are you doing to help others?''' I believe this is our obligation. And I further believe our deepest satisfactions in life are provided when we can assist those who are less fortunate. Find a way to give back."
Since 1992, the Penn State Brandywine graduates have had the opportunity to give a short speech, often a shout out and thank you to their parents, while walking across the stage to accept their diploma. This year, many of the 82 graduates chose to take advantage of this unique opportunity and proved to be just as inspirational as the commencement speakers.
Business major Sean Berger, of Media, started out by telling the audience he was going to take a little longer than the rest of the graduates. By the sound of the loud roars after his two minutes on stage, his fellow graduates and audience truly appreciated his wisdom.
"In second grade I had the option of either reading an essay that I wrote to my entire school or to have someone else read it for me," Berger said. "And I remember my mom telling me, 'it doesn't matter what you choose, but to always do the hard thing.' So although I didn't want to say much today, that wouldn't really be doing the hard thing."
"Each of us has a story of obstacles, of challenges, of times we fell and didn't think we'd get back up and of successes, like the one we are celebrating today. ? I'm proud to stand here and say to never be afraid of what you are, believe in yourself, give yourself a chance and you'll surprise yourself each and every time."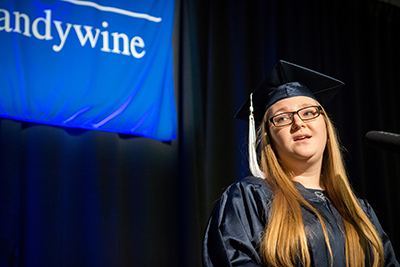 Megan Griffith, who earned a bachelor's degree in psychology, thanks her family and friends after accepting her diploma from Chancellor Kristin Woolever.
The Penn State Brandywine graduates joined the largest dues-paying alumni association in the world that consists of more than 174,000 members.
If you were unable to attend the event, you can watch the ceremony on YouTube:
https://www.youtube.com/watch?v=e2MHi2cWz3Q
To view and order photos from the program, go to http://bit.ly/PSUBW_FA2014_grads, or call Mel Epps, Third Eye Productions, 215-635-1988.