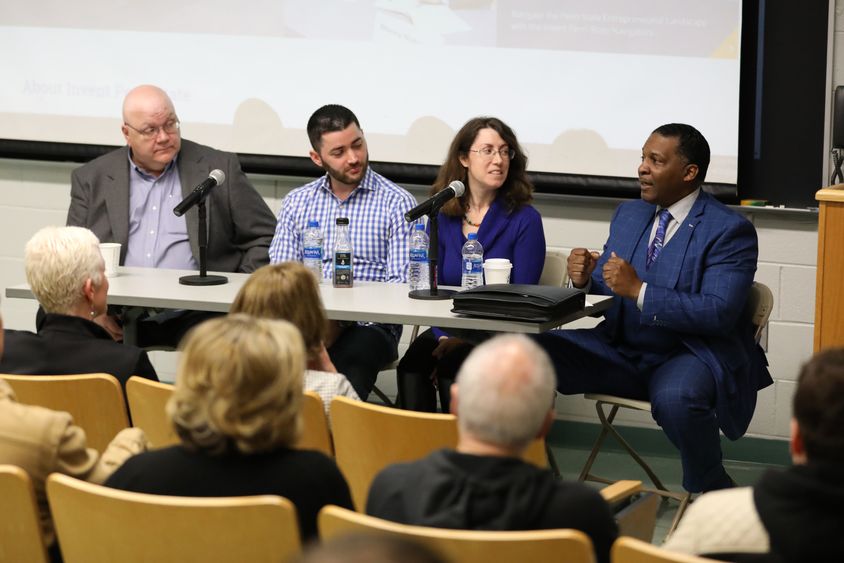 MEDIA, Pa. — Penn State Brandywine students recently heard from a panel of local entrepreneurs about how and why they started their own businesses. The April 3 event, "Starting a Business: What You Need to Know," was part of Penn State Startup Week, a University-wide weeklong celebration of entrepreneurship that connects participants with Penn State's vast network of resources aimed at driving innovation in all fields.
The Brandywine Boost Startup Week event featured four local business owners who shared their entrepreneurship journeys with current students, alumni and local community members interested in starting a business. Brandywine Boost is a signature program of the Invent Penn State initiative.
"The panelists discussed the joys and challenges of the entrepreneurial career path," said Margaret Bacheler, director of continuing education and a Brandywine Boost coordinator. "They provided practical real-world advice on how to launch a new business. These local entrepreneurs stressed that you do not need to live in an urban area or in Silicon Valley to become an entrepreneur. There is a vibrant and growing entrepreneurial ecosystem right here in Southeastern Pennsylvania."
Speakers included Jim Turner, president and CEO of Dunamis Marketing; Brooke Miles, president of Delaware ShoutOut; Johnny McCartin, founder of XeRo Media; and Ed Samuel, owner of SamNova. Soraya Gutman, president and CEO of Cross Talks, also participated.
They discussed why they decided to start a business and shared their successes and failures.
Now in its third year as a University-wide initiative, Penn State Startup Week is a weeklong celebration of entrepreneurship. Through close collaboration with existing University programs, community partners, and Invent Penn State, events introduced guests to the larger innovation ecosystem that exists across Penn State and in surrounding communities.
Brandywine Boost at Penn State Brandywine offers advisory support to small- and medium-sized business owners and entrepreneurs in the region. This support may include one-on-one direct analysis and advising, interaction with Brandywine students in their courses, or workshops designed for larger groups. Areas of support may include accounting/book-keeping, use of information management tools, marketing research strategy, entrepreneurial startups, leadership and much more.