For Penn State students across the Commonwealth, a one-year fundraising effort to support families in their fight against pediatric cancer culminated this past weekend (Feb. 21-22) in a 46-hour no-sleeping, no-sitting dance marathon at University Park.   
The Penn State IFC/Panhellenic Dance Marathon, known as THON, hauled in a whopping $13,026,653.23. Penn State Brandywine THON contributed a campus record amount. The group of about 50 students shattered their previous record (set last year), raising an astonishing $40,952.11 and ranking No. 7 among all Penn State Commonwealth campuses.
THON, which is the largest student-run philanthropy in the world, is a yearlong annual fundraising effort that benefits children and their families affected by pediatric cancer. All money raised benefits the Four Diamonds Fund, which supports children treated at Penn State Hershey Children's Hospital.
Penn State Brandywine students Michael Mensah and Paul Alberici represented the campus as dancers at THON Weekend, dancing for 46 hours straight until the $13 million reveal.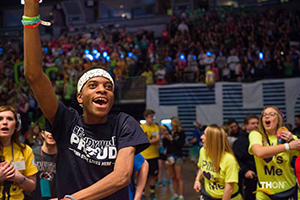 "We do this to provide emotional support for the families," said Alberici, a junior who's studying corporate communications. Alberici also serves as Brandywine THON's public relations captain by heading the organization's promotional efforts. 
"To hear the families actually tell us that what we're doing for them is nothing short of a blessing is a touching experience," he added.
"THON gives me a feeling that I really can't describe. Helping the THON children and their families brings me so much joy and drives me to keep going," explained Mensah, a sophomore biochemistry major who serves as the organization's canning captain.
Assistant Director of Enrollment Management Jeremy Branch, who is also the adviser to Brandywine THON, credits Brandywine students for leading the charge in accomplishing this remarkable goal and explained that he was thrilled to be a part of something so special.
"This group's commitment and hard work has just been unbelievable," Branch said. "I'm so proud of our students and I can't wait until next year. They have some really great ideas and we're already enthusiastically brainstorming. This group has unlimited potential."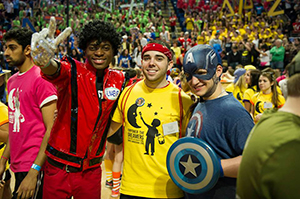 Michael Mensah (left) and Paul Alberici (far right) dressed as their THON alter egos, Michael Jackson and Captain America.