Penn State Brandywine honored students and faculty for their achievements and excellence in academia at its annual Academic Recognition Ceremony on Tuesday, March 24.
Family, friends and campus community members gathered in the Commons Building Gymnasium to commend the nearly 200 students that earned the Academic Achievement Award, presented to students who have achieved a cumulative grade point average (GPA) of 3.5 or higher. Additional awards were bestowed upon students and faculty for their extensive teaching contributions to the campus, undergraduate research accomplishments and elite academic performance.
The Undergraduate Student Research Award for a Brandywine student with exceptional research efforts was presented to senior psychology major Rebecca Slomowitz. The Schreyer Honors Scholar is exploring how infants' working memory performs when remembering people versus objects. Slomowitz will work as a clinical research assistant at The Children's Hospital of Philadelphia's Center for Autism Research after earning her degree.
"This student researcher possesses a unique blend of passion, academic achievement, leadership, curiosity and dedication," said Associate Professor of Earth Science Laura Guertin, as she read nominations of Slomowitz to the audience. "While these qualities likely describe many of our students, this student truly stands out in the breadth and depth of studies, achievements and larger impact during her time at Brandywine."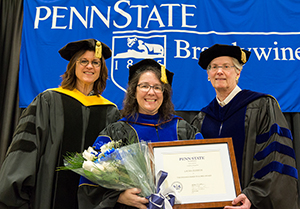 Shortly after her speech, Guertin was invited back to the stage and presented with this year's Distinguished Teacher Award, which recognizes a member of the Brandywine faculty for exceptional teaching. As is tradition, last year's Distinguished Teacher, Associate Professor of Engineering Ivan Esparragoza, presented her with the award. 
"Dr. G, as she is called by her students, serves our students with passion and dedication," said Esparragoza. "She brings new technologies to create outstanding learning environments and she challenges our students to think critically and to use the science knowledge in all aspects of their life. Dr. G is a clear example of excellence in teaching."
Caption: Associate Professor of Earth Science Laura Guertin after being presented with the Distinguished Teacher Award (left to right: Director of Academic Affairs Cynthia Lightfoot, Laura Guertin, Chancellor Kristin Woolever) 
Part-time Instructor in History Thomas Guerin was awarded the Part-Time Faculty Award for his outstanding contribution to students through exceptional teaching.
"Students routinely remark on his passionate teaching style, interesting class discussions, very unique sense of humor and out-of-the-classroom, real-world talks," said Assistant Director of Academic Affairs Patricia Hillen, as she announced Guerin as the winner.
Students Marykate Macdonald, Shannon Wright and Shelby Wright were presented the President Sparks Award, received by undergraduates who have earned a 4.00 cumulative GPA based on at least 36 Penn State credits completed by the end of the fall term.
The President's Freshman Award was presented to Adam Bivens, Carly Dargitz, Coleman Hart, Brooke Lipton, Alonso Perez Serrano and Tina Xin. This award is presented to freshmen who have earned a 4.00 cumulative GPA based on at least 12 credits completed by the end of the fall semester.
Named after Penn State's first president, the Evan Pugh Scholar Award is presented to juniors and seniors who are in the upper 0.5 percent of their classes and have completed at least 48 graded credits by the end of the fall term. This year's recipients were Yasmine Baroody, Jesse Jurden, Rebecca Slomowitz and Sandra Tate.