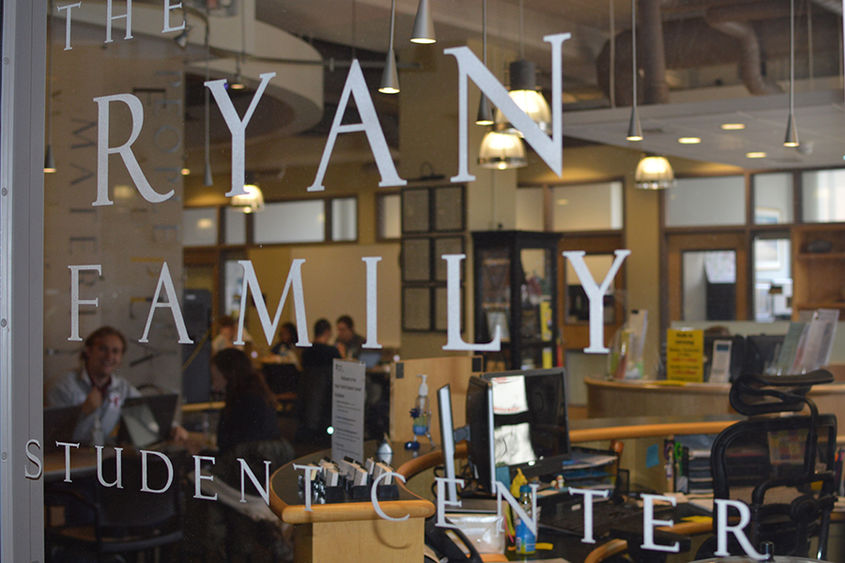 The College of Earth and Mineral Sciences (EMS) aims to make the transition for students new to University Park smoother through EMS Connect.
The student-run organization provides support for undergraduates transitioning from Commonwealth Campuses, switching majors within Penn State or transferring from other universities.
"I found a group of people who all had a commonality of being new to EMS and wanting to help incoming students feel more comfortable," said Joseph Grosso, a change of campus student from Penn State Brandywine who serves as the EMS Connect vice president of commonwealth communications. "I got involved because I felt like I had a lot of experience with how hard transitioning could be."
EMS Connect, a partnership between the college's Ryan Family Student Center and the undergraduate Student Council, is led by a student committee working closely with college advising and recruiting staff and the GEMS board (Graduates of Earth and Mineral Sciences).
"We are always looking for ways to provide information and foster inclusion to students who are new to the college," said Stacy Davidson, an academic adviser who works with EMS Connect on recruitment and retention activities. "The college and our students really felt that there was a gap for these students and wanted to give a more formal and consistent way to connect with them."
The first student members of the committee, headed by chair Katherine Campayo, have had the unique opportunity to determine the program's direction.
The committee has used past transitional student experiences to shape the structure and focus of EMS Connect, now in its second year. The group began last year with about 10 active members and has grown to 30.
Its members produce monthly newsletters, serve on student panels and facilitate social activities like snow tubing and exploring Penn's Cave with the goal of helping new students adjust to their new environment and community. They also attend the EMS Gala, an event organized by the college's student council, as a group.
"It has been amazing to see students join EMS Connect this fall who received our monthly newsletter last year and were interested in helping," said Campayo, a senior studying energy business and finance in the John and Willie Leone Family Department of Energy and Mineral Engineering. "I have been honored to watch friendships grow inside EMS Connect and have witnessed it help others by giving students a nonintimidating place to get acclimated to University Park."
This year, the program will host Explore the CONNECTions, which will run parallel to EMEX, the annual EMS open house for interested prospective, as well as current, Penn State students.
Explore the CONNECTions has been tailored specifically for change-of-campus students, and will provide them the opportunity to ask questions, seek guidance, and learn more about EMS programs and transitioning to University Park life in general.
"For me, leading EMS Connect has given me a chance to meet so many students within the college," said Campayo, who switched majors after her first year. "I am so proud to know this group of students because they are so dedicated, care so much and want to help other students transitioning to college," Campayo said. "EMS Connect gave me my home inside the college and definitely taught me how to be a mentor and a student leader."
Contact
Patricia Craig
Marketing and communications, Earth and Mineral Sciences