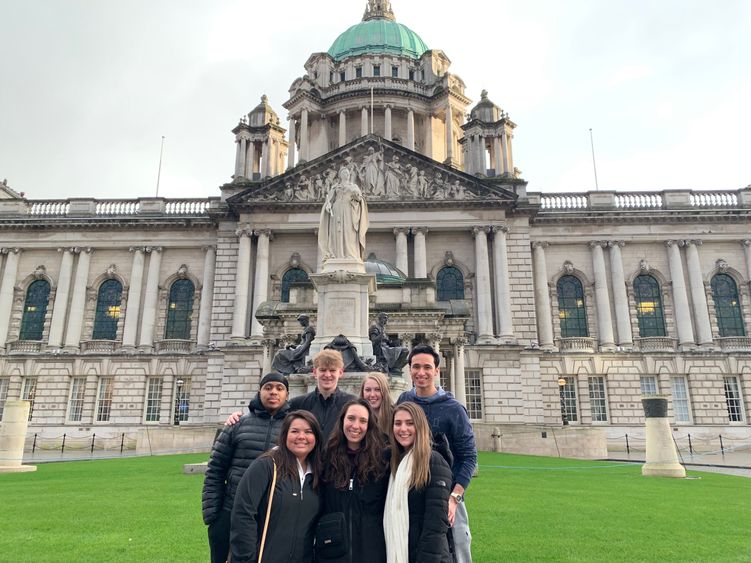 Penn State Brandywine students took their stateside studies overseas for a week of learning abroad in Ireland and Puerto Rico during spring break.
Students on the Ireland trip visited several cities throughout the country including Dublin, Belfast, Galway and Limerick. Along the way, they explored many of the Emerald Isle's prominent landmarks.
For sophomore Victor Ficarra and junior Hannah Sarafinas, traveling to Ireland marked their second trip with Brandywine Global Programs. Both students went to Sicily and Malta last spring with the campus and explained that having the opportunity to study abroad has made their experience as Brandywine students memorable.
"Global Programs allowed me to earn credits and see the world while learning about the history, language and culture of different countries," said Sarafinas, who was joined on the Ireland trip by her brother Ben, a Brandywine freshman. "The most memorable part of this trip was getting to experience the country and culture that my ancestors came from."
"The Cliffs of Moher, the Giant's Causeway and Connemara National Park were all incredible and unforgettable," Ficarra said. "Getting to experience Ireland's countryside, as well as the more urban locations, gave us a great overview of what Ireland is like."
The trip to Puerto Rico included not only cultural learning and discovery, but also incorporated a service component. Students volunteered by completing restoration work at Reserva Natural Ciénaga Las Cucharillas, a local mangrove reserve in Cataño, Puerto Rico damaged by Hurricane Maria in 2017.
"We were making a difference—even if small—in the effort to re-establish the mangrove reserve and, through that, helping to protect poorer populations from future hurricanes and flooding," said Associate Professor of Business Julie Stanton, who taught introduction to business and global marketing during the trip.
"A study abroad experience is one of those catalysts that speed up the growth to deeper thinking," she said. "Students have the chance to experience life outside of what is 'normal' to them and then more appropriately gauge their previous experiences against a much richer worldview."
The two trips were organized by Brandywine Global Programs, which offers a unique study abroad model that uses hybrid courses to allow students to engage in affordable, international travel while earning college credits. Each course includes pre-travel work that culminates in an immersive, weeklong educational experience abroad. Brandywine Global Programs courses are also available to students at any Penn State location.
To learn more about Brandywine Global Programs' upcoming trips to Barcelona and Vienna/Budapest, visit the program's webpage.