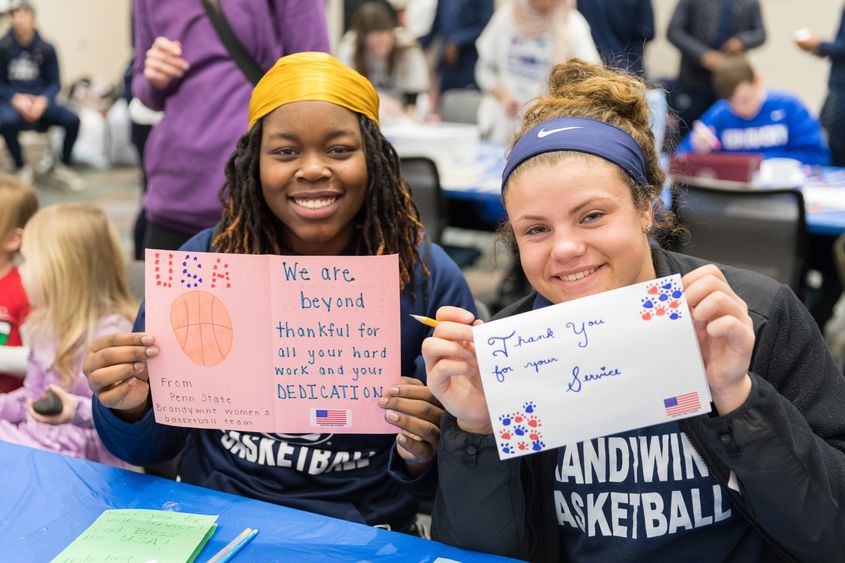 MEDIA, Pa. — Writing messages and thank-you notes that will be distributed to veterans through Operation Gratitude, Chantel Hatton and Ally Giannakarios joined more than a hundred Penn State Brandywine students, faculty and staff as well as community members during the campus' Martin Luther King Jr. Day celebration on Jan. 21 in the Student Union.
"This is what Dr. Martin Luther King Jr. fought for — for us all to be in the same room, all different races," said Hatton. She and Giannakarios are both sophomores and members of Brandywine's basketball team.
Sponsored by the campus' Center for Ethics and Civic Engagement, the event featured a morning of family-friendly service activities such as creating dream catchers based on participants' dreams for society, while learning about King's life and legacy.
Gluing feathers onto their dream catchers, Tommy Murphy, 7, and his sister Josie, 4, enjoyed making their crafts during their day off from school. "It's fun," said Tommy.
"I was looking for activities for the kids to do on MLK Day, and this is close by and it's perfect," said their mom, Sandy Wright.
Designing Valentine's Day cards that will be given to Surrey Services for Seniors were siblings Rosalie Midgette, 13, and Harry, 14.
"It's important to help people who are less fortunate than you," said Harry. His sister Rosalie agreed, saying, "It's good to help people in need and to put a smile on peoples' faces."
"This is what Dr. Martin Luther King Jr. fought for – for us all to be in the same room, all different races."

—Chantel Hatton, Penn State Brandywine sophomore
During the celebration, children were asked to come on stage and express their dreams. "My dream is for everyone to have food, a house and a good life," said one child.
Members of Brandywine's men's basketball team were busy organizing the donated clothing and toiletries that will be delivered to the Domestic Abuse Project of Delaware County, as well as the McClure Elementary School in Philadelphia. Students from both the Brandywine and Penn State Abington campuses are working at the school, and the donated clothing will be distributed to the families.
Many attendees learned how to crochet with help from Teresa Slobuski, Brandywine's head librarian. The crochet blankets will be donated to the Providence Animal Center in Media, while the crocheted newborn caps will be given to Children's Hospital of Philadelphia.
Nearby, Brian Reynolds, president of Brandywine's Marketing and Communications Club, asked visitors to share their dreams for our society on-camera. Visitors were also encouraged to write postcards to government officials to support environmental causes.
The outpouring of involvement for the celebration was months in the making, according to Vippy Yee, Rosenberg Director of the Center for Ethics and Civic Engagement. Yee explained that word of Brandywine's celebration spread through social and print media, as well as through the Greater Philadelphia Martin Luther King Day of Service organization.
"We wanted to bring the community together and let them know that they were invited to our family-friendly event. We received great responses from our student organizations, and I think this celebration represented the campus well," said Yee.