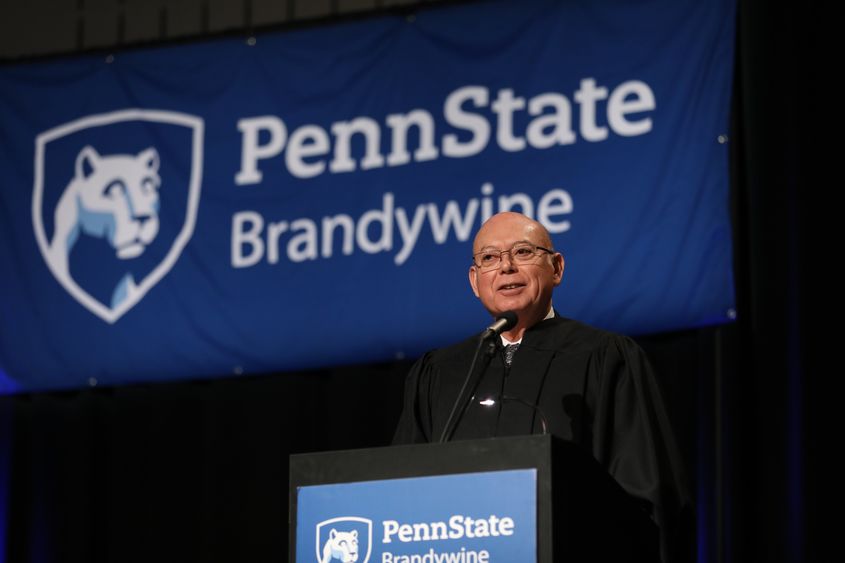 MEDIA, Pa. — Speaking at Penn State Brandywine's fall commencement ceremony on Dec. 14, a first-generation American who worked his way from the rural South to prominent legal positions in the nation's capital encouraged graduates to live a life of purpose. Romulo Diaz Jr., vice president and general counsel of PECO, Pennsylvania's largest electric and natural gas utility, spoke at the ceremony in the campus athletic center as 73 graduates received their diplomas.
The son of immigrants and the first in his family to graduate from high school, Diaz rose from humble beginnings in small-town Texas to earn bachelor's and law degrees. He then served in prominent public service positions with energy and environmental agencies in Washington, D.C., before moving to Philadelphia, where he served as city solicitor.
"My parents worked hard to raise a family of four children in mid-century Texas, where discrimination often raised its ugly head," said Diaz. "How in the world did I survive much less thrive? I believe it's because I have tried to live a life of purpose."
"I encourage each of you to think about who you are today and what you want to do with your life as you craft your own purpose statement," he added. "Your purpose statement doesn't have to be carved in stone, but it will give you a sense of direction."
Diaz encouraged the graduates to put into practice some of the life lessons he has learned, including: cherish your family and friends, consider what motivates you to be proactive, speak up when you witness intolerance, and embrace diversity and inclusion.
"Authenticity requires that you embrace all aspects of your own diversity and not let others define it for you," he added.
After the commencement address, Chancellor Kristin Woolever and Director of Academic Affairs Cynthia Lightfoot conferred the degrees.
"As you begin your journey today, consider your long-term goals," Woolever told the graduates. "Know where you want to go. Be intentional about the actions you take to get you there. And be willing to adapt to changes along the way while staying true to your personal values and ideals."
As students received their diplomas, Brandywine continued its long tradition of allowing each student a few moments to share thoughts about their college experience and acknowledge those who helped them along the way. Most thanked parents, spouses, children and classmates for their support and encouragement, while others expressed their appreciation to faculty and staff members.
Penn State Brandywine, with 1,400 students, is a residential campus offering 12 baccalaureate degrees and the first two years of nearly all of Penn State's 275 majors.