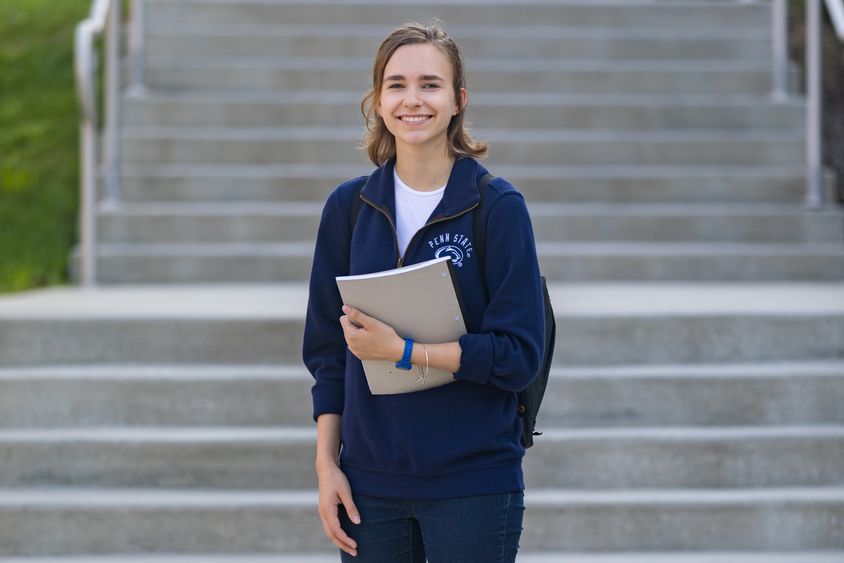 MEDIA, Pa. — Katya Iatsenko's day starts while most of her Brandywine peers are still asleep. At 5 a.m., long before her classes start, the sophomore biochemistry major spends a few hours teaching — and her students live more than 6,000 miles away.
Iatsenko recently became a long-distance English teacher for QKids, a China-based company that hires American and Canadian teachers to tutor young Chinese students online. Working as an independent contractor, Iatsenko teaches half-hour lessons to children ages 5-12.
"We interact through a QKids chatroom," she said. "I love coming into the classroom and seeing my students comfortably using new English words by the end of 30 minutes."
Iatsenko first heard about QKids through a Facebook group for Penn State students all over the commonwealth. A fellow student posted about his own experience working with QKids, claiming the job was fun, flexible and well-paying.
"Something just told me to trust this person and check it out," said Iatsenko, who lives on campus in Brandywine's Orchard Hall.
In the next few weeks, Iatsenko interviewed with the company, was hired and went through an extensive training process. Today, she teaches several classes a day, typically with two to six students.
Her unusual hours — early morning classes starting at 5 a.m. and evening classes as late as 11 p.m. — account for the time difference between China and the United States.
"They are 13 hours ahead of me, now that we've had the time change," she said. "It has definitely turned my sleep schedule around."
Although being a morning person might be new for Iatsenko, she is already a very active student. In addition to rigorous classes and her involvement in student clubs, she is a research assistant to Assistant Professor of Biology Megan Povelones, studying mitochondrial dynamics.
Iatsenko, who intends to earn a second degree in secondary education someday, will also study abroad in Singapore this spring.
"It's been hard to squeeze in the time to get teaching experience, between biochem classes and research," she said. "This job pays me to explore that teaching side of my career goals."
After her semester in Singapore, Iatsenko will complete her biochemistry degree at University Park. She plans to keep teaching for QKids and looking for new academic opportunities at Penn State.
"It's really not hard to find opportunity," she said. "People are willing to help if you seek out the chance, especially professors. I've just learned to take the first step — to ask about research, to pursue the job. Those are things that anyone can do."