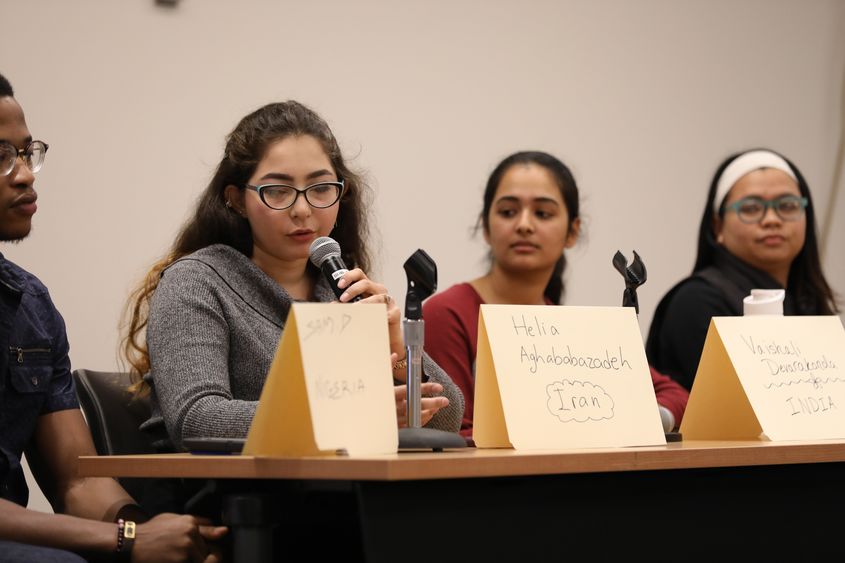 MEDIA, Pa. — Penn State Brandywine kicked off November with its annual Unity Week celebration — a weeklong series of events, speakers and activities encouraging students to celebrate diversity and promote justice on campus and beyond. This year's Unity Week focused on racial justice.
"I was thinking about the conversations going on around campus — and our country — in regards to racial justice and injustice," said Assistant Director of Student Activities Bridget O'Donnell. "It seemed like a good year to bring those conversations into student programming."
O'Donnell worked with several other faculty and staff members to plan the Unity Week schedule, including Coordinator of Multilingual Student Programs Deborah Ousey, Librarian Teresa Slobuski, Rosenberg Director of the Center for Ethics and Civic Engagement Vippy Yee, Assistant Professor of Communication Arts and Sciences Angela Putman, Associate Professor of Psychology Pauline Thompson-Guerin, Professor of Education Lynn Hartle, and student activities intern Travon Erwin-Tomey.
"By the time planning was over, this year's Unity Week really flourished into a super, cross-campus collaborative adventure," O'Donnell said.
Unity Week events included a Voting Rights Quizzo game, several documentaries and films with racial justice themes, a Diwali celebration and even a student showcase by juniors Tori Clemm and Chevelle Thomas, who designed a creative action project to spark conversation about the opioid crisis and how it impacts communities of color.
One highlight of the week was a global dialogue luncheon focused on perceptions of race and prejudice around the world.
Global dialogues, a program started by Ousey, is a lunch discussion series at Penn State Brandywine. Students who grew up outside of the United States are encouraged to share their international experiences and perspectives on different topics, such as meals, dating, politics or pop culture.
According to O'Donnell, the global dialogue about racial justice around the world — led by Guerin and local filmmaker and facilitator Ulysses Slaughter — was a standout moment in Unity Week.
"Students just talked," she said. "We didn't even lay ground rules — the students just engaged in a very honest and open way about race, the temptation to categorize each other and the assumptions people make around the world."
Later, Slaughter showed and led a discussion about his documentary, "A Chester Story," that examines social, economic, political and racial justice issues in Pennsylvania's first city.
Moving forward, O'Donnell hopes that students, faculty and staff will continue to talk honestly and constructively about racial justice on campus and beyond.
"All of us who planned Unity Week are happy and ready to keep engaging in conversations about racial justice, diversity and inclusion," she said.