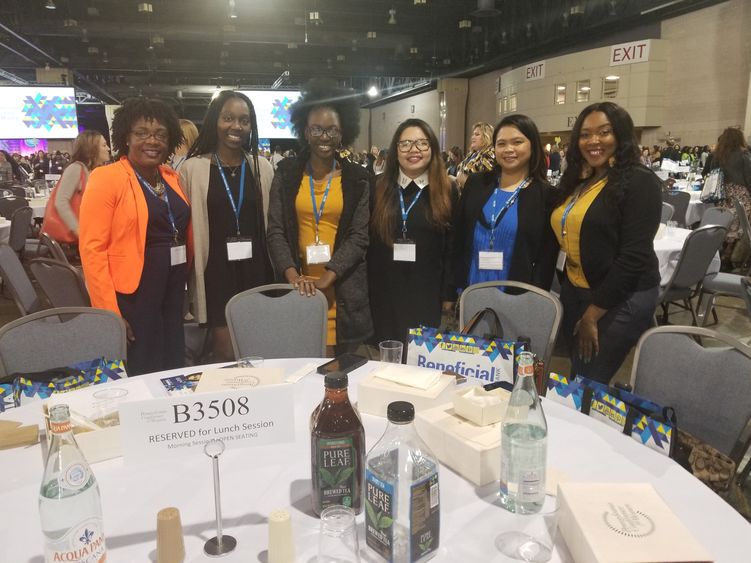 MEDIA, Pa. — When Jemimah Mwaba, a sophomore at Penn State Brandywine, decided to attend the 2018 Pennsylvania Conference for Women, all she knew was that a few of the speakers' names had caught her eye. Once she arrived, she found herself impressed not only by the speakers, but the other women present.
Mwaba, along with several fellow Brandywine students, spent the day with 10,000 other conference attendees. The conference boasted more than 100 speakers, including men and women from the finance, entertainment, political and corporate sectors.
"The keynote speaker list was the selling point for me," said Mwaba, who saw names like Serena Williams and Amal Clooney on the posters at Brandywine, "but as I started reading about all the other women, I said, 'Wow! This is serious!'"
The Pennsylvania Conference for Women is the largest women's conference in the state. Now in its 16th year, the nonpartisan, nonprofit conference seeks to promote, communicate and amplify the influence of women in the workplace and beyond.
"It's not just for women," said Shayla Hatchett, a junior business major at Brandywine, who attended the conference. "Men and women are both encouraged to attend."
Hatchett, who also attended the conference in 2017, took a more serious approach to participating at this year's event.
"I researched the speakers beforehand and planned which breakout sessions I wanted to attend," she said. "There are so many that it's overwhelming otherwise."
Some speakers focused on practical workplace skills, such as navigating a career change. The conference also showcased female-owned businesses, shared the stories of positive female role models, and encouraged young female professionals to pursue their goals.
"I got a better sense of how I want to approach my future career," said Hatchett. "I want to look forward with the mentality that the world is open to me — choosing wonder over worry."
Speakers also discussed the unique challenges that women face in the workplace.
"They did a great job presenting what a woman has to overcome to be seen as successful, not just lucky," said Mwaba. "I don't want people to say, 'You're doing well for a woman.' I want to be known for doing well because I work hard, just like anyone else."
One of the driving forces behind Brandywine's attendance at the conference was Ronika Money-Adams, director of student affairs at Brandywine. Money-Adams believes that the conference holds special value for women of all ages, but especially young women looking to start their careers.
"There is something invigorating about being in a space with more than 10,000 women who all have a drive to be successful in a way that adds value to who they are and to others," she said.