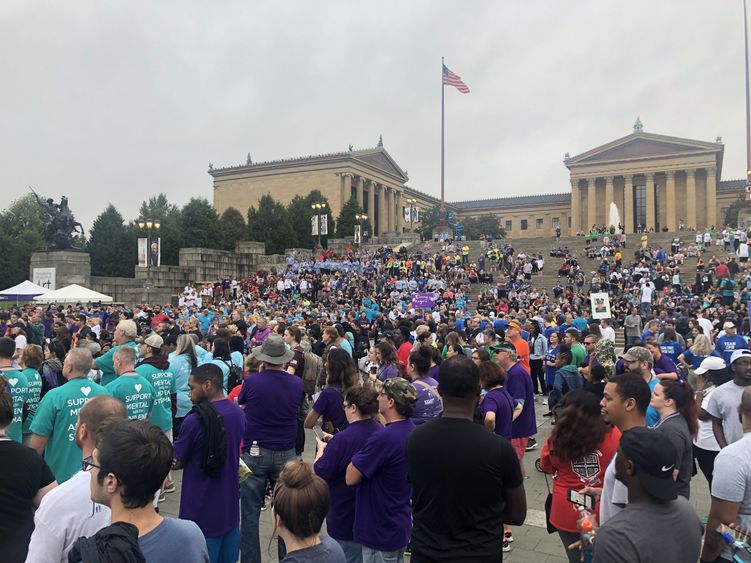 MEDIA, Pa. — One of Penn State Brandywine's newest student clubs, Active Minds, traveled to Philadelphia to participate in the annual Out of the Darkness Community Walk.
The walk, which is organized by the American Foundation for Suicide Prevention, raises funds for the foundation's suicide prevention services, including new research, educational programming, public policy advocacy and support for survivors of suicide loss.
This year's Philadelphia march raised approximately $540,000. Among this year's participants was a team from Penn State Brandywine's Active Minds Club, which is currently led by sophomore psychology major Danni Guth.
"I'm really passionate about mental health awareness, as are the rest of the club members," said Guth. "Having struggled with it myself, and knowing other people who have, this is an issue that matters and that we can truly do something to prevent."
Guth coordinated the group's participation in the walk. According to Michael Sturm, lecturer in human development and family studies (HDFS) at Brandywine, Guth's enthusiasm has been a driving force behind the club's activities.
"She has worked tirelessly to get students involved in the group and bring the message of Active Minds to Brandywine," said Sturm. He and Laura Evans, assistant teaching professor of HDFS at Brandywine, are co-advisers of the Active Minds club.
"This student organization will facilitate sustained conversation about mental health and well-being, which is a critically important issue for college students," he said.
According to Guth, fundraising was both a critical goal for the club and a rewarding aspect of participating in the walk. The trip also brought Active Minds Club members closer together and helped them focus on a common, service-based goal.
"The most impactful part, to me, was coming together as a campus group," she said. "We all share a common passion for raising awareness and decreasing the stigmas surrounding mental health struggles. Doing that together makes it so much better."
The Active Minds Club intends to continue raising awareness about mental health issues on and off campus, and the club members have several new ideas in the works.
"Increasingly, campus communities need mental health and suicide awareness efforts," Sturm said. "Mental health awareness efforts led by students have great potential. We all want to feel we belong in our community."
"The goal is to decrease the stigmas surrounding mental health issues," said Guth. "We want to get the campus community involved and encourage people to reach out for help."