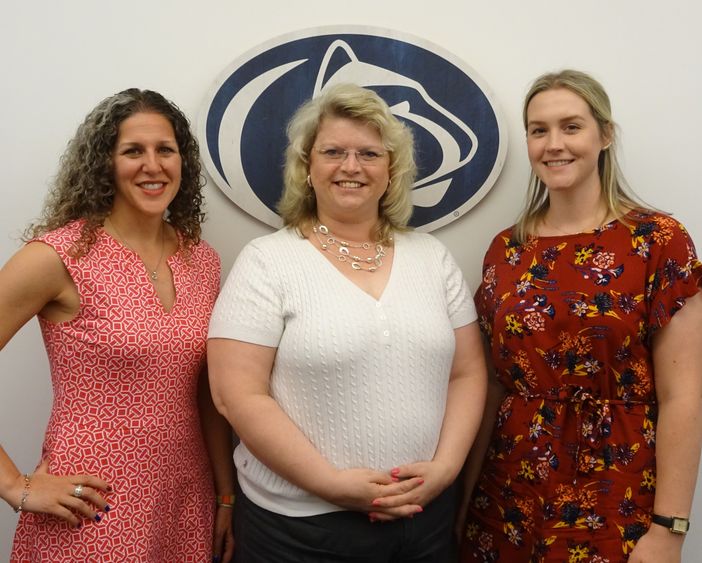 MEDIA, Pa. — Penn State Brandywine recently welcomed four new members to its alumni society board. The four alumnae — Meaghan Daly, Kristine Dick, Kristen Falcone and Abigail Wilt — bring enthusiasm and an array of life experiences to their new roles on campus.
Daly, a 2016 Penn State graduate, earned her degree in communication arts and sciences from the Brandywine campus. She is the founder of Meaghan Paige, a women's fashion brand that was a Brandywine Boost recipient in 2017-18.
"I wanted to stay involved with my Brandywine community and give back to it in some way," said Daly. "Joining the alumni board has given me the ability to do both. My goal is to help make the best decisions possible for the students and campus community."
Falcone graduated in 2002, completing a degree in media studies. She completed her degree at University Park, but took summer classes at the Brandywine campus throughout her college career. She is currently an IT training administrator for QVC in West Chester.
This is not Falcone's first time partnering with Penn State after college. She also volunteered with LionsROAR, a program that allows Penn State alumni to make meaningful connections with future Penn Staters.
"Now that I've been in the workforce for 16 years and work with new college hires, I hope to bring insight as to what companies like mine are looking for talent-wise," she said. "I also hope we can get more Penn State applicants for internships and new college hires in our local area."
Wilt is a 2016 Penn State graduate. She earned a bachelor of science in human development and family studies from the Brandywine campus while double-minoring in psychology and civic and community engagement. She also earned a certificate in youth development and social justice.
Currently working as a personal care assistant at CCRES in Downingtown, Wilt was encouraged to join the alumni board by good friend and fellow Brandywine alumnus Paul Alberici.
"Being part of the alumni society is being part of a special community," said Wilt. "I learned many valuable things during my time at Brandywine, including to get involved and make your goals a reality."
As a Brandywine student, Wilt had a reputation for being involved on campus. She served as a THON dancer, traveled to the Bahamas on a service-learning trip, and was a Lion Ambassador. She hopes to continue that legacy as an alumna.
"My hope is that other students and alumni will see the great work we are doing to build our Brandywine community and want to be part of something great — something that gives back and makes our campus thrive," she said.
Dick is a 1993 Penn State graduate. She holds a bachelor of arts in economics and double-minored in business and labor and industrial relations. She has spent almost 30 years working in the office of the Register of Wills and Clerk of Orphans' Court Division of Delaware County.