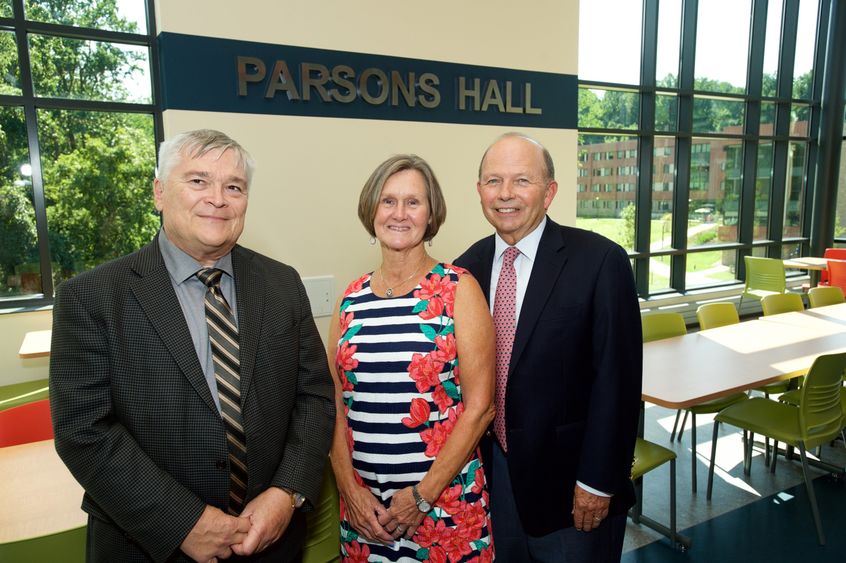 MEDIA, Pa. — In 2016, Penn State launched "A Greater Penn State for 21st Century Excellence," a University-wide campaign to raise support for three key imperatives: Open Doors, Create Transformative Experiences, and Impact the World.
Within the first two years of the five-year campaign, Penn State Brandywine raised nearly $2.9 million toward the campus' $3.9 million goal — which accounts for 74 percent of its target.
"The level of progress our campus has achieved is really quite special," said Rachel McCarter, director of development at Penn State Brandywine. "We're grateful for the support, and we're proud of how donors have rallied to help fulfill our vision for this campus."
At Brandywine, the generous support received for each of the three imperatives provides much-needed resources to elevate the student experience and upgrade campus facilities. Through the Open Doors Scholarship Program, Brandywine received funding for 12 new scholarship endowments that will benefit high-need students in Brandywine's PaSSS Program and provide resources for students facing unexpected financial hardships.
Through the Create Transformative Experiences imperative, gifts have brought positive change to the campus' academic and social climate by providing resources for upgrades to campus facilities and several programs. Future plans include upgrades to the Vairo Library and Academic Commons, a new Career Success program, financial support for Brandywine Athletics and new IT infrastructure.
Through the Impact the World imperative, Brandywine students will have the opportunity to get involved in unique local and global learning opportunities through the new Center for Ethics and Civic Engagement. The campus also has plans for a new social science laboratory, a global fellowship program and a campus observatory.
According to McCarter, the campaign has enabled Brandywine to highlight opportunities for donors to impact the campus community, especially as it seeks to fulfill these important initiatives.
"The projects identified will really advance our campus and make a positive difference in the lives of our students," she said.
McCarter credits Brandywine's campaign successes to gracious donors and renewed local interest in the campus.
"I think donors are excited about everything that is already happening here," she said. "The new student union and residence hall, which opened in 2017, really transformed our campus and provided us with new opportunities. So did our 50th anniversary. All of these opportunities brought new attention to our corner of Penn State."
The Brandywine community thanks the following donors for their generous campaign support:
Jerry and Eleanor Parsons and CTDI funded the naming of Parsons Hall in the new Student Union. Jerry Parsons is a member and former chair of the campus advisory board.
The Wilbur C. and Betty Lea Henderson Foundation funded the naming of the David Henderson lobby in the lower level of the Student Union. This space was named in recognition of former advisory board chair David Henderson.
David and Marjorie Rosenberg funded the Rosenberg Directorship for the new Brandywine Center for Ethics and Civic Engagement, which officially opened on campus in fall 2018. David Rosenberg is an advisory board member and co-chair of the Greater Penn State Campaign committee at Brandywine.
Halliday Properties and owner Mark Dambly provided support for Brandywine's STEM Options program through the Educational Improvement Tax Credit (EITC) program. Dambly is a member of the campus advisory board and chair of the Penn State Board of Trustees.
W.W. Smith Charitable Trust renewed its support of the Brandywine campus and expanded its support to Penn State Abington totaling $103,000. The Brandywine campus is grateful for its 27-year partnership with the W.W. Smith Charitable Trust.
John D. Unangst and his son, John David A. Unangst, funded the John D. and John David A. Unangst Open Doors Scholarship. John D. Unangst, a former advisory board member, passed away in 2018.
Rick and Tracey Riegel funded the Riegel Family Open Doors Scholarship.

Shawn Manderson funded the Shawn Manderson Open Doors Scholarship. Manderson has been a pivotal, longtime member of Brandywine's alumni society and advisory board.
Michael DeRosa, professor of chemistry at Brandywine, and son Michael DeRosa funded the Susan Carol DeRosa Undergraduate Scholarship for Adult Learners. The scholarship was named in honor of DeRosa Sr.'s wife.
Michael and Kathleen Arata funded the Michael and Kathleen Arata Open Doors Scholarship. Michael Arata is an advisory board member.
Michael and Dina Gambol funded the Michael and Dina Gambol Open Doors Scholarship. Michael Gambol is an advisory board member.
Michael Feinman funded the Michael Feinman Open Doors Scholarship. Feinman is co-chair of the Greater Penn State Campaign committee at Brandywine.
Ted and Emily Gunther funded the Gunther Family Open Doors Scholarship. Ted Gunther is an advisory board member.
John "Jack" and Carol Wixted funded the Wixted Family Open Doors Scholarship.
Harry Carmada funded the John Vairo Open Doors Scholarship. Carmada is a retired Brandywine faculty member.
Additionally, Brandywine is grateful to the members of the Penn State Brandywine Advisory Board for their generous five-year pledges to the campaign: Michael Bradley, Bryan Brockson, Judith Dickinson, Tom Gailey, Ted Gunther, Dennis Lynch, Phil Ryan, Jonathan Savage, Peg Schipper, Doug Smith and Albert Socha.
The campus community also thanks those who attended and supported the 50th Anniversary Gala in 2018, which welcomed more than 180 guests and netted more than $106,000 for Brandywine students.