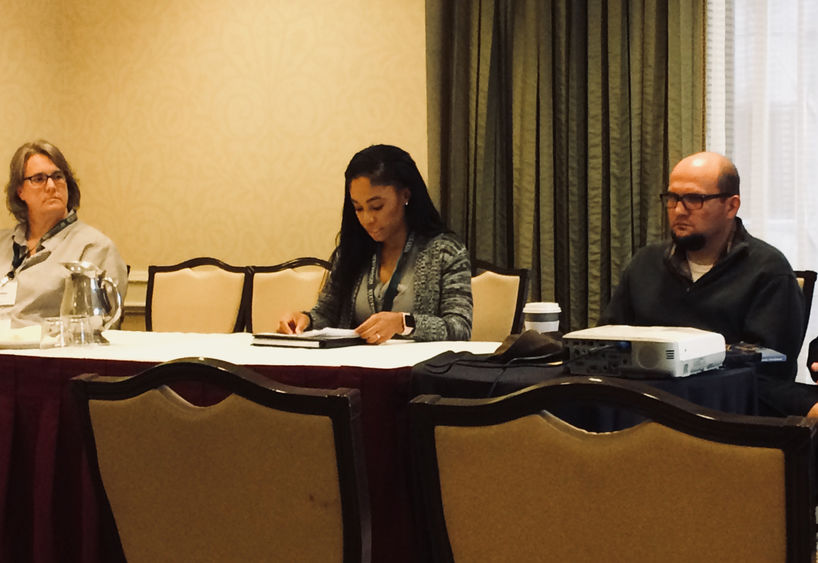 MEDIA, Pa. — After a successful presentation at last year's IMPACT conference in St. Louis, Monet Bradford, a newly minted Penn State Brandywine graduate, and Joshua Phillips, assistant teaching professor of communication arts and sciences, set their sights on a new milestone.
This spring, the student-faculty duo presented a co-written paper at the annual Eastern Communication Association (ECA) conference in Pittsburgh. According to its website, ECA is the oldest professional communication association in the United States.
"After seeing how well Monet did in St. Louis, I invited her to co-write a paper with me in summer 2017," said Phillips. "IMPACT was a conference for undergraduate students. ECA is a conference for professors and other field experts."
Phillips' study, which began as a chapter for a book, analyzes the Jefferson Memorial in Washington, D.C. as a representation of visual public memory.
"At the heart of every memorial is a narrative about the person it commemorates — and thereby, a story about who we are as Americans," he said. "The facts we share and the facts we omit are both part of that narrative."
Bradford contributed to the paper through a section focused on one of Thomas Jefferson's slaves, Sally Hemmings. Bradford used the narratives surrounding Hemmings and Jefferson to dig deeper into the untold stories surrounding the former president's role in American slavery.
"Monet is very much a self-motivator," said Phillips. "We only had 10 to 12 minutes to present at ECA, and I told her right away, 'You're presenting.' She got up there with a bunch of people with Ph.D.s and was completely great."
Bradford, who plans to attend grad school in the future, says that working with Phillips has given her a clearer picture of her own academic and career goals.
"It has enhanced my undergraduate career immensely," she said. "Having someone believe in me has been extremely helpful and exciting."
Last year, at IMPACT, Bradford presented research about sexual victimization on college campuses. Moving forward, she plans to research sexual abuse in the black community, using black feminist thought as a foundation for her studies.
To her, the most rewarding aspect of researching the Jefferson Memorial was the chance to gain a new perspective on the formation of historical legacies.
"We all have judgments about political leaders and topics, but when you see a person's whole life retrospectively, it humbles you, in a way," she said. "An obvious modern parallel would be the criticisms of President Trump. It will be interesting to see if the next generation maintains those criticisms, or if distance will change our historical narrative."
According to Phillips, working with students like Bradford is one of the most rewarding parts of his own legacy as an educator. Bradford graduated from the Brandywine campus this May, earning a four-year degree in communication arts and sciences.
"It's encouraging to watch someone go from a timid, first-year student to a senior who's doing big things," said Phillips. "It's a reminder of the bigger purpose that led me to teaching. When a student thrives, it means we've made a difference — and that's incredibly rewarding."