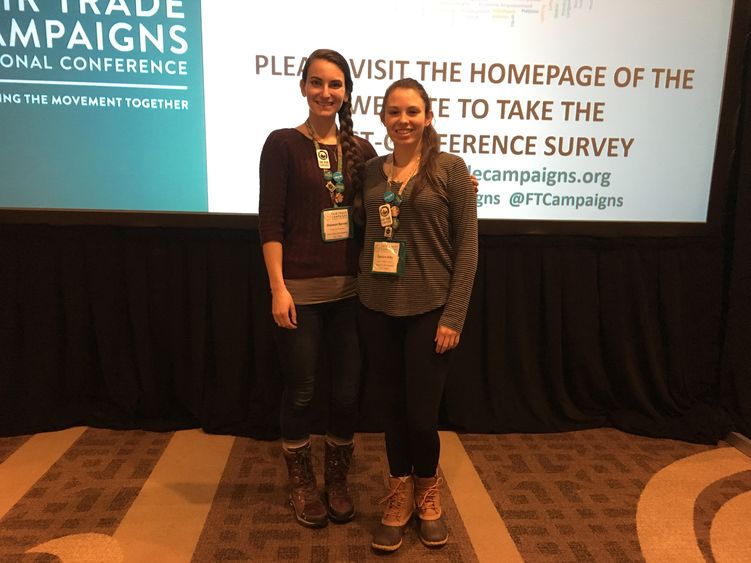 MEDIA, Pa. — A delegation from Penn State Brandywine recently participated as official campus partners in the Fair Trade Campaigns National Conference in Washington, D.C.
The conference brings together more than 330 fair trade supporters and advocates from more than 250 campuses, communities and other organizations across the United States. This year's conference featured more than 50 speakers sharing insights and expertise on fair trade, sustainability, social justice and community organizing.
Representing Penn State Brandywine at the event were Assistant Teaching Professor of Biology Mark Boudreau and biology majors Shannon Barrett and Tammy Katz. Both students are members of Brandywine's Sustainovation Club and Boudreau is chair of the campus' sustainability committee.
"At the conference, we were treated to a comprehensive program exploring the history and future of the fair trade movement, which seeks to provide a living income and healthy environment for the workers behind the products we use," said Boudreau.
Penn State Brandywine is one of seven fair trade campuses in Pennsylvania and the first Penn State campus to receive a fair trade designation. The campus also is situated near Media Borough, the first fair trade town in the United States.
According to Katz, attending the conference both expanded her view of fair trade's impact and encouraged her to support the cause more actively.
"The conference was an amazing experience," she said. "I am incredibly thankful that I had this amazing opportunity not only to make advancements in my life and school, but in my community and the companies and organizations I am part of."
For Barrett, who had never attended a conference before, the experience opened her eyes to the vastness and diversity of the fair trade movement.
"As a college student, I initially had fears of sticking out like a sore thumb among professionals at the leading edges of their fields, but I was pleasantly surprised to find a vast range of students, hobbyists and field advocates at the conference," she said.
All three Brandywine representatives returned to campus with new zeal for the fair trade movement and a renewed commitment to furthering the cause in their community.
"We came away with new acquaintances, potential career paths and countless pages of ideas that we hope will someday become a reality," said Barrett.