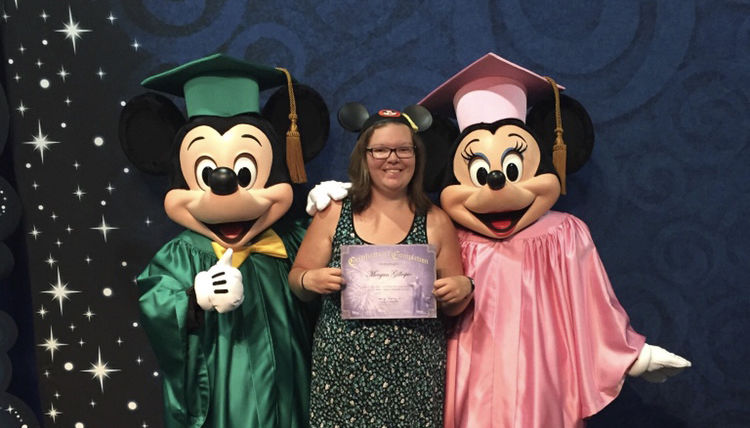 MEDIA, Pa. — Morgan Gillespie, a newly minted Penn State Brandywine graduate, will soon begin her full-time career at the most magical place on Earth.
Long before attending college, Gillespie knew that she eventually wanted to pursue a career at Walt Disney World in Orlando, Florida.
"My family has been going to Disney since I was a baby, and it's always been part of my life," Gillespie said. "It was always a place that I dreamed about finding a job."
As a Brandywine student, Gillespie framed many of her academic choices around her Disney career goals. She even selected her major, American studies, because she saw strong parallels between the focus of her coursework and the overall Disney experience.
"I've always liked history, and Disney is all about history," she said. "Most people hear 'Disney' and think of hospitality or theatre majors. Those are part of the company for sure, but the park's main focus is bringing the past to life in a magical way and being able to continue the legacy that Walt Disney wanted."
Gillespie also used her Brandywine courses as an opportunity to develop the soft skills she would need to do well in a fast-paced work environment.
"Time management and organization are two skills I picked up through classes for sure," she said. "Brandywine also helped me grow in confidence. I ended up meeting my best friend here and coming out of my shell a lot."
Eventually, Gillespie's passion for Disney helped her secure a college internship with the company. In 2015 and 2016, she took part in two of Disney's college programs, including one official internship. Both summers, she served as a ride operator in the Magic Kingdom park.
"I fell in love with making magic and brightening the guests' days," she said. "You can make a big difference in a whole family's summer just by doing your job. It's a great feeling."
This year, Gillespie's hard work and long-term vision will finally pay off. After a series of interviews, including one in Orlando, she was offered a full-time career at Walt Disney World, where she eventually plans to move from a job in the parks to a corporate setting. Gillespie will begin her dream job in June.
"Walt Disney once said, 'If you can dream it, you can do it,' and I've seen it happen," she said.