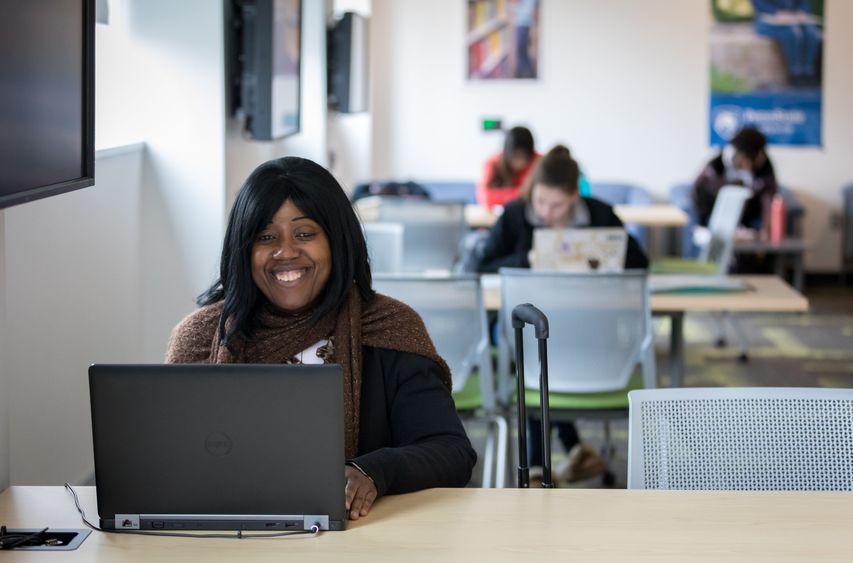 MEDIA, Pa. — Karla Pew came to Penn State Brandywine looking for a degree that would allow her to make a difference in the lives of local youth. Today, as she prepares to graduate in summer 2018, the human development and family studies (HDFS) major is making a difference through her internship in Philadelphia.
"I came to Brandywine based on the referral from a friend," said Pew. "He heard about the HDFS program and thought it would be perfect for me, and he was right!"
Pew, who wants to work in a teaching or counseling position with youth, quickly made the most of her studies at Brandywine. She chose courses that focused particularly on understanding the needs and development of youth.
"What I love most about Brandywine's HDFS program is that it's designed with customization in mind. I was able to really focus on specializing in a certain age group and engaging with them after graduation," she said.
In addition to her major, she is completing two minors — one in civic and community engagement and one in psychology.
"When I job search, the difference between me and the next applicant could be a minor," she said. "I'm not taking any chances."
This semester, Pew began an internship at the Associated Services for the Blind and Visually Impaired in Philadelphia (ASB). ASB provides life-skill classes, support programs and recreational activities for persons in the Greater Philadelphia region who are blind or visually impaired.
At ABS, Pew is a human services specialist. She observes classes at the building, helps to recruit new clients, updates recurring clients on ASB's services, and provides office support in other capacities.
"I applied for internships at several places, but ASB and I moved forward well," she said. "They are trying to increase the reach of their young adult program, which is right in line with what I want to do after graduating."
Pew, who lost her own sight in 2006, approaches the ASB position with a unique understanding of both the clients' needs and the association's value. She also has discovered new ways to apply her Penn State coursework in a career setting — an experience that has further confirmed her passion for HDFS.
"What I have learned in my HDFS field, I now see unfolding at ASB," she said. "One of the themes in my major is being engaged with people and helping communities. I see that mission in action every day at work."
When Pew graduates this summer, she plans to continue her education by pursuing a master's degree in counseling. After that, she will seek employment as a guidance counselor in an academic or social services setting.
"I feel that my time at Brandywine has prepared me for where I hope to go next," she said. "HDFS is in high demand. It's also a demanding field, but if it's your passion — guiding and serving people — I think you'll find it unique and rewarding."