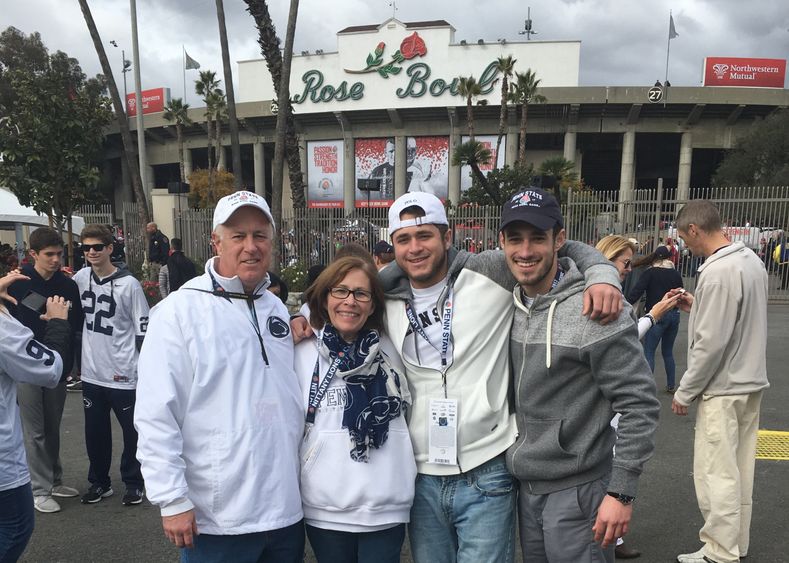 MEDIA, Pa. — When Michael J. Bradley Jr. came to Penn State Brandywine in 1974, he was a first-generation college student. Today, the 1978 graduate has seen Penn State become a part of the family.
Bradley began his Penn State career at the Brandywine campus and graduated from University Park with a bachelor's degree in marketing and a minor in management. As the first person in his family to graduate from college, Bradley found an array of new experiences waiting for him on campus.
"Penn State opened my eyes, and it opened doors that I could never imagine," he said.
During his time at Brandywine, Bradley found himself surrounded by many students from similar situations — and some of them continue to be a part of his life today.
"I made relationships with other Brandywine students who became lifelong friends," Bradley said. "We helped each other in our career paths, as most of them were also the first ones in their families to go to college."
After graduating in 1978, Bradley used his Penn State degree to blaze another new trail for himself — entrepreneurship. He continues to serve as president of the company his father Mickey and mother Bernie started — M.J. Bradley Company Inc. The company installs epoxy flooring in pharmaceutical, educational, research and commercial facilities, as well as stadiums.
He also keeps busy by giving back to the Philadelphia community. He has served on Penn State Brandywine's advisory board for the past 29 years and is a former board chairman. Bradley is the board chair of the Archdiocese of Philadelphia Elementary Schools for Delaware County, a member of the Archdiocese of Philadelphia Executive Board of Elementary Education, and serves on Cardinal O'Hara High School Board. He has been parade director for the last 17 years for the Philadelphia St. Patrick's Day Parade, which is the second oldest parade of any kind in America.
Years later, Penn State is still a major part of the Bradley family. Five of his seven siblings went on to attend Penn State after him, and his sons, Mickey and Colin, attended the University — both beginning their degrees at Penn State Brandywine and completing them at University Park.
In addition to Bradley, his family's Penn State legacy includes:
Brothers:
Dennis Bradley
Tom Bradley
Sisters:
Bernadette Bradley Shaughnessy
Maureen Bradley Burke
Kerry Bradley Rescigno
Brother in law:
Bill Rescigno
Sons:
Mickey Bradley, 2013
Colin Bradley, 2015
Nephews and nieces graduates:
Chris Bradley, 2015
Alaina Bradley, 2015
Shannon Bradley, 2016
Jenna Rescigno, 2017
Nephews and nieces current students:
Connor Bradley, 2018
Ryan Shaughnessy, 2019
Meghan Bradley, 2020
Danielle Bradley, 2021
Christie Shaughnessy, 2021
Kasey Burke, 2021
Billy Rescigno, 2021
Bradley's wife, Linda, also has seven Penn State graduates and current students on her side of the family, for a total of 27 Penn Staters.